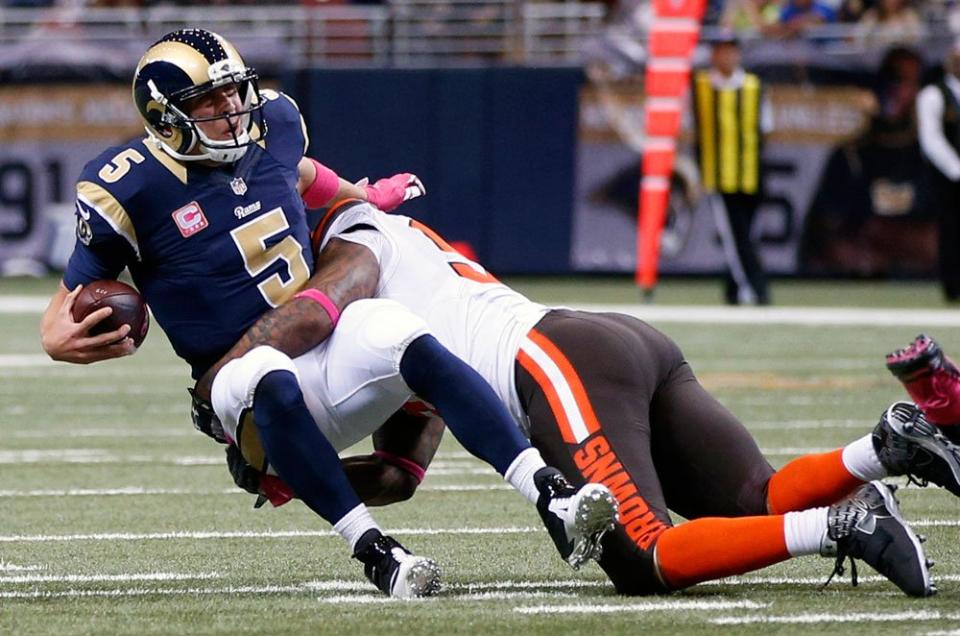 The Browns have talent up front on the defensive line to take up blocks and make plays. Where the Browns lack as that athleticism and instinct at the linebacker position and it has showed. The Browns have a total of 12 sacks on the year. Whitner has a half sack, Kirksey has one, Paul Kruger has a half sack, K'Waun Williams has one and that's it for non-defensive lineman.
Nine of your twelve sacks this year in a 3-4 defense have come from a defensive lineman which is absurd. That shows me nobody is getting there from the outside either. Kruger has been misused in pass coverage, Barkevious Mingo with as athletic as he is hasn't done anything and is having a hard time finding the field.
Scott Solomon isn't the most athletic guy when he was on the field and our second round pick in Nate Orchard has been invisible.
You combine that with Dansby, Robertson, Kirksey, and Tank Carder on the inside who can't stop the run and suddenly you have a terrible scheme. The defensive line can do their job but if you have nobody to back them up and poor tackling as a team then you are setting up for failure.
The only way to really get these guys is through the draft. There are reasons why teams resign their best players and if they hit the market it's usually for certain reasons. One of the best indicators for these guys to me has been tackling in college. Let's investigate some of those top recent defenses:
In 2011, Chris Borland was 9th in the country in tackles, 2012 saw him 60th, and 2013 saw him 38th. He notched over 100 tackles each year and fell to the third round because of his size.
In 2005 Patrick Willis was 11th and 2006 4th. He was a first round pick.
In 2009, Bobby Wagner was 25th, 2010 he was 12th, and 2011 3rd. He was a second round pick.
In 2009 Luke Kuechly was 6th, and was 1st in both 2010 and 2011. He was the 9th overall pick.
In 2004, D'Qwell Jackson was 11th, and 8th in 2005. He was a second round pick and currently leads the NFL in tackles this year. Another mistake the Browns made.
Second in the NFL in tackles this year is Navorro Bowman. In 2008 he was 48th and 2009 91st. He was also a third round pick.

NEO Sports Insiders Newsletter
Sign up to receive our NEOSI newsletter, and keep up to date with all the latest Cleveland sports news.