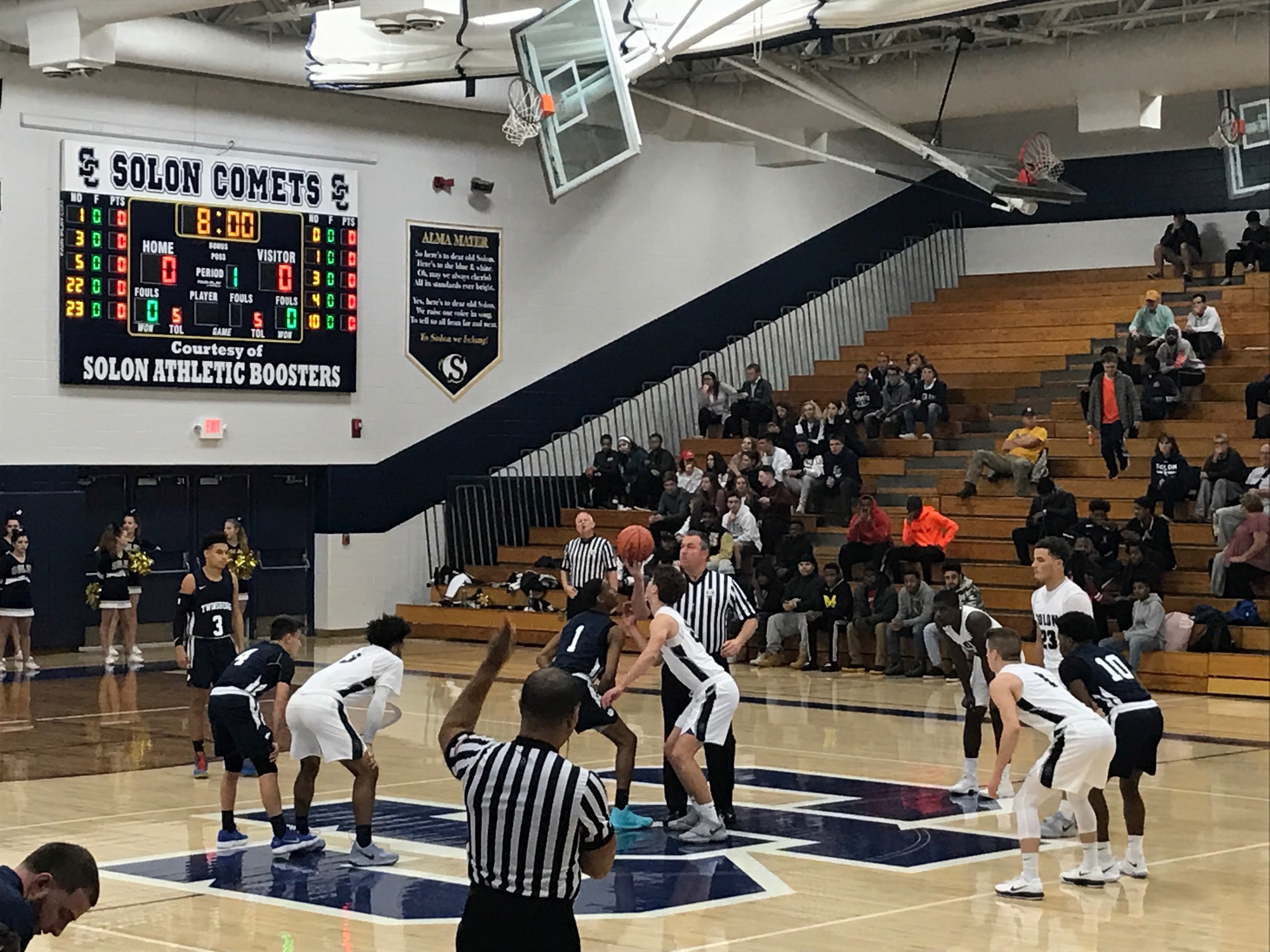 SOLON, OHIO – The fast pace Solon Comet team got off to a quick start against Twinsburg during their Tuesday night game. Turnovers would be the story line to the Tigers night as they fell to the Comets of Solon 93-64
The game started off featuring both teams in a zone defense. The Solon defense would do its part, forcing Twinsburg to turn the ball over frequently Tuesday night.
Solon held onto a seven-point lead after the first eight minutes of the game. Senior stand-out Sincere Carry was responsible for 13 of the 17 total points in the first quarter.
Since moving up into a bigger conference a couple years ago, coach Tony DeCesare knew his team would be at a height disadvantage. In order to keep up with the bigger teams, a new style of play needed to be implemented within the program.
"We've created a style where we play very fast and put pressure on you for 32 minutes," DeCesare said. "We're hoping that the turnovers we create will minimize some of the offensive rebounds we give up. It's been very good for us and our guys really like it. It's tough to play against and it's tough to prepare for and we found an identity over the last few years and our guys buy into it.
The second quarter is where Solon started to take advantage of their full court press defense. They would take away the middle of the court by leading Twinsburg to the corners, forcing them to throw cross-court passes.
The turnovers quickly started to stockpile on the Tigers as they would be shut out for the first two and a half minutes of the second quarter.
A 15-0 run would give Solon a comfortable 39-17 lead during the second quarter. Twinsburg would fight their way back as they trailed by just 13 after the first half.
Sincere Carry would lead Solon as he finished with a game-high 31 points. Junior Mike Bekelja would add in 24 points respectively. These two were the focal points on the offensive end and it was critical to get these two going early.
" They're as good of a backcourt as there probably is in the state," coach DeCesare said. "It's really hard for any team to kind of key on either guy. They can both shoot it, they can both create their own shot and as long as we always have one of them on the floor, we fell like we're really in good hands."
For Twinsburg, it was senior guard Darrell Newsom who led the scoring with 24 points off the bench.
The offense for Twinsburg never really got going in the second half. Turnovers and hardly any communication on the defensive end held Solon's lead in check during the final 16 minutes of the game. Senior guard Leroy Fitzgerald led the starters with eight points, followed by sophomore Ken Mcelrath contributing with six points.
The 29 point win now lifts Solon to a record of 2-0. The loss brings Twinsburg to a 1-1 record. Solon will look to keep their undefeated season going as they host Elyria, while Twinsburg will look to bounce back as they travel to play Cuyahoga Falls. Both games are set for Friday night.