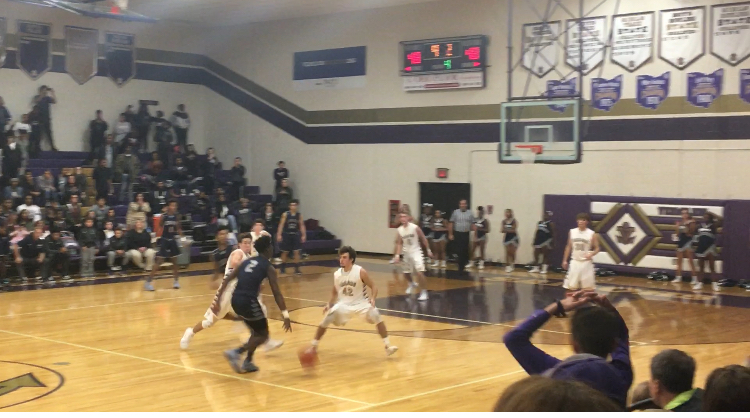 VERMILION, OHIO– In Tuesday night's showdown between a veteran Vermilion squad and a Lorain team that returns zero starters from the 2016-17 season, it was the young team who showed more composure down the stretch.
The Lorain Titans topped the Vermilion Sailors, 49-48, in a game that came down to two of basketball's most basic fundamentals: free throws and defense.
After a quick three-pointer from Vermilion's Seth Hurd to begin the fourth quarter, the Titans were down eight, 41-33. Over the next seven and a half minutes, however, they would storm back to steal the game on the Sailors' home court.
In the closing 30 seconds and with the game tied at 48, Lorain set up in their half court offense looking for one last look at the basket. As Taevon Pierre-Louis held the ball on the right wing, he somehow managed to find sophomore Jordan Jackson on the opposite end of the court.
Jackson, who had just one field goal up until this point, looked to make a play with a hard dribble into the paint and drew a foul with three seconds to go. The game-winning free throw that he made following that call was especially huge considering that he is a sophomore who saw his first varsity minutes on Tuesday night.
Lorain sophomore Jordan Jackson hits a FT to give the Titans a 49-48 lead with less than 2 sec left in 4Q pic.twitter.com/gUhZtWgN8B

— Ashley Bastock (@AshleyBastock42) December 6, 2017
"It was a great pass by Pierre-Louis to find me on the other side of the court," Jackson said. "I look up to him and (Devon) Grant, me being a sophomore and this being my first time playing varsity and getting varsity minutes…It was really big (for them to trust me), because if they trust me with the ball that puts all the confidence in me."
"For a sophomore to step in there and make the foul shot that's pretty neat," head coach John Rositano said.
While Jackson's free throw was critical, the Titans were in the position for a last second win because of their defense. After a Hurd layup gave the Sailors a 48-44 lead with 3:40 to go in the game, the Titans buckled down in their defense and did not allow another point for the remainder of the night.
"When you've got a bunch of young kids playing, you're never sure what to expect until the bright lights come on," Rositano said. "They did things that even surprised me a little bit, especially on the defensive end. That's a great win for our guys' confidence level."
Vermilion struggled with Lorain's full court press, and after a couple of steals, the Titans seemed to fall in line offensively in a game that at times got sloppy. They also had their veterans, Grant and Pierre-Louis, getting smart looks at the basket. Grant finished with a game-high 20 points and four rebounds while Pierre-Louis ended the evening with a double-double of 17 points and 10 rebounds.
"In a game like this your veteran guys gotta make plays," Rositano said. "They bailed us out a little bit, but all the guys played some really good defense down the stretch in the last five minutes of the game."
Up until the final frame, the game was sloppy on both sides. After the first quarter, the game was tied, 9-9, as both teams' scorers struggled to finish around the basket. As the game progressed, both teams settled in before the Titans took over in the waning minutes.
"I had butterflies, first game on the road, big crowd," Pierre-Louis said. "We got used to it and just played hard."
For Vermilion, a veteran team who felt in control for most of the night, there were few positives immediately seen in such a close loss. Down the stretch, the Sailors struggled against the Titans' defense and from the line, going just 8-of-18, and narrowly lost the rebounding battle, 29-28.
"It was all us," Vermilion head coach Kurt Habermehl said. "We panicked with the basketball the last three minutes, we had been handling their pressure the whole game and we panicked with the basketball, and we can't make a free throw. …We are not in for moral victories. We'll get back at it on Friday and try to get back on a winning streak but we take nothing positive from this tonight."
The Sailors were led by Hurd with 13 points and seven rebounds, as well as Mason Montgomery with 13 points and six boards. But Vermilion's loss is Lorain's gain as a young Titans team is now more battle-tested before heading into conference play.
"I just told them they grew up a lot as a team tonight," Rositano said. "I'm just proud of them right now. Not because we won, but just because we do things the right way. And when you do things the right way, usually the scoreboard takes care of itself."

NEO Sports Insiders Newsletter
Sign up to receive our NEOSI newsletter, and keep up to date with all the latest Cleveland sports news.