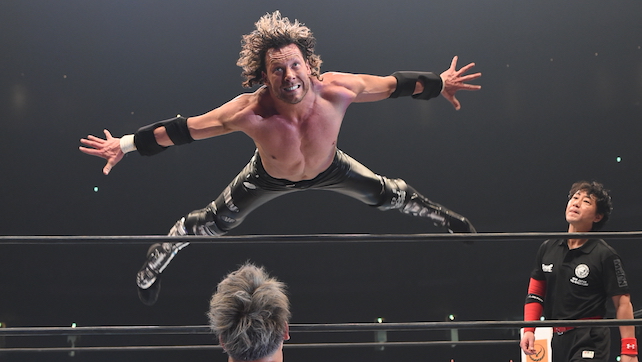 On January 4th, New Japan Pro Wrestling presented Wrestle Kingdom 11, their version of WrestleMania, live from the Tokyo Dome in Japan. The main event featured Kazuchika Okada successfully defending his IWGP Championship against Kenny Omega in match that went over 46 minutes.
Despite the spectacle of the match, it was the aftermath that was perhaps equally intriguing. Insert Dave Meltzer, considered by many in the professional wrestling community to be wrestling journalism royalty. Dave, the editor and publisher of the Wrestling Observer Newsletter, is widely known for making the "star rating system" commonplace in professional wrestling.
Dave routinely rates matches between one and five stars, with one star being "David Otunga bad" and five stars being absolutely perfect. It was after Wrestle Kingdom 11 that Dave would break from his own protocol, and work smart fans into a shoot by rating Okada versus Omega an extremely rare six stars.
How are six stars out of five possible? My world has been turned upside down, and I'm questioning everything I have ever known. Just when I thought I had the answers, Dave Meltzer changed the questions. All kidding and Roddy Piper references aside, what makes this match, or any other match for that matter, worthy of six stars? What are the defined criteria?
Who died and made Dave Meltzer the expert on rating fake fights? Should we apply this to movie fight scenes, because I'm pretty sure the news team fight in Anchorman was worthy of five stars for the anticipation alone. What about MMA? Remember when Forrest Griffin and Stephan Bonnar had a five star fight?
Is scripted combat the only type of entertainment that qualifies to be rated? Join me as we dive down the rabbit hole of why I believe the "star rating system" is ridiculous, and frankly, hurts the professional wrestling business.
My biggest issue with the "star rating system" is a lack of standard, defined criteria. It's completely subjective, yet somewhere on the smarkiest of dirtsheets, and the darkest corners of the wrestling Twitter subculture, you'll see smart fans using it to define a wrestler's work.
Newsflash, in the big leagues (e.g. WWE), wrestlers…errr, superstars, are given a guideline of what they can and can't do in a match, primarily based on the story WWE wants to tell, the safety of the superstars, the type of match, the type of event, and potentially the order of the match on the card.
Don't let that stop you though. Please, carry on telling me how Chris Hero was the best in-ring worker of 2016 because he had the freedom to have great (but meaningless in the big picture) fake fights on the indie circuit in front of 50 fans in a high school gym.

NEO Sports Insiders Newsletter
Sign up to receive our NEOSI newsletter, and keep up to date with all the latest Cleveland sports news.