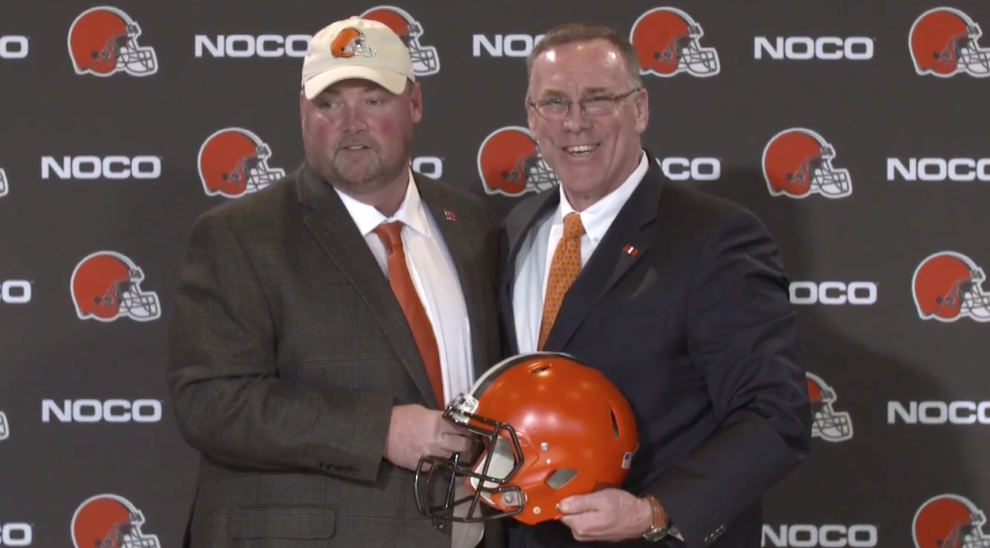 By Nick Broulis
Monday afternoon at First Energy Stadium the Browns introduced their seventeenth head coach in club history, and new coach Freddie Kitchens had a winner of a first presser as the guy in charge.
Kitchens takes over and it sounds like respect, honesty and being yourself will be apart of his version of the Browns.
I first wanted to say that I appreciated the honesty of the press conference. When asked if he's ready to be a head coach, Kitchens responding by saying "Am I ready to or not, I don't know. Were you ready to be a parent?".
Sometimes, we really are put into situations that we really don't know if we're ready for, but time will tell. Freddie could've easily said anything along the lines of yes, or no doubt.
I feel that Kitchens had a bit of an advantage when it came to impressing John Dorsey as he was able to show what he could do with the Browns offense when given the opportunity. Cleveland's offense did in fact improve once Kitchens took over.
Some people say that might be a mistake in hiring a guy that's never been a head coach before. While that may be true, it's not like this is the first time a team has done this.
I'm also not saying this is going to work. Time will tell. Freddie will have a lot more on his plate than he did last year. It's a matter of how he handles everything that he's never dealt with before.
How will he run training camp? It's no secret that any team where training camp is more difficult than the actual game has more success on gameday than teams that have it easy in practice. Kitchens talked about having a team that's fast and physical.
The players need to feel like an actual game is the easy part and practices must be much more difficult.
During the presser, Freddie mentioned that he doesn't have everything figured out and that he didn't as the OC, but that's why he asks questions and has surrounded himself with smart people.
Again, I appreciate the honesty.
He wants to make sure he has his players respect and wants to be able to have honest conversation with everyone, so that he can create a great atmosphere.
There will be times when Kitchens will have to have conversations with players where they will be called out for something. Yes, that includes Baker Mayfield, Nick Chubb, Myles Garrett or anyone else.
Later in the conference, Dorsey was asked about if Baker had any role with the hiring of Kitchens. Dorsey responded by saying that Baker still has a lot to learn and that Freddie is the guy that can help get Baker where he needs to be. I don't get the sense that they went to Baker and asked for his approval.
I will say this. With a combination of how well the offense ran under Kitchens and how good Mayfield and Freddie got along just naturally, I think that helped John Dorsey's decision a little easier when that moment came.
Now that Freddie is the H C, he talked about how nice it'll be to have access to the whole team and be able to develop relationships with all the players, regardless of where they play. I think it's great that he is embracing that.
"The fun is in the winning". Kitchens was talking about the fun is in the winning but no one will be having fun if we're not winning. When a franchise isn't winning, no one, regardless of if you're a player, coach or fan, is enjoying themselves. It's been like that since 1999, for the most part.
A lot of the media said that Kitchens wasn't on the list of candidates for Dorsey. Dorsey addressed that by saying that originally, Kitchens wasn't a candidate when he was hired as GM, but that it didn't mean he (Kitchens) wasn't a qualified coach, but during his 8 games, it caught a lot of people's attention.
In regards to the defense, Steve Wilks has said to be a guy that is very diverse and will use multiple looks on defense. I'm curious how he will use a player like Jabrill Peppers and if he prefers more man coverage or zone coverage?
Time will tell, but it'll be curious how the team responds to the new staff.

NEO Sports Insiders Newsletter
Sign up to receive our NEOSI newsletter, and keep up to date with all the latest Cleveland sports news.