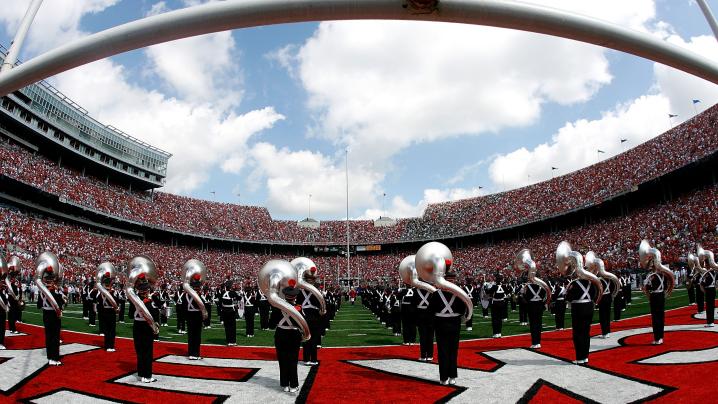 Already thinking about throwing around the pigskin on Saturday afternoons getting set for Ohio State football?
Well, now you know the times of the prime time games for the 2016 season for head coach Urban Meyer and the Buckeyes.
The official times for this season's Buckeyes night games were announced, and Ohio State will appear on prime time no less than four times, the most in the Big 10.
Here's a run down of the four games that will be either on ESPN, ABC or ESPN2), with Big Ten night games on four consecutive weekends; two on the road and two in Ohio Stadium:
October 15 at Wisconsin (8 p.m. EDT on ABC, ESPN or ESPN2)
October 22 at Penn State (8 p.m. EDT on ABC, ESPN or ESPN2)
October 29 vs. Northwestern (5:30 p.m. EDT on either ESPN or ESPN2)
November 5 vs. Nebraska (8 p.m. EDT on ABC, ESPN or ESPN2)
Another note in the schedule is that Penn State has announced the game vs Ohio State on 10/22 will be its annual 'White Out' game.
The Buckeyes are 46-23 in night games, and 12-4 at home in those affairs, 22-10 away and 12-9 on neutral playing fields. Ohio State has won seven consecutive night games since the Virginia Tech game of 2014.
Here's the complete Buckeyes slate for 2016, with remaining times to be announced in the future:
Sept. 3 — Bowling Green
Sept. 10 — Tulsa
Sept. 17 — at Oklahoma
Sept. 24 — Off
Oct. 1 — Rutgers
Oct. 8 — Indiana
Oct. 15 — at Wisconsin (8 p.m. EDT on ABC/ESPN/ESPN2)
Oct. 22 — at Penn State (8 p.m. EDT on ABC/ESPN/ESPN2)
Oct. 29 — Northwestern (5 p.m. EDT on ESPN/ESPN2)
Nov. 5 — Nebraska (8 p.m. EDT on ABC/ESPN/ESPN2)
Nov. 12 — at Maryland
Nov. 19 — at Michigan State
Nov. 26 — Michigan
Dec. 3 — Big Ten Championship Game