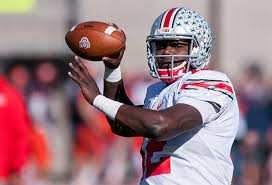 Cardale Jones, the pride of Glenville High School and a national champion with the Ohio State Buckeyes was selected 139th overall in the 2016 NFL Draft by the Buffalo Bills.
Jones was the eighth quarterback selected in the draft, and has drawn some comparisons to Pittsburgh Steelers QB Ben Roethelisberger.
Jones led the Buckeyes to the 2014-2015 National Title, throwing for 860 yards and seven touchdowns against two interceptions, as well as rushing for 296 yards and a rushing touchdown.
He made eight starts in the 2015-2016 season, throwing for 1,460 passing yards, 62.5 percent on completions, completing eight passing touchdowns and throwing five interceptions. He ran for 193 yards and scored two rushing touchdowns, but lost his starting job to J.T. Barrett midway through the season.
Jones was the 12th Buckeye selected in the 2016 NFL Draft.