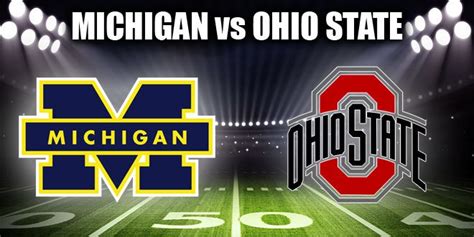 Welcome to "Know Thy Rival" Week 2!
OSU and Michigan both in the Top 5!
This week we start with Michigan's highlights and the controversy at QB! 
JJ McCarthy is QB #1!
Michigan took a big step to proving last year was not a fluke with a dominating win over Hawai'i last Saturday, 56-10, in Ann Arbor. J.J. McCarthy, in his first start as QB, passed for 3 TD's and was 11/12 for 229 yards and no interceptions as the sophomore played what coach Harbaugh said was a "near flawless performance." 
With this solid performance, Harbaugh named JJ the starter for the UConn game next Saturday.
Jim Harbaugh has announced J.J. McCarthy will start next week against UConn per @BruceFeldmanCFB 〽️ pic.twitter.com/F5LsAAg3iB

— FOX College Football (@CFBONFOX) September 11, 2022
Wide Receivers feeling good
Seniors Ronnie Bell and Cornelius Johnson and junior Roman Wilson were the recipients of McCarthy's passes for 6 points. Roman, a native of Honolulu, had many friends on the opposite side of the field. But it was sweet for the young man who is seemingly starting to jell with McCarthy to open the scoring Saturday evening.
He's a Honolulu native, folks.

Roman Wilson makes the game's first big play. 🙌@Trilllroman x @UMichFootball pic.twitter.com/b18CDHF5jG

— Big Ten Network (@BigTenNetwork) September 11, 2022
Wilson also added a 21 yard TD run as the offensive line helped the running game amass 268 yards on 33 attempts for an astounding 8.1 yards per touch. But more on the OLine later!
Corum for 6!
The starters on defense held Hawai'i to very little in the first half. The reserves took over and for the most part did the same. 
Gash falls over for a score
Takeaways from Saturday
The biggest takeaways from the lightning delayed game that ended Sunday morning were threefold:
1. Cade McNamara was made the number 2 quarterback. The senior captain struggled in the game with his performance, even with the first string OLine. But Harbaugh is grateful for two outstanding QBs. He mentioned how Cade came into practice this week and just got to work.
"We were back on the practice field yesterday, and there's no difference in Cade's demeanor. He's an incredible leader and quarterback, and he's preparing like I want him to prepare and the whole team wants him to prepare: like he's the starter."
2. The offensive line is nowhere near the level they were last year. Hawai'i had two sacks, and both were when Cade was in. Seniors and first years were guilty of breakdowns. But the culprit now are injuries and the team will try to work around those.
3. Big Blue did not generate the turnovers on defense like they have been working on all year. But Gemon Green, defensive back, said the unit is focusing on treating each team like they are facing Ohio State. 
"We try to keep pressure on teams' necks. We try to manhandle everybody in front of us so when we get to those (more challenging) games it will be a breeze."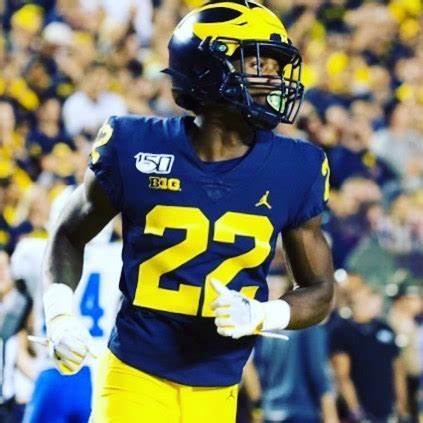 Gemon Green, Michigan DB
McCarthy vs. McNamara
But all the buzz is on the QB battle with reporters and fans both in favor of and against how Harbaugh has managed it. In an interview with Brad Galli, Harbaugh talked about the advice he gave both QBs from his mother.
FULL INTERVIEW: Jim Harbaugh explained how JJ McCarthy won the Michigan QB job, hitting an "inflection point" and earning the starting spot.

Harbaugh gave McCarthy and Cade McNamara the same advice he received when he was six: Advice from his mother. pic.twitter.com/UKSjBr8fJX

— Brad Galli (@BradGalli) September 12, 2022
But the model Harbaugh is using comes from his experience as a successful NFL QB, Super Bowl Head Coach of the 49ers, and his time as player and now face of the Michigan program.
"It's very similar, very similar to that, with Alex and Colin."

Jim Harbaugh talks parallels between McCarthy-McNamara and Smith-Kaepernick QB competitions: https://t.co/Y2UeeN1o7c

— Maize n Brew (@MaizenBrew) September 11, 2022
Far be it for anyone to question his methods if they haven't played, coached or excelled as he has. Right now, it's working quite well. And you could credit Bo Schembechler on a chance conversation he had with his red-shirt freshman back in 1982. Harbaugh recalled what Coach told him as they passed on the street:
'Jim, you might be the best quarterback we've ever recruited to the University of Michigan, or you might be the biggest mistake ever made in recruiting the quarterback position.'
The point that Harbaugh said took months for him to learn was that "my fate was in my hands."
I think the coach is quite ably handling not just his fate, but the fate of this team/program, the fan base, and the school in general.
Next Game
The next opponent is UConn, coached by ex-NFL head coach, Jim Mora. Kickoff is set for noon at the Big House. ABC will have the coverage. Interested in attending? mgoblue.com has seats available. Just follow the link.
Let's check on those rival Buckeyes!
By, Garrick Pitt
Marvin Harrison Jr's career day helps lead Ohio State to victory, beat Arkansas State 45-12
No. 3 ranked Ohio State welcomed Arkansas State to Columbus on Saturday afternoon for a show down between two 1-0 teams. It didn't take long for the Buckeyes offense to get moving and show why they are one of the best teams in the nation.  The Buckeyes had little issue moving the ball up and down the field, especially as the game progressed, and saw all their key players put up solid numbers. Here is what we saw from Saturday's game 
The Wide Receiver Room Is Legit
Jaxon Smith-Njigba was resting an injury this week and did not suit up on Saturday. He has become the premier receiver for the Buckeyes with incredible production, but you wouldn't have known by the way the receiving team stepped up in his absence. Marvin Harrison Jr. had himself quite the day Saturday afternoon. The Buckeyes' offense was spread out all over the field and Harrison Jr. made sure to get his share. The wide out finished the game with 7 receptions for 184 yards and 3 touchdowns.
Harrison was the man!
At times, Harrison Jr. was uncoverable, torching the opposing defense at will and bringing down catches whenever he pleased. All three of his touchdowns went for over 30 yards, hauling in catches from 42, 42, and 30 yards out. Harrison Jr. led the team in receptions, yards, and touchdowns but his fellow receiver, Emeka Egbuka, was right there with him and picked up right where he left off last week. The second-year receiver followed up last week's 9/90/1 performance with 4 receptions for 118 yards and a touchdown. Smith-Njigba is still the best receiver on the team, but it is hard to skip a beat when you look at the depth and the quality of the receivers. Dare I say the best receiving room in the country?
Harrison Jr. was asked about his performance after the game and gave his thoughts on his progress and connection with QB C.J. Stroud
Marvin Harrison Jr. postgame interview | Ohio State-Arkansas State | 10tv.com
Stroud Finding His Stride
C.J. Stroud is looking to replicate his success from 2021 with another Heisman caliber season. He had a solid performance against the Red Wolves going 16/24 for 351 yards and 4 touchdowns. Stroud is currently tied for 1st place in touchdowns thrown, 1st in QBR, 3rd in completion percentage, and 6th in passing yards against all Big Ten quarterbacks. Saturday's game displayed how many different options he has in the huddle and should continue to take advantage of that as the season progresses. A combination of spread offense to accommodate his wide receivers, and the 1-2 combo of Henderson and Williams, should give Stroud plenty to work with. I expect him to continue to put up solid numbers as we move through the season.
Day's Takes
🗣️ @ryandaytime on WR Marvin Harrison's game and the offense approach today in the win over Arkansas State #GoBucks pic.twitter.com/AnWM9Q7M0u

— Ohio State Buckeyes 🌰 (@OhioStAthletics) September 10, 2022
No Loss for This Defense
The Buckeyes offensive performance got a lot of attention on Saturday, but their defense deserves some love, too. Arkansas State was unable to find the end zone all afternoon with all their points coming from field goals. Their offense was held to 223 yards in the air and an incredible 53 yards on 34 carries on the ground. The Bucks recorded 71 total tackles, 2 sacks, and 12 tackles for loss and were able to cause issues for the Red Wolves all afternoon. Jim Knowles and his defense are making themselves known and all signs are pointing in the right direction.

NEO Sports Insiders Newsletter
Sign up to receive our NEOSI newsletter, and keep up to date with all the latest Cleveland sports news.