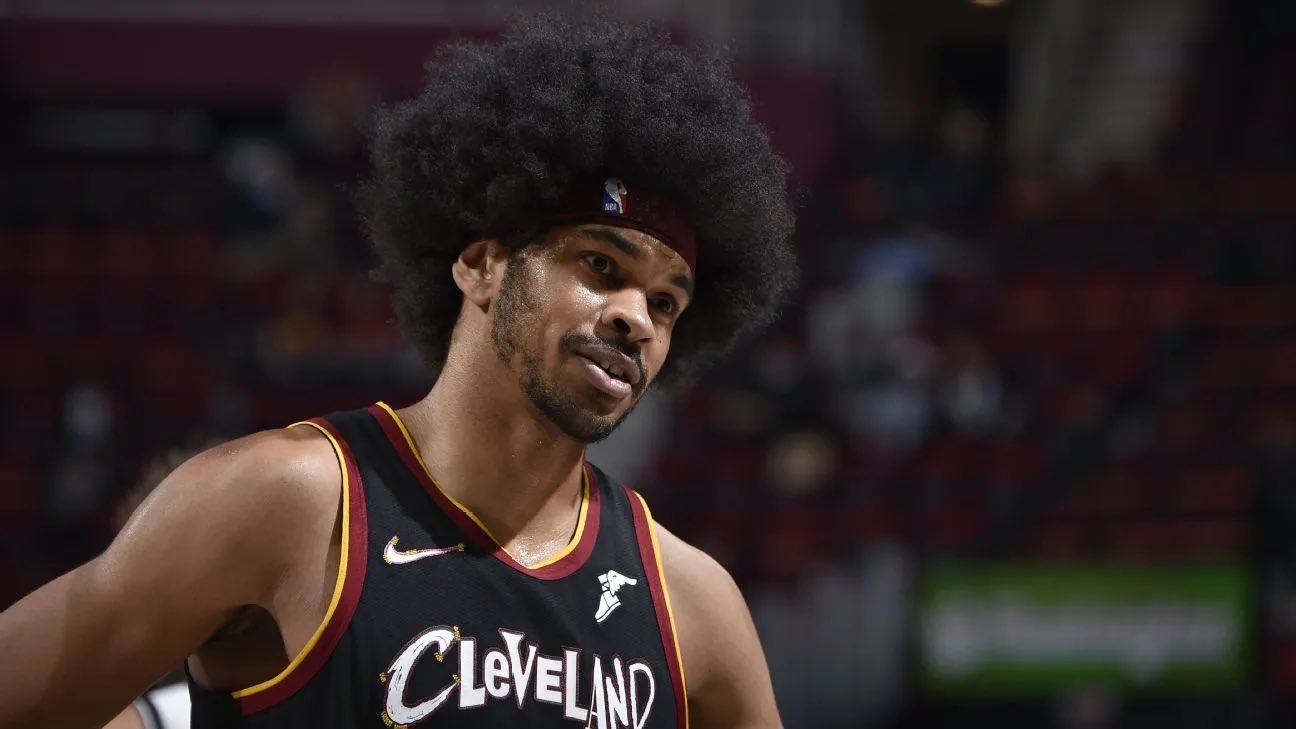 The NBA All-Star starters were released at the end of January. The Cavs didn't have a starter on the roster however, Darius Garland made the reserve list on February 3. Garland's teammate, Jarrett Allen, was glaringly missing from the All-Star team.
Allen played an integral role in Cleveland's success through the mid-point of the season. He's posting nearly a double-double nightly (averaging 16 points and 11 rebounds per game) along with shooting 68% from the field. The center's stats are certainly worthy of an All-Star nod.
Injury replacements announced Monday
NBA All-Star Commissioner, Adam Silver, named LaMelo Ball and Dejounte Murray as substitutions for injured Kevin Durant and Draymond Green. Green has a calf injury and Ball replaced him for the Western Conference. It appeared to be a given that Allen would come in for Durant's spot in the Eastern Conference. However, Silver overlooked the Cav's stand-out player. Allen would have provided the size that Durant gave to the bench.
Hometown favorites not applicable
Cleveland is hosting the All-star game and the team is in the midst of a revival. They're not only fun to watch, they're good. The talking heads often sleep on Cleveland teams and the snub of Allen is no different. Local fans will have Garland to cheer for but that doesn't quell the outrage of not choosing Allen. If anything is certain, Cleveland fans are loyal to the core. They've taken to social media to express their displeasure with the Commissioner's decision. The fans aren't the only ones speaking out.
Kevin Love expressed his thoughts on Twitter:
Jarrett Allen better be a damn replacement I know that!!!

— Kevin Love (@kevinlove) February 4, 2022
Allen, himself, had something to say after the injury replacements were announced:
Ya win some… Ya lose some…

— Jarrett Allen (@_bigjayy_) February 8, 2022

Making a statement on the court
The games following the All-Star announcements have been some of Allen's best. He's showing the league he's more than worthy. Allen came out strong in Friday's game where he posted 29 points and 22 rebounds. He followed that up in Sunday's game by absolutely slaying it with a double-double (15 points, 17 rebounds along with 2 blocks)
Looking beyond the All-Star game
With a record of 31-21, the Cavs are poised to make a playoff push. The snub of Allen and the lack of national attention of the team could be the fuel needed to launch the team into the post-season. Don't sleep on Cleveland.

NEO Sports Insiders Newsletter
Sign up to receive our NEOSI newsletter, and keep up to date with all the latest Cleveland sports news.