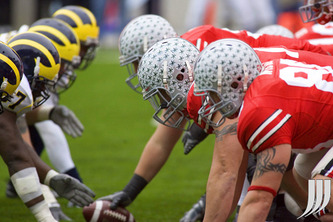 Just days away from the GAME! And Michigan is glad to Jake Moody as their kicker!
The Game. pic.twitter.com/DQUjRhXdne

— Michigan On BTN (@MichiganOnBTN) November 22, 2022
The Fighting Illini had them. Michigan was looking at their first loss of the year just before The Game. Losing Blake Corum for most of the second half and with no passing game to rely on, it looked bleak for the Maize and Blue.
Moody wins it for Michigan
But behind four Jake Moody FGs (the last with seconds on the clock) and a defense carried by some first year players, the Wolverines defeated Illinois in exciting fashion, 19-17. Michigan stays undefeated with their season now focused squarely on Columbus. Illinois, after sitting atop the West division, have now lost three in a row to drop to 7-4 (4-4 in the conference) and needing help to make the Big Ten Championship game.
First Half
Michigan took the opening kickoff 75 yards in 7 plays to strike first. Blake Corum raced in from two yards out for a quick 6.
TD MICHIGAN !

Superbe premier drive des Wolverines et sans surprise, RB Blake Corum le conclut sur une course de 2 yards.

Michigan 7, Illinois 0

📺 @AbcNetwork pic.twitter.com/Dl9ovaxJUe

— TBP College Football (@thebluepennant) November 19, 2022
Illinois only points came from a Griffin 29 yard field goal in the second quarter. But the Wolverines had a major problem that affects them this week. Blake Corum went down with what appeared to be a serious knee injury.
With 1:45 left in the half and Michigan driving, Corum fumbled the ball after he tried to make a cut and went down. Illinois recovered but Corum stayed down. He returned briefly at the beginning of the 2nd half but told the trainers he wasn't right. He stayed out the rest of the game.
Second Half
Then, Illinois struck in back to back possessions. Taking the kickoff the Fighting Illini went out in three. Michigan's Moody grabbed his first FG from 46 yards out to up the lead to 10-3. But after the Michigan kickoff, the Illini marched 67 yards for a score. Chase Brown touched the ball five times and scored from 8 yards out. Michigan couldn't stop the runs by Brown.
Now, Michigan, faced with fourth and six after ten plays and moving down the field, couldn't convert and turned it over on downs to Illinois. Two Tommy DeVito passes and a 37 yard run by Brown and Illinois was finally in the lead, 17-10. Michigan fans were cold and now in panic!
Viva La Freshmen!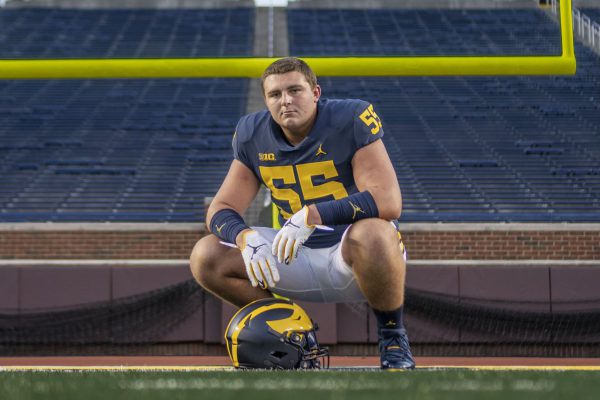 Mason Graham twitter
But when Michigan needed stops, up stepped the DL like freshmen Mason Graham and Kenneth Grant and senior Mazi Smith, who helped the line get some tackles for losses against Illinois so the offense could muster their field goals. With star Mike Morris out for the game, the DLine needed these stops and the two freshmen and senior did their part! For his work, Graham was the second highest rated defensive player according to Pro Football Focus and one of the highest for the first year Michigan player.
The Comeback!
After the 41 yarder by Moody to cut the lead to 17-13, the Blue Defense held Illinois to a turnover on downs. Michigan marched 54 yards to bring it to 17-16.
Then, JJ and company worked the 8 play drive that covered 35 yards and ended with a huge FG that split the uprights by the star of the game, Jake Moody.
Jake Moody's game winning kick is even better with titanic music (🔊) pic.twitter.com/lN0WGT1OhN

— Swanky Wolverine (@swankywolverine) November 19, 2022
Takeaways
Corum's injury is a problem for Michigan. Donovan Edwards was out for this Illinois game, too. Both are banged up and their status for The Game is unknown.
         But, Blake and his banged up knee used his NIL money for others.
A day after hurting his knee in Michigan's win over Illinois, Blake Corum used funds from NIL deals to donate food to families.

By @LarryLage: https://t.co/4MQTN2fybT

— Brad Galli (@BradGalli) November 22, 2022
JJ McCarthy had a poor game. Whether it was the three drops by receivers or the swirling wind, the passing game is really a mess right now. 

Jake Moody is the best kicker in the country. Hands down. Although he said he never had a game winning kick before, he shows why he is the most important player when a game is on the line.

Injuries are never an excuse. Every team has them. Will the reliance on the first year players and sophomores early in the season pay dividends? We shall see!

Even Ohio State has had some trouble putting teams away.
Ohio State!
After the game, now the team could focus on their rivals down south!
The Game#GoBlue pic.twitter.com/PTHdss1JsU

— Michigan Football (@UMichFootball) November 21, 2022
Ronnie Bell (on when he thought of The Game):
"Once the clock hit zero. This is what we've been striving for all year, 11-0 to get there, and now to play The Game. That's all we wanted, man. So, it felt good. And once the clock hit zero, to get up out of here with a win and now we get to play the game that we all want."
"I think we're really prepared. We really try to keep that mindset, preparing for them throughout the year in everything that we do — not just playing the game of football but with our workouts, with everything."
Jake Moody on his kick and what he dreamed about as a kid:
"I'd say it's even better, honestly. This is actually my first game winner I've ever had in my entire life. Never had one in high school, middle school, nothing like that. For it to be on my final game at the Big House, it was pretty magical. I'm just glad that we could send out the seniors on a good note."
Ladies and gentlemen, it's THE GAME WEEK!
For the Ohio State update, check out our Garrick Pitt's take.

NEO Sports Insiders Newsletter
Sign up to receive our NEOSI newsletter, and keep up to date with all the latest Cleveland sports news.