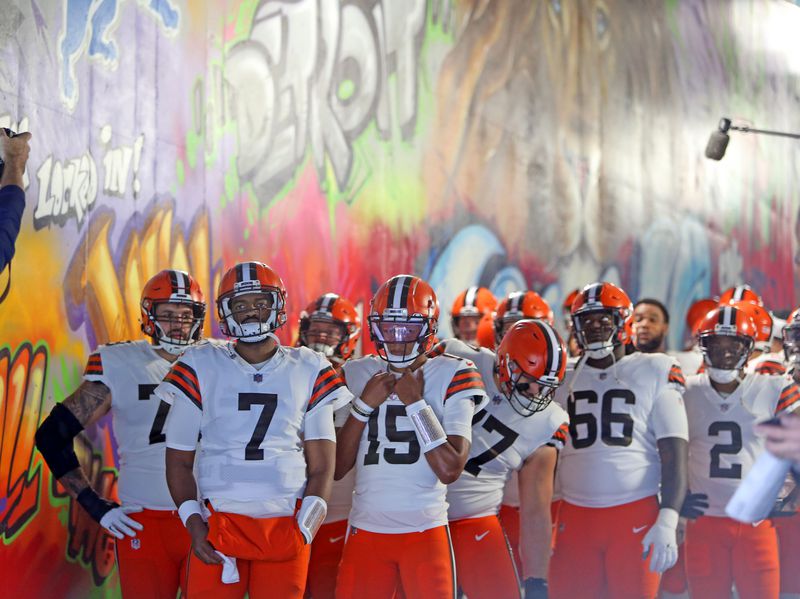 This late in the season, of course the Browns/Bills game would be greeted with snow on the schedule! So with the moving of the game to Detroit, both clubs had to do some creative preparation for the game. Buffalo fans, know via social media as the Bill's Mafia, were helping their team get to the airport after 77 inches of snow fell on the city and the surrounding suburbs.
Recently, Buffalo Bills fans were helping players/coaches get to the airport today by shoveling/clearing their driveways and even transporting them by snowmobile

Obviously this is a crazy example but we need to have Notre Dame nation have this kind of passion/attitude in general pic.twitter.com/MbvXvRu4KB

— Notre Dame Prime  (@NotreDame_Prime) November 20, 2022
No matter where the game would be held: the Browns needed this game for confidence and to make sure the season wasn't slipping away. The Bills were coming off a loss against the Vikings and in need of a win, too.
Bills outlast the Browns
But it would be the Bills who managed to get the win in Detroit, 31-23, over the Browns. The Bills, losers of two straight after carrying halftime leads, scored on every second half possession, while the Browns, who had a chance at the end, continued their miscommunication, rushing defense struggles and dropped touchdowns.
The loss puts the Browns in the cellar with Pittsburgh at 3-7. The win allows Buffalo to keep pace with Miami atop the AFC East.
On-side kick just floats away…
Down by eight with seconds left in the game, the on-side kick appeared to work for Cleveland as Bills receiver Gabe Davis had the ball sail threw his hands. Ronnie Harrison almost grabbed the loose football for Cleveland before Taiwan Jones knocked it into the sidelines, ending any hope for a last second Cleveland miracle.
How it all started
So, the Browns drew first blood with a touchdown off the kickoff. A nice throw and catch the tandem of Jacoby Brissett and Amari Cooper and the 25 yard pass was good for 6. Three interesting plays helped the Browns get that score. 
Amari Cooper is better than your favorite WR

Opening drive TD for the #Browns pic.twitter.com/2gXGclUQg2

— Barstool Cleveland (@BS_Cleveland) November 20, 2022
The first play from scrimmage was a pass to Chubb for 17 yards. Then, on the ensuing set of downs, Brissett scrambled for 22 yards on third down to get to the 37 of Buffalo. Another third down attempt for the Browns saw Cooper make a catch for 16 yards to keep the drive moving.
The Bills first offensive plays saw a three and out. The Browns matched the Bills, by punting on their next series.
Bills on the board
But a 28 yard return on a 44 yard punt by Bojorquez helped the Bills get three on the board. Special teams would be a problem for the men in Brown and Orange. The Browns then moved down the field until two dropped balls by two Browns TEs in Bryant and Brown forced the Browns to kick a 32 yard field goal. 
You could hear the yelling by Browns fans all over the state on back to back drops! 
Dude what are you saying. He threw a dime to Pharoah in the back of the end zone and he dropped it. He hit Bryant in the hands over the middle and he dropped it. And then yeah MAYBE he threw the second Bryant TD pass a little high but he could've absolutely played it better

— Eternally Suffering Cleveland Fan (@browns_town46) November 20, 2022
Momentum swing for the Bills/Play of the game
The Browns defense held and when the offense received the ball, they started driving for points until Brissett fumbled on 2nd down. Just prior, Coach Stefanski had the Browns go to a no-huddle offense and he called three straight runs to Hunt, where he was averaging 6 yards a pop. 
#Browns Jacoby Brissett fumbles and the #Bills recover. pic.twitter.com/XoZKqsLDfy

— NFL Unlimited (@NFLUnlimited) November 20, 2022
Sensing a shift in momentum, the Bills worked an 11 play drive for a field goal and just before the half, they went 11 plays and 78 yards in 1:40 for a touchdown to Stefon Diggs, who was held without a catch prior to the TD toss. Ten straight points off that turnover, for those keeping score at home. 
Buffalo took the 13-10 lead into the locker room. In fact, that turnover would change the game.
Second Half
The Bills took the second half kick down for a field goal, which gave them 13 unanswered points. The Browns could have forced the Bills to punt, as a nice tackle for a loss of 8 yards by Clowney put the Bills in a bind. But a gamble by the Bills coach Sean McDermott to get 3 points and avoid the analytics of punting worked. That 56 yard field goal pushed the Buffalo lead to 16-10.
Second turnover on downs
The Browns started another drive and moved the ball to the Bills 27 yard line. Facing a third and 1, Brissett was stopped on a QB sneak. The ensuing play saw the Bills defense stop Jacoby again and the Browns turned it over on downs for a second time in the game.
If you were betting, bet you threw down some cash that the Browns would allow the Bills to get another TD right after the turnover on downs, right? Well, you would have hit it! 
A 17 yard pass to Davis and Tommy Togiai's roughing the passer penalty gave the Bills 32 yards in 10 seconds. Then another Josh Allen toss for 23 yards pushed the ball to the 18. Two Singletary runs and 6 points. In all, Buffalo scored 25 straight points after the Brissett fumble. But of course, you have to have more special teams issues.
Ho Hum…another blocked FG attempt!
The Browns tried to answer. 6 plays and the Browns were at Buffalo's 16. Bryant tried to grab a high pass thrown by Brissett but could only get one foot down. Somewhere, the Cleveland sideline took way too long to guess if they should challenge the ruling and they had to take a delay of game penalty. That pushed them five yards further back.
Chubb grabbed a pass for five then Brissett threw an incompletion. Cade York came in to give the team three badly needed points, but a blocked field goal is pretty much another example of this team's inability to perform when they need to make a play or get points. "That's taking points off the board," as Kevin said in his press remarks after the game.
Last Gasp for the Browns
Cleveland was able to get two late scores, one by Cooper and a great catch by DPJ, but the special teams let them down again.
After Cooper's TD, Cade York's odd, spinning top on-side kick didn't make it 10 yards and the Bills recovered. The second with time running out was better, but the result was still the same. The Browns have not recovered an on-side attempt since 2016.
"The #Browns haven't recovered an onside kick in over 6 years"

Let's try it anyways but this time kick it like we're spinning a top.

— Dave @ BIGPLAY (@BIGPLAY_Dave) November 20, 2022
Where do the Browns go from here?
Stefanski has decided that he will NOT put Chubb and Hunt in the backfield at the same time. At some point, you have to evaluate what are the best plays for your club, who are your best players that play within your scheme, and work those in. 
Isn't that what a bye week is for, besides getting healthy? The Browns must lead the league in players getting concussed during practice! 
I believe thats two years in a row this player has sustained a concussion during an end of week non contact practice and missed the game.

— IronWill (@CmdrJava) November 18, 2022
Lack of creativity
Watch the game and when the defense knows you are running, why don't you get your receivers in motion or get your receivers WIDER on the play sets to get lanes open or get LB's moving? 
Follow social media and you think the coach has a new middle name: Kevin…Never take the points…Stefanski.
Once again- Stefanski makes a poor decision by not taking the FG. You make it a 3 point game and the vibe is different. Now we are down by 12. Oh, and fire Joe Woods. #Browns

— OhioGirlBackInOhio🇺🇸🇺🇦🤎🧡 (@brownsgirlinAZ) November 20, 2022
Notable Quotables:
Kevin:
"We didn't do enough AS a team to beat a GOOD team." 
#Browns Kevin Stefanski's opening remarks pic.twitter.com/5uZAFoQDIX

— Mary Kay Cabot (@MaryKayCabot) November 20, 2022
Jacoby:
"We shot ourselves in the foot and that's been the theme the past couple of games." 
"Our mindset was to come in here and fight because we knew it was going to be one."
Jacoby Brissett Postgame Press Conference vs. Bills | Cleveland Browns #BrownsFootball #Browns #DawgPound #WeBarkTogether #Believeland https://t.co/m5ZpIuF9X8

— Browns Fans (@BrownsChat) November 21, 2022
Myles: (And this is really what fans have been saying about this year since the Watson trade!)
"We gotta make sure we don't waste the talent that we have in it's prime right now."
#Browns Myles Garrett on team going backward after playoff appearance. pic.twitter.com/HzQPjYxvbr

— Scott Petrak ct (@ScottPetrak) November 20, 2022
News and Notes:
Players only meetings/video time
Browns had some players only sessions during the week where they met after practice or the team meal for more video work sans coaches. Would it pay off? Ah…nope. Still lost.
Injury
Starting center, Ethan Pocic, went down with a knee injury on play #1, and Hjalte Froholdt had to fill in for the remainder of the game and did an admirable job.
Martin Emerson left with a hand injury but came back to finish the game.
Family
DPJ had a multitude of his family from nearby Detroit at the game. His TD late was a great catch but maybe his catch to give Cooper his 2nd TD was better.  Peoples-Jones is the only NFL receiver with at least 50 yards in every game this year!
DPJ pulls down the contested catch for the TD

📺: #CLEvsBUF on CBS
📱: Stream on NFL+ pic.twitter.com/LL0GD7d60H

— Cleveland Browns (@Browns) November 20, 2022
Not because of me!
Jeremiah Owusu-Koramorah was all over the field. 12 tackles, 7 solos and 1 for a loss. The Browns missed his speed and ability while he was out injured.
Stats
Jacoby Brissett 28/41 324 yards, 3 TDs, Total QBR 63.1
Kareem Hunt 5 carries 32 yards, 2 for 22 yards
Amari Cooper 8 for 113 yards, 2 TD's
Donovan Peoples-Jones 5 for 61 yards, 1 TD
CLE       Description     BUF
23          Final Score     31
27         First Downs     22
68         Total Plays       62
396       Total Yards      357
316      Total Passing    186
80           Rushing         171
1           Turnovers          0
31:22         TOP           28:38
Next week
The Browns host Tampa Bay next week. Kickoff is set for 1:00 pm. Seven games left in the season. Browns still have a game against each conference rival. They cannot afford to lose another game if they still harbor thoughts on the playoffs.

NEO Sports Insiders Newsletter
Sign up to receive our NEOSI newsletter, and keep up to date with all the latest Cleveland sports news.