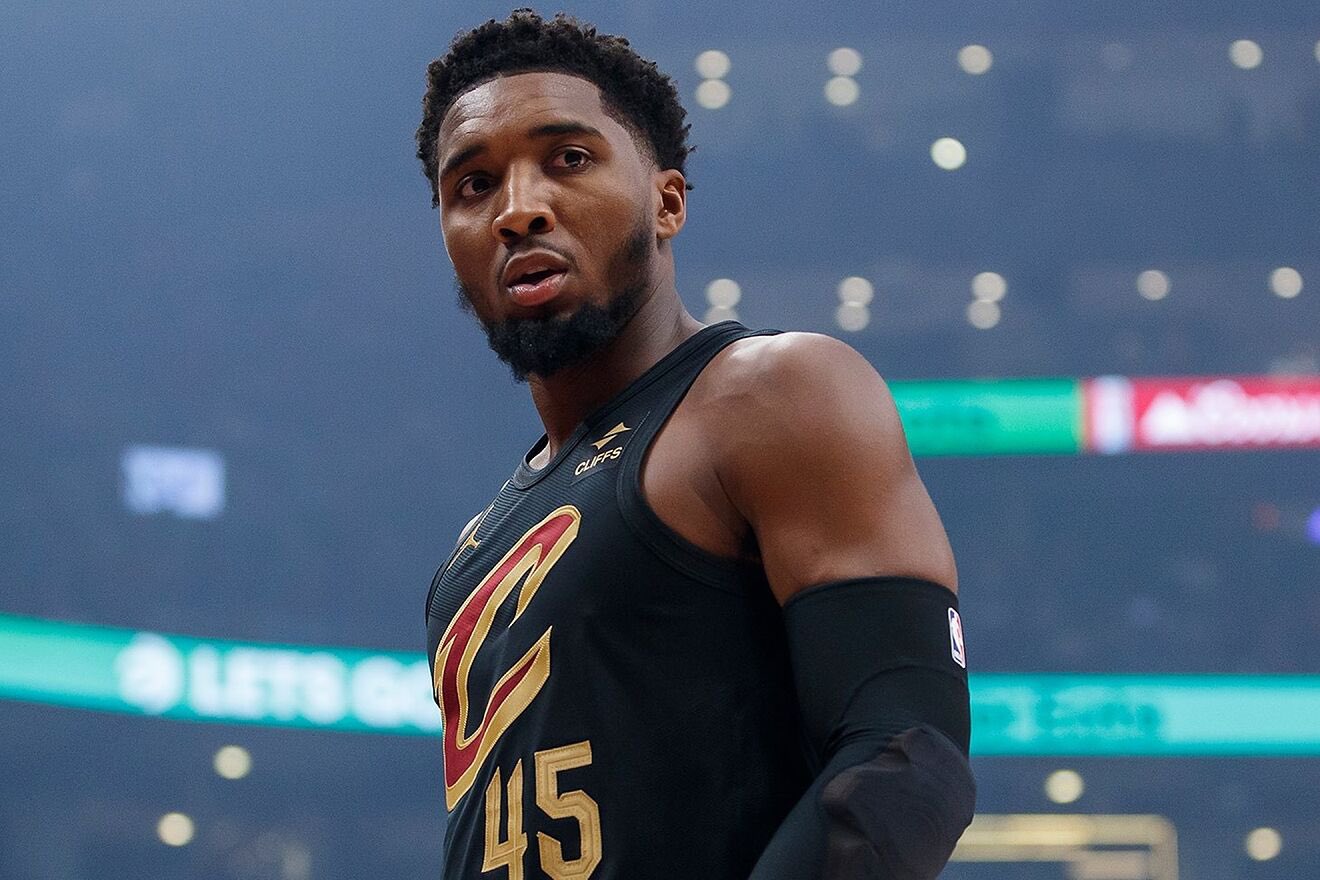 We at NEOSI wanted to share with you our picks for Cleveland's top ten sports stories for the 2022 sports year. Feel free to comment on if we missed one or if you disagree. We will post our top high school stories in a future article.
Without further adieu, here are our top 10.
10. MLS to bring a NEXT PRO team to Cleveland
We were one of the first to bring you the news of Major League Soccer and their agreement with Cleveland Soccer Group to grant a Next Pro team to the city. This level of soccer is similar to a AAA MLB team for baseball.
This could be a huge boost to the city and supposedly sites are being identified to build a stadium in the downtown area.
Now, where are they going to put the new soccer stadium? And will it be close enough to the Muni Lot for tailgating purposes? Asking for a "friend."
9. Lake Erie and the Walleye fishing scandal
On September 30th, Jacob Runyan and Chase Cominsky thought they were the winners in the Lake Erie Walleye Trail end of the year tournament held at Gordon Park in Cleveland, just overlooking Cleveland Browns stadium.
But as the tournament director noticed that the fish weighed heavier than they looked, he decided to open them up. To his shock and surprise he found lead weights and fish filets inside the walleye. The additional weights made the fish weigh upwards of 100 ounces more than they should have.
Serious Controversy in Pro fishing tournament as multiple-time winners caught stuffing lead weights and other fish filets in their fish to have the heaviest catch to win hundreds of thousands in prizes. pic.twitter.com/Sxqeo2XC0K

— Billy (@Billyhottakes) October 1, 2022
On October 12th each was indicted on 4th and 5th degree charges that carry a possible 12 month prison term and a fine. 
8. NBA All Star game in Cleveland
It was the 71st All-Star game for the weekend festivities February 18-20th. The weekend saw the 75th Anniversary team honored, DJ Kahled stole the entertainment show, and the HBCU Classic had their inaugural game in which Howard defeated their conference foe, Morgan State, 68-66.
Obi Toppin, the University of Dayton star and New York Knick, won the Slam Dunk contest while Karl Anthony-Towns won the 3 point shooting contest in record fashion.
But the two highlights were:
Darius Garland, Evan Mobley and Jarrett Allen winning the team competition on their home floor! They defeated Team Rooks with Mobley hitting a half court jumper for the win!
"CLEVELAND THIS IS FOR YOU!"

Evan Mobley wins the #TacoBellSkills Challenge for Team Cavs pic.twitter.com/hORIPbs6mS

— NBA on TNT (@NBAonTNT) February 20, 2022
And the King returns to Cleveland to win the game with a jumper at the buzzer!
LeBron's game winning jumper at the buzzer!
LEBRON GAME WINNER IN CLEVELAND FOR THE ALL STAR GAME 🔥👑

— NBA SKITS (@NBA_Skits) February 21, 2022
7. John Carroll celebrating 100 years of football!
From 1920 on (minus three years during World War 2) they've been playing football at JCU. The Blue Streaks have been an amazingly consistent program. Their 8-2 record this year just kept them out of the Division 3 playoffs, even with their loss to Mount Union, who is in the championship game again. But they can brag about stopping the Purple Raiders 112 game winning streak back in 2016!
From London Fletcher to Don Shula to Josh McDaniels, JCU has been producing players, coaches, and administrators for the NFL, college and high school from their humble beginnings.
Congratulations to all the former and current players, coaches and administrators. You have given us years of fun! Here's to 100 more!
6. Cleveland SC making Lamar Cup and finishing in the national quarterfinals
With all the buzz surrounding Cleveland in soccer for teams like the Crunch and the soon MLS Next Pro team, it's fitting that Cleveland SC has had two outstanding seasons, most recently this past year with their first Lamar Cup win and another Quarter Final or better showing in the NPSL playoffs. Their success has led to other teams like the two aforementioned clubs and even Akron City FC and their first year in the NPSL. 
Owner Sam Seibert and all-around manager Aaron Matti have given hours of their blood, sweat and tears for this city, fans and players as they attempt to place a high quality product on the pitch and juggle a lineup that is always changing due to, well, life happening for these non-paid players!
5. Trade of Baker Mayfield
When the Browns traded for Deshaun Watson back in March, who would have known it would take over three months to finally trade Baker. The analytics people would say the club was trying to leverage the most haul they could get for him.
But for the man who just a year prior was looked upon as a savior, the 2021 season was a disaster ever since Baker attempted a tackle off an interception and saw his shoulder get shredded in week 2.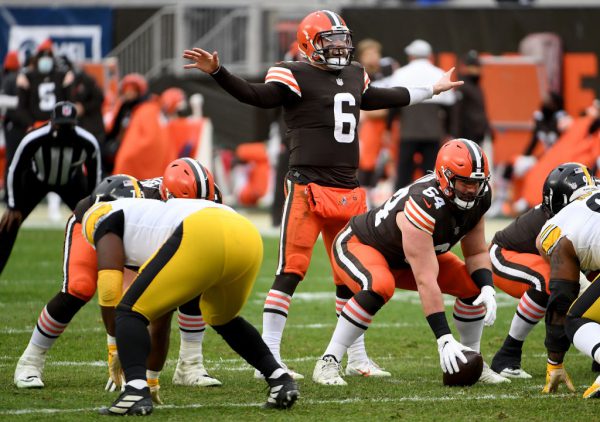 (Getty images)
The Browns received a conditional pick which will most likely be a fifth and not a fourth and they ate $10.5 million dollars of his contract with the trade to the Carolina Panthers. Add another name to the jersey!
Who's next on the everlasting Browns QB jersey? pic.twitter.com/4WUSk0glLQ

— Ravens Realest 😈 (@Ravens_Realest) March 17, 2022
4. Oscar Gonzalez Walk off in the playoffs
SpongeBob, aka Oscar Gonzalez, gave an absolute jolt to Northeast Ohio on two different occasions in the postseason for the Cleveland Guardians. Each one special for the rookie. First, to give the Guardos a 2-1 lead over the Yankees in the ALDS with a single to center on a nasty pitch!
Con batazo de Oscar González, los #Guardians dejan en el terreno a los Yankees.

6×5 marcador final. Cleveland a un juego de avanzar a la Serie de Campeonato de la Liga Americana.#Postseason #postemporada #playoffs#Playoffs2022 pic.twitter.com/FB67hf3Zry

— Tu Análisis Deportivo (@tuanalisisdvo) October 16, 2022
The second? Sending Tampa home for good with a 15th inning walk off home run to win 1-0.
Hammy, take it away…
Tom Hamilton calls Oscar Gonzalez's walk off homer to send the Guardians to the ALDS: pic.twitter.com/UhxWLogFWm

— MLB Walk Offs & Game Winning Plays (@MLBWalk_Offs) October 8, 2022
We have more on the Guardians season in a few, but Oscar and this club gave the city an unexpected and exciting shot in the arm with a bunch of kids.
3. Donovan Mitchell trade to Cleveland
"I thought it was New York, I'm not gonna lie to y'all"

Donovan Mitchell believed he was going to be a Knick before being traded to Cleveland 👀

(via @NBATV)pic.twitter.com/8pLTTIaZPO

— Pickswise (@Pickswise) September 14, 2022
Donovan Mitchell is one of just a few NBA players that can dominate a game. Steph, LeBron, Giannis and Mitchell…they are part of a star-studded group that people pay to see each night in the NBA. So when the news hit that Cleveland beat the Knicks to the University of Louisville guard, people were shocked!
Even Vegas moved the needle for the Cavaliers winning the NBA title!
After the Donovan Mitchell trade Cleveland's odds to win the NBA Title rose past the Blazers, Knicks, Bulls, Hawks, Raptors, Pelicans, Timberwolves, and Grizzlies pic.twitter.com/RoP7Hz65AS

— Locked On Sports (@LockedOnNetwork) September 1, 2022
Mitchell knew his Jazz time was at an end: "We had a good run," Donovan told the Cleveland media in his first press conference with them. He thought he was going to the Knicks. But when his agent said, "Cleveland," Mitchell ran around a Miami golf course jumping for joy when he found that the core of Garland, Allen and Mobley was staying intact!
The Cavs gave up Collin Sexton, Lauri Markkanen, Ochai Ogbaji, three first round picks and two pick swaps. A great haul for the Jazz, but really a great trade for both clubs.
Early returns on the 2022-23 season have been outstanding. His fit into the club has been seamless and with so many players under 26, he is just one of the many reasons Rocket Mortgage Fieldhouse will be a popular place for fans and the NBA media to congregate this season!
The MVP chants from the stands tell you all you need to know what his impact has been short-term so far.
2. Jose signs with "My Team"/Guardians overall success
Our Natalie Turk wrote a great piece on Jose and what he means to this club. You can make the case that Cleveland was primed for the run they had because of the contract extension signed in Arizona.
From Cleveland to Cooperstown.

Earlier today, @CleGuardians president of baseball operations Chris Antonetti discussed some of the priorities and goals that spurred José Ramírez to sign a contract extension.#ForTheLand pic.twitter.com/9sxhFGiIYd

— Bally Sports Cleveland (@BallySportsCLE) April 15, 2022
With the signing of Ramirez came the collective sigh of relief from Guardians' fans. The All-Star third baseman was here to stay, and not for the money or notoriety, but because he wanted to. His veteran presence was a huge plus this season as the team made history being the youngest in the league. 17 rookies made their debut with the Guardians.
At the beginning of the year, they were thought to have no chance at being competitive. They quietly plugged their way through the season. Defying all odds, the Guardians started September tied for first place. What happened next shocked many. The young team went on tear winning 18 of 21 games to clinch the AL Central. It was the first division title since 2018.
Playoffs
They went on to beat Tampa Bay in the Wild Card series to advance to the ALDS. The dreaded Yankees were the opponent; however, the kids from Cleveland gave them a run for their money. The series went all the way to Game 5. The Guardians lost the do-or-die game by a score of 5-1. While heart wrenching after their magical season, there was still much to be proud of.
Four Cleveland players were awarded Gold Gloves which set a franchise record. Shane Bieber, Andres Gimenez, Steven Kwan, and Myles Straw were recognized for their defensive skills. 
The "Guardiac Kids" brought excitement back to Cleveland baseball. They led the majors with 29 wins in their final at bat. It wasn't wise to leave the ballpark early or to turn the tv off til the end of the game. The heart and grit of this team was electric and truly something special. 
1. Browns trade for Deshaun Watson
Ian Rapaport, the fine journalist for NFL.com, said this was the most complicated trade possibly in NFL history. The trade happened quickly after the Harris County (Texas) grand jury decided NOT to bring charges against Watson due to lack of evidence on the many sexual misconduct cases before them stemming from massage sessions. 
Watson was still being investigated by the NFL for his personal conduct and had civil cases still pending after this outcome. But the news that the Browns were his #1 choice was shocking and exciting.
Who will win the Watson sweepstakes?
The week after the jury's decision began a fast and furious race by four clubs (Browns, Saints, Panthers and his hometown Falcons) to vie for his services. The Houston Texans were driving their player's price way up as each team made a pitch to the NFL club as to what they'd trade.
The Browns were originally the first team to be dismissed by the Watson camp, but as the week wore on, the Haslam's and Andrew Berry pushed their chips into an all-in bid by guaranteeing his $230 contract, a first for a contract like this in the NFL. Watson agreed and the trade happened.
After the finalization of the trade and the number of draft picks by round the Browns gave up, media pundits, fans and social media chimed in with diverse opinions. But the consensus was the Browns won this by getting their future QB (albeit at a huge price) to work in a system Kevin Stefanski told Deshaun that was geared for his success.
Civil Lawsuits take the social media stage
But the trade turned on the Browns as the lawsuits from numerous women claiming sexual misconduct and assault from the former Texans QB began to hit the media cycle. Long-time fans of the Browns openly shared their stories of their own past abuse and many voiced that they were no longer Browns fans. And the NFL had a huge problem.
Marla Ridenour, the outstanding journalist for the Akron Beacon Journal, penned an emotional and stirring piece on how this trade opens these wounds for many women.
For those who didn't read this back in March: #Browns' Deshaun Watson trade triggers past for sexual assault victims. I am one of them https://t.co/fG8kuA38cs via @beaconjournal

— Marla Ridenour (@MRidenourABJ) August 1, 2022
Former US judge Susan L. Robinson had sentenced Deshaun to a six game ban, but the public outcry was such that the NFL and NFLPA agreed to a longer, 11 game ban a month later. Watson came back in week 13 to quarterback the Browns, but the entire saga has been surreal. But be careful which fan you ask about it since both sides are passionate they are right!
How'd we do, fans?
So Team Drama, aka the Cleveland Browns, take the top spot in our list in a year filled with baseball success, soccer craziness, trading for a Spida, fishing chicanery, and college football legacy in Cleveland.
But stories like Cleveland SC, John Carroll, and the walleye tournament remind us all that we are a town not just of big things but small things. And these are just as much a part of our fabric as the professional teams. Some might argue more so!
Sharing is caring and commenting is encouraged!
Next article: The top HIGH SCHOOL stories from 2022!

NEO Sports Insiders Newsletter
Sign up to receive our NEOSI newsletter, and keep up to date with all the latest Cleveland sports news.