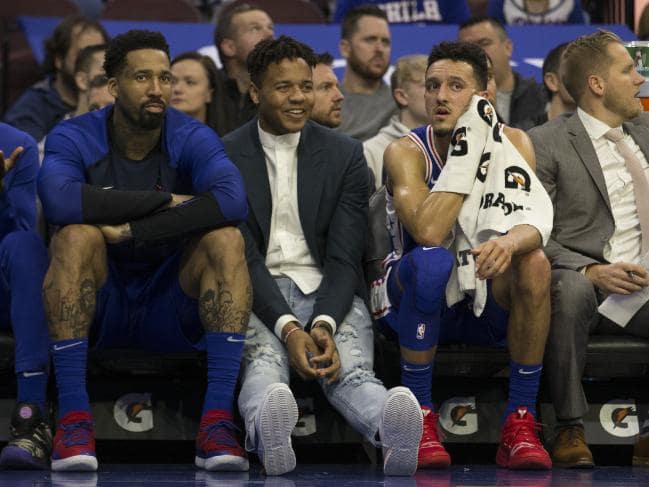 Cleveland- According to Sam Amico of Amico Hoops, the Cleveland Cavaliers have inquired about former number one pick Markell Fultz. The second year point guard, has a very tumultuous career so far. Fultz will see a specialist in New York this week for s mysterious shoulder injury.
The future of Fultz in Philadelphia has been the talk of the NBA recently, so the trade talks are no surprise. Keith Pompey of the Philadelphia Inquier quoted multiple sources, that the Sixers are open to trading Fultz. Pompey goes on to say that Philadelphia is looking for a late first round pick, or an expiring contract.
While the Sixers seem open to the idea of moving on from the 2017 1st overall pick, the feeling around the league is that it's mutual. Since being moved to the bench after the Jimmy Butler trade, it had been reported Fultz wished to be traded.
Fultz's agent has since denied these claims, "I have given no indication to (Sixers general manager) Elton Brand or anyone else that Markelle would prefer to be traded," agent Raymond Brothers told ESPN. "My focus is to get Markelle healthy. End of story."
What Cleveland offered has not been reported, but it is widely known the Sixers interest in Cavaliers shooter Kyle Korver. The money situation lines up for the two teams to make a trade straight up. A trade like this would send shock waves through the NBA. There's a reason it was just a season ago the Fultz was selected number one overall, Cleveland would be trading for that upside.
Fultz's career may be off to a troubling start, but their is still reason to believe he can turn his career around. The 20 year old is averaging 8.2pts, 8.2 points and 3.1 assists this season, while shooting under 45% from the field. His shoulder injury has really affected his jump shot, but he once was a promising shooter.

NEO Sports Insiders Newsletter
Sign up to receive our NEOSI newsletter, and keep up to date with all the latest Cleveland sports news.