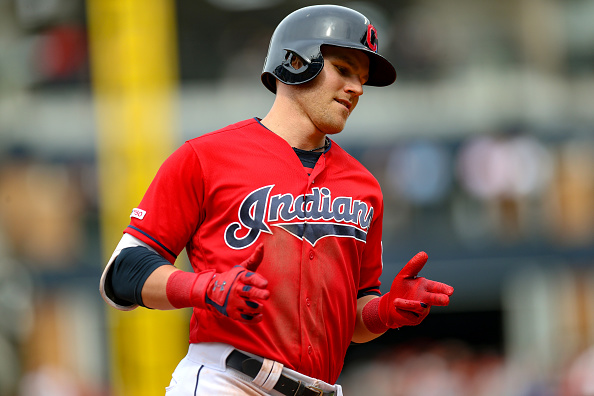 As we enter the third full month of the season, the Cleveland Indians are still trying to wake up their inconsistent offense. Based on who you ask, they really don't have to look too far to find a solution.
Bobby Bradley, one of their top prospects, is currently second in the International League in both home runs and RBIs. For a Tribe team desperate for any production it can find, calling him up seems like a no-brainer.
And yet, Bradley remains in the minors, seemingly for reasons unknown. No definitive explanation for this has been given by the team, but I'm willing to venture a guess.
Personally, I'm starting to think the Indians are hesitant to call up Bradley because it'd likely require sending first baseman Jake Bauers down to the minors. Frankly, I think this is a move the front office might be too proud to make.
Suggesting that Bauers should take some time in Triple A is hardly what you'd consider a hot take. He's been one of the team's most inconsistent hitters, with an OBP of .305 and a batting average which has hovered around .215 for the past few weeks. His 58 strikeouts are second only to Leonys Martin, a concerning stat when you consider how often manager Terry Francona bats him in the middle of the lineup.
On paper, the idea of swapping Bauers for Bradley seems like an easy call to make. The problem, though, is doing so would read as the front office admitting it swung and missed on one of this winter's more surprising moves.
The Indians caught a good amount of flak for acquiring Bauers by way of trading fan favorite Yandy Diaz. Despite having proven he could hit in the big leagues, Diaz was never given an opportunity in Cleveland. While he's cooled off a bit after a hot start with the Tampa Bay Rays, his numbers are still better than what Bauers is offering the Indians.
Cleveland exchanged Diaz for Bauers because it believed the latter could offer the team more on an everyday basis. Right now, that's not the case.
Despite this, Bauers remains in the lineup. The team continues to give him a sizable leash, even though he's yet to show any sort of consistency. This even dates back to spring training, where it was initially rumored Bauers could start the year in the minors due to a rough showing in Arizona.
As a result, it doesn't feel like a leap to assume Bauers gets extra leeway in part because the Indians don't want to make it look like they misjudged this trade. The team appears all too eager to give him everyday playing time, if only to avoid admitting the fact he may not be ready for it.
Yes, I'm just speculating here. At the same time, why else would Bauers continue to get so many opportunities despite providing nothing but brief instances of hitting? Why else would prospects like Greg Allen get sent down at a moment's notice while the team continues ensuring Bauers gets a spot in the lineup?
To be clear, nobody is suggesting Cleveland should just cut ties with Bauers completely. There's nothing wrong with saying a 23-year-old player needs a little time in the minors to correct some issues at the plate.
Apparently, this thought isn't shared by the Indians. While Bradley keeps gaining attention for his production in Triple A, Bauers keeps struggling to find a rhythm in the bigs. However, the Indians keeping sending him out there, assuming it's only a matter of time before he finds his swing.
That may end up being the case, but after two full months, we've yet to see any signs Bauers has a hot streak right around the corner.
That this is happening while Cleveland struggles to score runs is certainly frustrating. Making it worse is the fact it feels as though the decision is driven by the Indians hearing fans saying they were wrong to prioritize Bauers over Diaz and not wanting to convey a message of "you're right."

NEO Sports Insiders Newsletter
Sign up to receive our NEOSI newsletter, and keep up to date with all the latest Cleveland sports news.