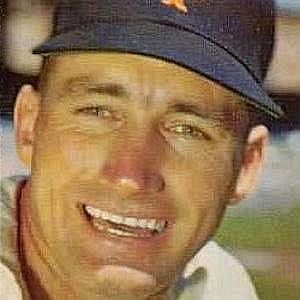 Alvin Dark was a born-again Christian during but mostly after his stint as manager/GM of the Indians. But really, he had bad timing. As Jeff Neuman, a fantastic sports writer for many newspapers and online sites, put it best about Dark:
Had he been born twenty years earlier, he would likely be in the Hall of Fame; twenty years later, he might never have believed or said the things that caused him so much trouble.
What was it about this shortstop turned manager that makes one question why he's not in the hall of fame when he has better stats than two of his era that are? Or why he would have success as a manager then get fired only to have success at the next place? In a word: Timing!
The Good!
The Kansas City Athletics had moved to Oakland. They had just finished two back to back World Championship Trophies! Dick Williams, the A's skipper for both series wins, had had enough of owner Charlie Finley interfering with his running of the club. He resigned just after the championship. Dark was hired by Finley and proceeded to win a third consecutive title!
Charles Finley (age 56) and Alvin Dark (age 52), 1974 @Athletics pic.twitter.com/zqnGLVrol5

— Vintage Jerseys & Hats (@PolyesterUnis) December 17, 2022
When Dark became manager of the Giants in 1961, he attempted to help integrate baseball even more than Jackie Robinson and Larry Doby. Ed Thoma has a wonderful baseball blog and he penned a great piece about this one deed of Dark's. We will share more about an incident that occurred later in the article.
 When he took over as Giants manager in 1961, he shuffled locker assignments to break up racial cliques. He had, as any manager would, a deep appreciation for the instant intelligence Willie Mays brought to the game, and named Mays team captain — the first black to officially hold such a position.
Bobby Thompson's "Shot heard 'round the world" never would have happened if it weren't for Dark, who singled to start the four run ninth! Yep, people forget that his single and subsequent first of the four runs was the catalyst for one of the greatest NL pennant victory celebrations in MLB history!
The Bad!
Let's give you some examples of bad timing.
The baseball in New York after WW2 was amazing. Alvin, Pee Wee Reese, and Phil Ruzzuto were dominant shortstops. Reese and Ruzzuto were elected into the Hall of Fame. But Dark, with a higher batting average and more home runs, has been shut out. Like Neuman says…just a few years earlier!
Wartime
In his autobiography When in Doubt, Fire the Manager: my life and times in baseball, Dark told this story about his military group operating in the Pacific theater after WW2. His group was in China in a town protecting a rail line:
"Our group ran the supply line for four months before being relieved. A month after I got back to the States, I received word that the Marines who took our place were ambushed in the Communist town and massacred." (P. 32)
His Cleveland break and heartbreak!
In October of 1968 Cleveland fired their manager, Joe Adcock. 1967 saw the team finish 8th, its worst showing since 1914. Gabe Paul, then GM, hired Dark who had just been fired earlier in the summer of 1967 by Kansas City Athletics owner, Charlie Finley. This should have been an exciting time for the former Giant!
A few weeks later, Alvin's wife, Adrianne, filed for legal separation from her husband. Dark called the time from 1968 to 1971 his Uzziah time, in reference to the biblical King who had it all then lost it all due to his arrogance. And to make things even more crazy, he married a woman with whom he had had an affair in the early 60's the same day he signed his divorce papers. That is some insane timing!
Overall – The Ugly!
Dark's overall record in Cleveland was 266 wins, 321 losses, or a .453 winning percentage. His first year at the helm the Tribe finished 3rd, their best showing since the late 1950's. But his next two years saw a 6th and 5th place finish. He was fired mired in 6th place in 1971.
"Old Day"Old NY Giants,Leo Durocher,Willie Mays and Alvin Dark meet before the 1969 All Star Game in Washington DC.#MLB #1960s #Cubs #SFGiants #Cleveland pic.twitter.com/XNcilZ6psl

— Tom's Old Days (@sigg20) October 14, 2021
You can't be both manager AND GM
In 1969, his arrogance at wanting to be the GM and field boss forced Vernon Stouffer, then owner of the Indians, to fire Gabe Paul. It was a decision Dark regretted. He even felt that dual role caused him to add to Tony Horton's depression and him to almost wreck his new marriage and family not even a year in!
Terry Pluto in his book, The Curse of Rocky Colavito, called Tony Horton "the most tragic Cleveland Indian." In his book, Dark called that time dealing with Tony as manager AND GM "[T]he most sorrowful, tragic thing that happened to me in thirty years in professional baseball…" (P. 136) 
Tony was a young, bright major leaguer with a great future. His first year and a half with the Indians were proof that they were right to trade with the Red Sox for the slugger. Tony's best year was 1969, when he hit .298 with 27 home runs and 93 runs batted in. Horton was the team leader in all categories. 
HAPPY 72ND BIRTHDAY TONY HORTON!!!
@Indians @That70sCard @70sBaseball @MLB pic.twitter.com/AOKw3xVLKj

— Gio/wthballs blog (@wthballs) December 6, 2016
When the 1970 season rolled around, he asked for a raise from Dark, his manager and GM. Dark traded for Ken Harrelson, telling Horton to take the team's much lower offer or Harrleson would be at first, not him! This episode was the beginning of a shocking free fall for the young Horton, who ended his career in August of that year when he tried to slit his wrists in his car in a Cleveland motel parking lot.
"I don't necessarily believe it was my fault, but I was the general manager and manager and couldn't give him the consideration he deserved…I couldn't help but take it personally." (P. 137)
1970
1970 is a good year to look into since it was his first full season with the dual roles of manager AND GM. Besides the Horton episode later in August, he started 2 rookies in the starting pitching ranks in Steve Hand and Rich Dunning. 
The pitching, besides Sudden Sam McDowell, led the American League in strikeouts (Sam had 304!) and was 7th in ERA. Trying to make a name as a talent evaluator, Dark became a trading fool at the end of 1969 and sent Sam's other pitching partner, Luis Tiant, to the Twins for Graig Nettles and a few others. Luis had his worst season as a hurler, so the idea seemed right at the time. But that left a huge hole in the rotation that Dark decided to fill with rookies. 
Dark tabbed Vada Pinson, the longtime Red's star, in the Jose Cardenal trade and then penciled him and six other players he had traded for in the off season into the starting lineup. Basically, he turned over his starting eight from 69 to 70! With this new lineup, the club was 2nd in home runs and 7th in runs scored. But both pitching and hitting never got on track together.
Down, then up, then down again!
They went 16-27 in the first two months of the season and never really recovered. They won seven in a row during June, giving fans some hope, but proceeded to lose 12 of their next 16. Those were the teams we knew! But you could pinpoint one reason for this: Dark's dual roles made it hard to be the enemy (GM) and motivator (manager).
Racist remarks and apologies
Being an outspoken individual is one trait of Dark's, and so is his southern upbringing in the 1930's. There are two incidents, one player and one manger, that need to be shared to understand the former Cleveland skipper.
Knocking over Jackie!
All of these stories come from two places. The main one is the Society for American Baseball Research and the SFGate online newspaper. Dark's book is another place with references, as is the wonderful blog by Edward Thoma and his story of Alvin and Willie Mays and racial integration.
From sabr.org:
In a game against the hated Dodgers, the Giants, who had just defeated the Indians in the 1954 World Series prior, were the victims of a Jackie Robinson play. To defend a fellow teammate who had been thrown at by Giant's pitcher, Sal Maglie, Robinson, following managers orders, layed a bunt down the first base line that Saul did NOT retrieve. As the first baseman made the play and tossed to Davey Williams, the second baseman covering first, Jackie knocked Williams over with great force, causing Williams to land on his shoulder (which affected the rest of his career).
Giants manager, Leo Durocher, wanted retaliation. According to sabr.org, there were two stories. One was that Leo did NOT want a black Giant to crash into Robinson at some time later. He asked two others to run into him. The second story was that Dark volunteered (P. 120).
Willie Mays credits Dark with helping him adjust to the major leagues when few would. His relationship with Dark was special, but then it wasn't. (That's the second story.) But Dark, the Giants captain, was the man who supposedly volunteered to run over the great Jackie Robinson!
And in the next inning, he got that chance. Crashing a double to the outfield, Dark kept running to third and though the ball beat him, he was able to jar it loose from Jackie's glove and knock him over.
Willie to the rescue 
The second story is how a frustrated Dark should have learned to praise in public and criticize in private. But it also left a mark on his entire baseball career.
In 1964, Dark was managing his Giants. The Giants still had Mays but also other black and Latino players like Orlando Cepeda, Willie McCovey, and Juan Marichal. After a few losses, Dark made comments that criticized these players and Cepeda in particular in an interview with Stan Isaacs with Newsday. Dark said afterwards that his comment was taken out of context. (SFGATE.com)
Willie held a meeting in the team's hotel with many of these players and told them basically there would NOT be retaliation for two reasons (again, all of these are from the blog post commenting on May's book):
One…reason…: Were Dark fired immediately, it would merely make him a martyr, "a hero to the rednecks."…Mays [also] reminded his teammates…that Dark was truly colorblind with his lineups and playing time.
Cepeda, in an interview by SFGATE.com, said "Dark was the wrong man to manage" the club and they would have been more successful with a different manager. Dark was fired after the season.
Mays backed his manager for this incident, but never spoke to him the rest of the season.
After retirement
When he was fired by Cleveland, he and his wife became strong readers of the Bible. He was always a religious man. After Cepeda made the Hall of Fame, Alvin wrote a letter to him congratulating him on his enshrinement. He also reached out to apologize to Orlando and others. Again, from the SFGATE.com story on the death of Alvin Dark, here is Cepeda's comments:
"Looking back, he made some mistakes, and he said, 'I want to apologize to you and Felipe and Jose Pagan.' It takes a man to do that.

"He found out Latin players come from a different culture. He said he wanted me to forgive him. I said, 'Alvin, that's in the past. I know you want the best for me.' We had a nice visit every time we saw each other. Sometimes we make mistakes. We're human beings. We grew up in different environments. Times change. We all change."
Alvin Dark's playing and managerial career had been a sea of success and frustration and sadness. And his time in Cleveland was a short period that was a perfect microcosm of his life as player and manager.
Dark was a good evaluator of talent but a poor communicator. He was fiery yet wanted the best for his players. Alvin Dark was respected by his peers, stood up for his teammates, but angered them with his occasional outbursts.
And his lesson learned that you can't be friend and foe resonates in sports today.
Thanks to all the writers who I used for this story. From Dark's autobiography to great sabr.org writers. From Willie May's book to John Shea with SFGATE.com to Edward Thoma's informative blogger site.
Baseball fans, what manager next? Manny Acta is a definite!
Please follow me at @Petrorock44.

NEO Sports Insiders Newsletter
Sign up to receive our NEOSI newsletter, and keep up to date with all the latest Cleveland sports news.