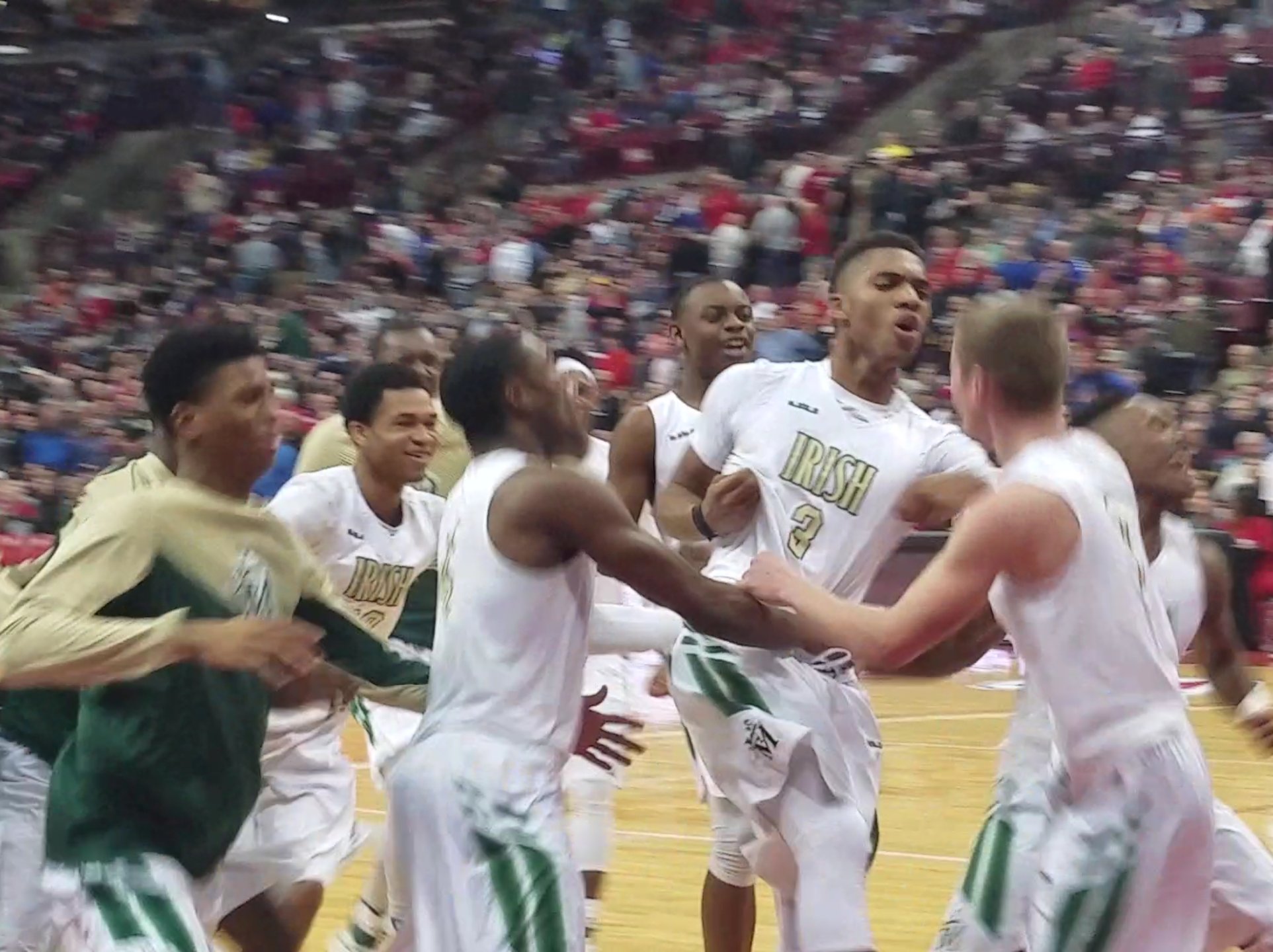 The St. Vincent-St. Mary Fighting Irish stunned Trotwood-Madison, 62-60, thanks to a buzzer-beater from senior leader Jayvon Graves, to advance to the Division II State Championship.
ICYMI: @JayGravess23 sends everyone home with a game winning floater as time expires. @STVMATHLETICS advances to D-II State Championship. pic.twitter.com/ZoE2yDh62F

— Spectrum Sports OH (@SpecSportsOH) March 23, 2017
The only time these two teams met in the regular season, St. Vincent-St. Mary lost by 39, but since then, the Irish have won 18 of 19, including the one that really mattered.
It was a game in which the Irish had their backs against the wall, trailing by four with less than five minutes to play, but STVM would not go away.
Lunden McDay hit a clutch three with 4:40 to play.
Huge 3 for McDay makes it a 1 pt game

4:40 to go pic.twitter.com/DAOWG05cn3

— Matt Medley (@MedleyHoops) March 23, 2017
Trotwood-Madison responded, but senior Jonathan Williams came through in the clutch, tying the game with another STVM three-pointer.
Williams ties it! pic.twitter.com/2olMa6qVpX

— Matt Medley (@MedleyHoops) March 23, 2017
Trotwood-Madison came right back and scored two straight buckets, leading by four with 2:35 to play.
Less than a minute later, McDay scored another clutch basket for STVM, trimming the deficit to two.
McDay makes it 60-58

1:37 to play pic.twitter.com/aULzXph83s

— Matt Medley (@MedleyHoops) March 23, 2017
STVM's defense held its ground and Williams was able to draw a foul on the next possession, getting to the free throw line and sinking both to tie the game with 1:22 to go.
Trotwood-Madison ran down the clock for nearly a minute, before Williams delivered again, swiping a steal away from Torrey Patton, the Division II Co-Player of the Year.
STVM got the ball back with 27 seconds to play.
The Irish ran down the clock and Division II's other Co-Player of the Year, Graves, did what he does best, stunning Trotwood-Madison and delivering yet another buzzer-beater to lift his team to the State Championship.
@STVMATHLETICS Buzzer Beater@JayGravess23 does it again

BALLGAME pic.twitter.com/SlmBMQcP7O

— Matt Medley (@MedleyHoops) March 23, 2017
Earlier in the season, he drained a similar clutch buzzer-beater on the road against Massillon Jackson to stun the Polar Bears on their home court.
Jackson has a very good chance at winning the Division I State Championship, but will have to get past St. Edward in the semifinal Friday night first.
Throughout the state semifinal, Graves was on a roll.
JAYVON GRAVES@JayGravess23 @STVMATHLETICS pic.twitter.com/HoPLwOqldE

— Matt Medley (@MedleyHoops) March 23, 2017
LeBron James gave a shout out to the Irish after the game. "Jayvon Graves" was trending on Twitter in Northeast Ohio.
Wow!!! That just sent chill through my body. First the steal then the shot to head to the ship!! #IrishPride☘️ https://t.co/sKTihnwb4T

— LeBron James (@KingJames) March 23, 2017
Graves finished with 22 points and 10 rebounds.
Williams finished with seven points (all of which came in the fourth quarter) and seven assists.
McDay scored 15 points, while Justin Sampson scored 11.
Patton led the way for Trotwood-Madison, scoring a game-high 34.
St. Vincent-St. Mary advances to take on Wauseon in the Division II State Championship, Saturday at 10:45 AM.
Graves reflected on the shot after the game and coach Dru Joyce talked about finishing the job on Saturday.
VIDEO: @STVMATHLETICS @JayGravess23 on GW-shot & @CoachDruJoyce "To not finish it, would just make this victory very hollow." @OHSAASports pic.twitter.com/rsTiKcmZ19

— Spectrum Sports OH (@SpecSportsOH) March 23, 2017