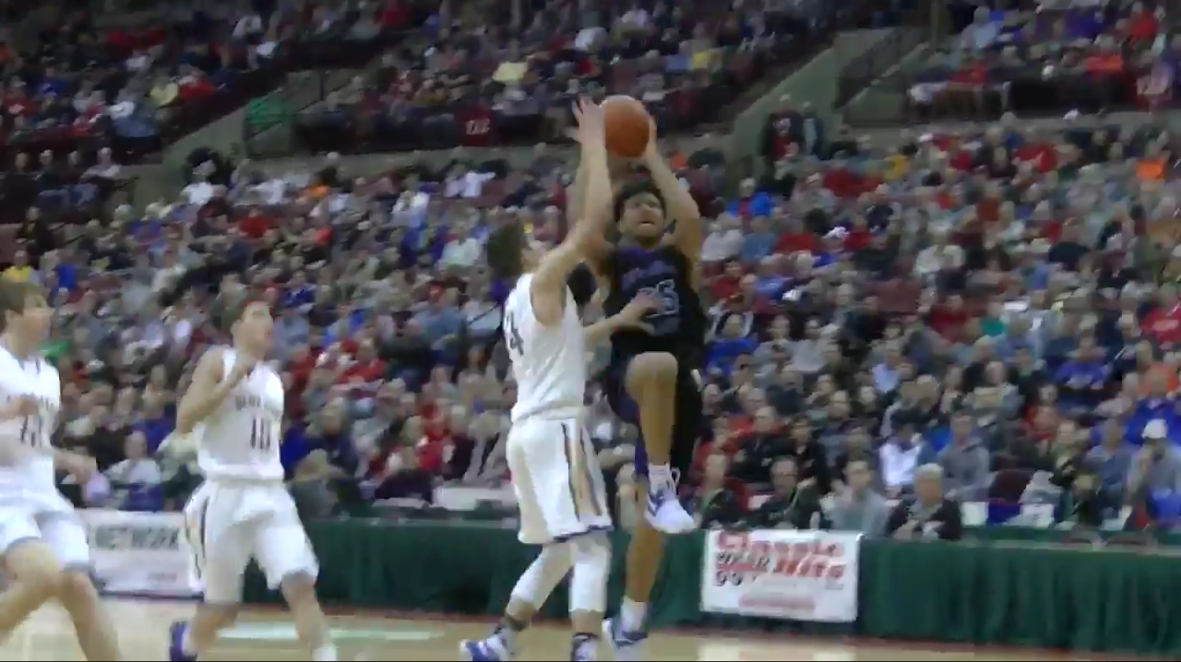 The Lutheran East Falcons advanced to the Division IV State Championship with a 50-25 victory over Delphos St. John's, thanks in large part to a dominant third quarter.
It was a three-point game at halftime, as neither team's offense could get going and the Falcons led, 16-13. Junior guard Jordan Burge led all scorers with nine in the half.
Lutheran East coach Anthony Jones revealed after the game, he had quite a bit to tell his players at halftime, so much so that they didn't even take the court to get warmup shots up before the start of the third quarter.
Jones was busy firing his players up.
"We came out with like a minute left (before the second half started)," Jones said.
"I told them, 'it's not about going out there and warming up,  it's about going out there, being productive and putting our pedal to the medal.' We did that."
A different Lutheran East team showed up in the second half and completely shut Delphos St. John's out, 21-0, in the third quarter.
Lutheran East's non-stop full-court press stifled the Blue Jays and in turn, the ramped up defense led to easy opportunities for the Falcons on offense.
Senior leader Maurico Tate credited that defensive intensity to the way the team practices.
"We press for an entire practice, hard. All 15 of us," Tate said.
Maurico Tate makes it 22-13 @LEFalconsHoops @LutheranEast has opened 2nd half on a 6-0 run pic.twitter.com/eMpBXePbdd

— Matt Medley (@MedleyHoops) March 23, 2017
It was balanced effort in the third, as Tate came to life, scoring eight points in the second half, after a quiet start.
Travis Sanders hit back-to-back three-pointers in the third quarter, creating even more breathing room.
Travis Sanders for 3

His first points of the game@LEFalconsHoops leads 27-13 pic.twitter.com/nmQrGmSzoC

— Matt Medley (@MedleyHoops) March 23, 2017
Sanders finished with six points on the night.
By the time it was all said and done, five different Falcons scored five or more points.
Burge led the way with a game-high 16. "We've been practicing and working hard every day to get to this," Burge said. "Now, we're one game away."
Tate was a perfect 5-for-5 from the field, scoring 10 points.
His coach couldn't say enough about Tate's work ethic and leadership.
"Maurico Tate has it in him," Jones said. "He's been by far the hardest-worker in our program this year and that's no knock to any of our other 14 guys, but this kid wants it. From what I know about his previous story years before he got here to me, he had a little bit of injury history. He's never been on a stage like this and I told him at the hotel today before the game, 'you're going to have a great game.' He just wanted it real bad."
"Everybody else was playing XBox and he's sitting over in the room stretching," his coach joked.
Another key player was 6-foot-8 senior center Justin Motley, who didn't even attempt a shot, but made his presence known, grabbing nine rebounds, blocking two shots and containing Delphos St. John's big man Timothy Kreeger to only two points.
Kreeger, a 6-foot-8 center, averaged 18.7 points per game on the season coming into play and was named First Team All-Ohio Division IV.
"Motley's never been a big scorer, but people will look at the stat column and say, 'oh, he only got three blocks,' and people will think those were the only three possessions he impacted, but you see he changes shots all the time and with his size, he made it difficult for the big boy to get good looks," Jones said.
"Also, when they got dribble penetration against us, he altered shots at the rim, which was a key for us, as well."
It was a total team effort, which started first and foremost with defense. The Falcons are one step away from their ultimate goal and will play Columbus Wellington for the state title Saturday at 2 pm.

NEO Sports Insiders Newsletter
Sign up to receive our NEOSI newsletter, and keep up to date with all the latest Cleveland sports news.