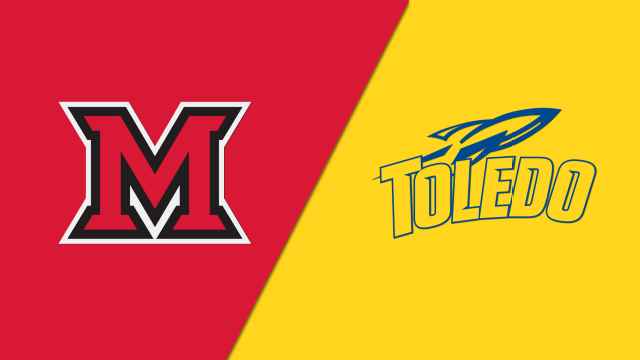 CLEVELAND– Toledo survived a furious late rally to get by Miami of Ohio 71-69 in thrilling fashion.  The MAC tournament is already off to the type of thrilling finishes that it has been known for, and this game was no exception as the Rockets pulled it off by the skin of their teeth.
After a first half that was a one-possession game the majority of the time, the Rockets build a 12-point lead late in the second half, and appeared well on their way to blowing out the Red Hawks.  Toledo led 63-51 with under 7 minutes to play.  The pesky Red Hawks were not going away easy however, and slowly began to chip away at the lead.
Suddenly the Rockets went cold from the field, and Miami started slashing to basket, and controlling the paint with rebounds and layups to cut the lead to 65-58 with 2:14 remaining in the content.  Things got even closer when Dalonte Brown drilled a 3 ball with 2:04 left, to make it 65-61 and set up the dramatic finish.
The Rockets remained calm as Nate Navigato sank two clutch foul shots to extend it back to 67-61.  The teams then exchanged foul shots and layups until it was 70-66 with under 20 seconds to go.  Miami had one last hope to pull off the upset when Nike Sabande sank a long ball, and cut it to 70-69 Toledo with only 9 seconds left.
When Miami couldn't get the steal, they quickly fouled Toledo, and then caught a huge break when Jaelan Sanford missed the front end of a pair of free throws.  Sandford was able to make the back end of the foul shots, but this now gave Miami a chance to tie or win it.
The No. 7 seed went for the win, and launched one from beyond the arc, but the Nike Sabande shot was off line, and the Rockets hung on for the win.  They will now take on the winner of tonight's final clash, Akron versus Eastern Michigan.
Coach Jack Owens of Miami, discussed his decision to go for the win in the closing moments:
"Well, it's a play that we ran," he said. "It's actually the play that Nike hit his first 3 on.  It's a cross to what we called gaggle.  It's off a free throw where both of our guys just cross out Isiah and Nike, and then we go with a dribble handoff, follow that with a ball screen."
"It's something actually we just put in this week and the guys executed down the stretch.  I'm just happy they were able to do that and Nike to put us back in position, and the press helped us as well when we were able to get some turnovers, some steals to get us going."