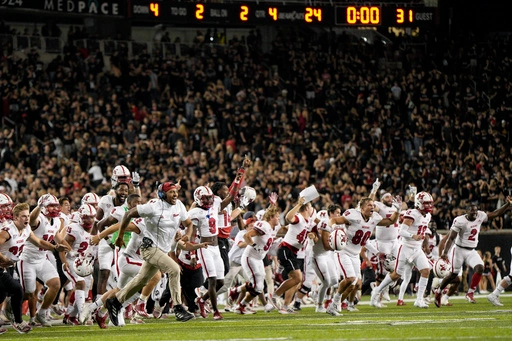 With all the hoopla around the "new" college football landscape, conferences like the #MACtion and Mountain West have to hope that the decision to open up the playoffs will allow teams like these to crash the bowl party. The Redhawks and Bobcats are ready!
With wins yesterday over the Big 12, Miami and OU served notice that the non-power fives can play, too.
OU beats Iowa State, 10-7!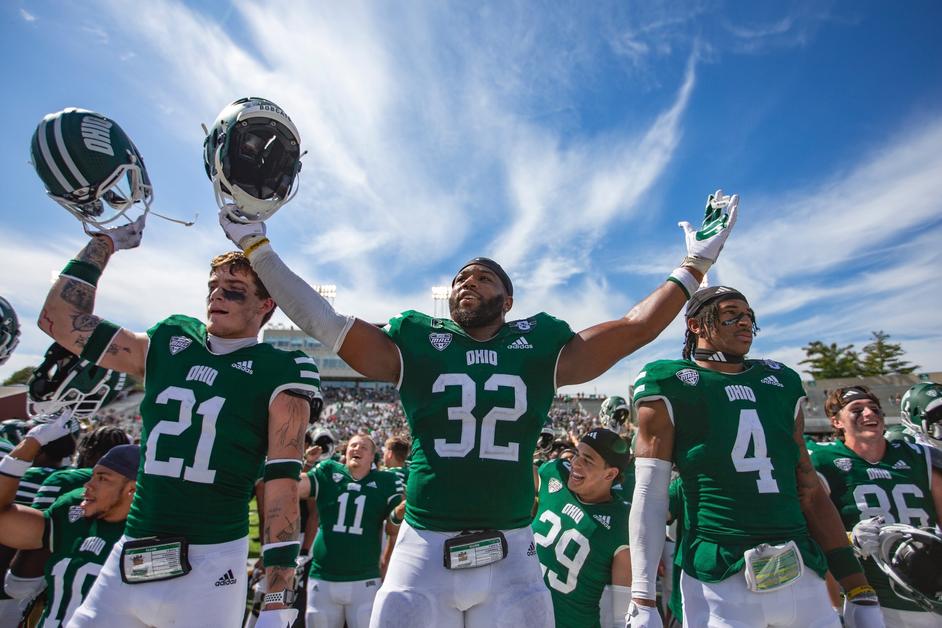 Photo courtesy of Brad Moore.
A defensive struggle for a victory is fine with the Bobcats. A late interception by DL Rodney Matthews sealed the victory for the men from Athens, Ohio. 
The teams traded missed field goals in the first half enroute to a scoreless halftime break.
OU owning the Stats!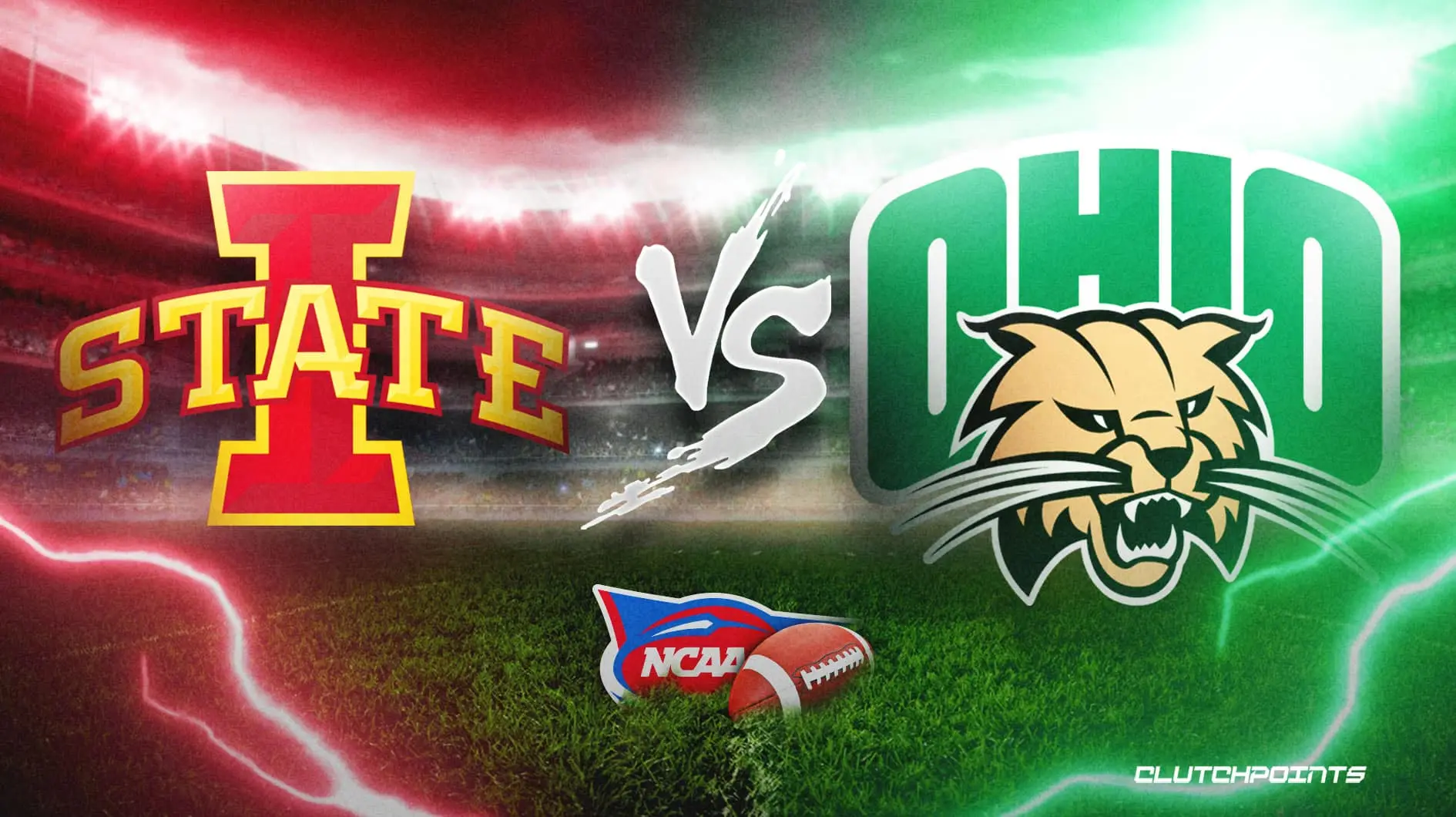 Kurtis Rouke, OU's tough QB, was 16 of 32 for 135 yards and a TD pass to Sam Wiglusz. Rouke was also the leading rusher with 58 yards on the day. Surprisingly, OU also owned the possession, 36 minutes to 24!
His Cyclone counterpart, Rocco Becht, completed 17 of 34 passes for 233 yards and a TD to Jayden Higgins. But he also tossed two interceptions, the most important being the final one tipped into Matthews big mitts!
Aren't all potential scoring plays reviewed?
But late in the fourth quarter, before Iowa scored their lone TD, a missed field goal, which looked good, was NOT reviewed by the referees. You judge for yourself if it was good.
Iowa State lost a game 7-10 due to an obviously made field goal that was ruled no good…
pic.twitter.com/gzHFkpYNhC

— JPAFootball (@jasrifootball) September 16, 2023
Tough year for Iowa State
Quite a few starters for the Cyclones were dismissed from the team before the season began due to gambling while some just left the program. Becht backed up Hunter Dekkers all spring and during the preseason. So pushing folks into positions early in the season is rough.
Also, many members of the team were suffering from a 48 hour bout of possibly food poisoning. But former Toledo HC now Cyclones head coach Matt Campbell would just like to get a victory as his team enters the Big 12 regular season play.
As rough as it's been for ISU, Ohio's HC Tim Albin loved this game as an example of how he wants his team to play.
"We asked them to raise the bar, and in a tie game when it's on the line, who's going to be the smartest? Who's going to have the most discipline and do the things? …We've got expectations and goals for the season and a plan on how to get those. Turnovers, field position and Ohio doesn't beat Ohio. Finally four games into it, we got that done." 
Here's his presser.
Next up!
Ohio visits Bowling Green in their MAC season opener. Ohio owns a 4-2 record over the Falcons in their last six games. A win could help springboard them into the top of the MAC East standings in 2023.
But as fun as their upset victory was, their hated rival, Miami, had perhaps the second best game of the evening in college football! (Can't take away from Coach Prime and the Buffaloes of Colorado!)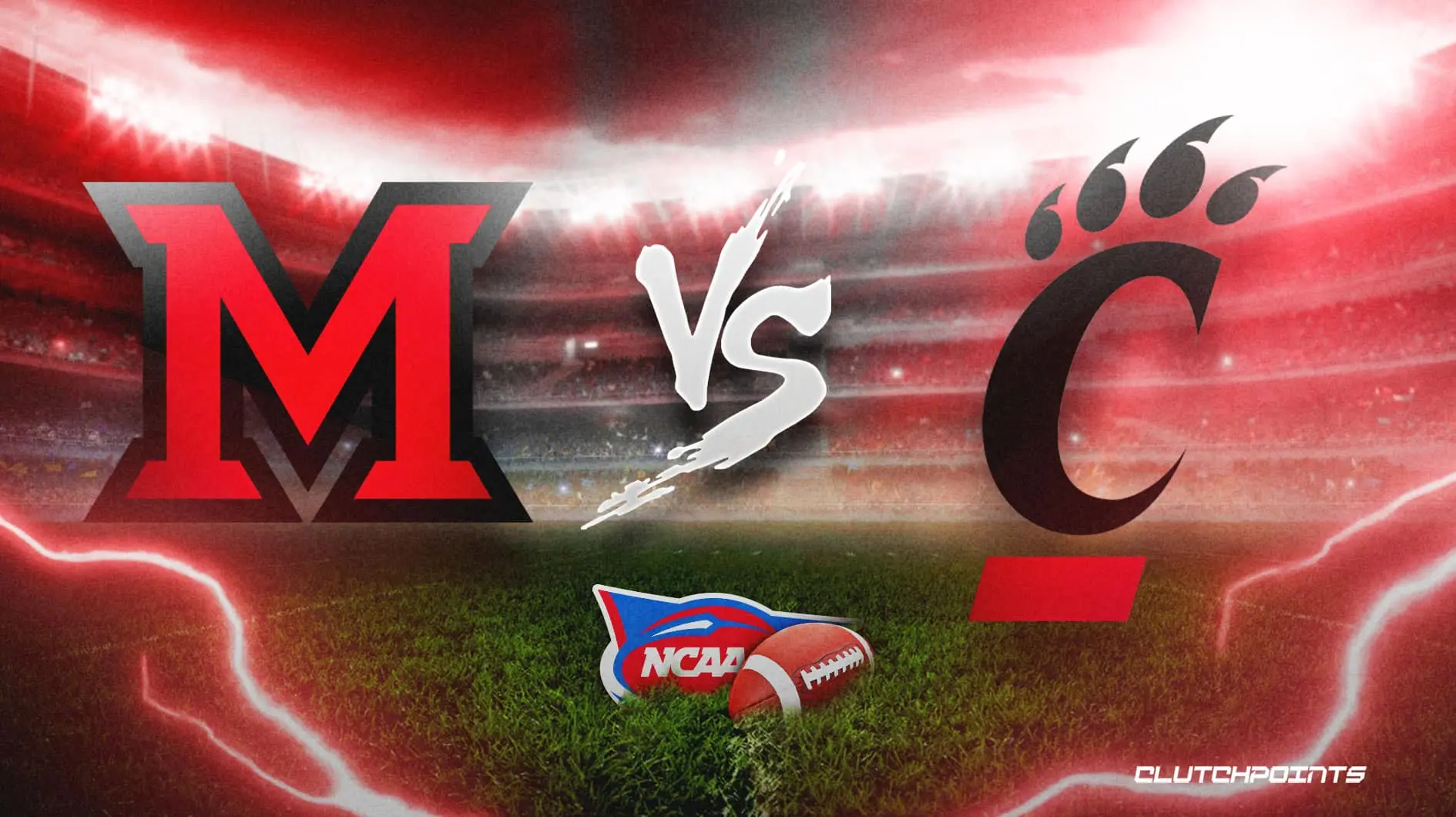 Miami defeats Cincinnati in OT!
For the past 18 years (16 games), Cincinnati has dominated the nation's oldest non-league rivalry. Since 2005 (before the creation of the iPhone) UC has dominated their northern neighbors from Oxford, Ohio. Yet last night, in one of the best football games in the nation, Miami found a way to defeat their foes, 31-24, in overtime.
Brett Gabbert tossed an eight yard scoring strike in the free time to WR Joe Wilkins, Jr., and Yahsyn McKee intercepted the Bearcats last attempt for the final margin.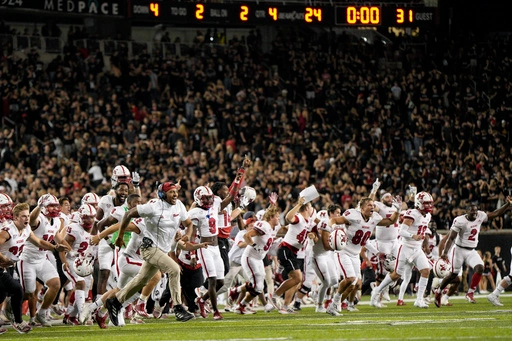 (Jeff Dean/FR171800 AP)
What a night for McKee! Prior to the INT, he blocked Cincy's field goal attempt to win the game with 19 seconds left!
IT'S NOT OVER YET🔥 @onlyfrizzz WITH A HUGE FG BLOCK TO SEND IT TO OT#RiseUpRedHawks | 🎓🏆 pic.twitter.com/Rdl0NXCmiH

— Miami Football (@MiamiOHFootball) September 17, 2023
Redhawks and Bearcat Stats
Miami's Gabbert was 12 of 20 for 237, 3 TDs and an INT. Emory Jones, UC's dynamic playmaker and QB, was 18 of 34 for 265 but with two costly turnover interceptions.
Cincinnati won the time of possession, 36 minutes to 24, and the rushing component with 273 yards, thanks to Ryan Montgomery's 104 hard-earned ones. But Miami's quick strike ability made it clear from the first play from scrimmage that they were here to win.
On the back of a 99yd TD reception against UMass last week, @MiamiOHFootball WR Gage Larvadain took a Brett Gabbert pass 79 yards to the house against Cincinnati yesterday – on the first play of the game.

Get him on your radar. #RiseUpRedHawks #MACtion pic.twitter.com/C6vg3QlQLo

— Simon Carroll (@NFLDraftSi) September 17, 2023
Gage Larvadain, the transfer from SE Louisiana, is making a habit of long touchdown catches. Did you miss last week's 99 yarder against UMass? Well, here you go!
While everyone was watching Texas vs. Alabama, Miami Ohio WR Gage Larvadain scored a 99-yard TD

The Transfer WR is a freaking studpic.twitter.com/BzU4dIDJjN

— Tom Downey (@WhatGoingDowney) September 10, 2023
The Redhawks Block
McKee and the coaches saw an opportunity in prior FG attempts. Here's McKee on the block at the end of the game to push it to overtime:
"The block was bigger than the interception because it gave us a chance…The right tackle was stepping down super far every time they had a chance to kick a field goal. I knew I would get one."
Cincinnati was in the red zone at least four times, but they were only getting 3 points.
"They were down there all night. We said all week that we had to make plays and we did," Miami coach Chuck Martin said of his first win against Cincinnati in nine tries. 
The lead changed hands four times. The first was the long Miami TD pass to start the game. But UC kept up the pressure. They tallied over 500 yards of total offense. Cincy took their final lead early in the fourth on a nifty 17 yard TD run by Jones.
This two point conversion made it 24-21, Bearcats. The student section went bonkers!
@andrewssports @robmiech @MurgesJohn @EdWithSports Back and forth we go. Emory Jones TD run and this 2-point PAT blows the top off the Nippert 🏟️ UC student section. Bearcats 24 Miami 21 with 13:52 in Q4 still left. Hang onto your butts. pic.twitter.com/zvl2rOU46d

— QC (@QuantCoach) September 17, 2023
But following a Cincinnati punt, Miami charged 77 yards in 11 plays to tie it up with a field goal. The first play on that scoring drive was a huge 38 yard pass completed to Miles Marshall that took the Redhawks quickly in Bearcat territory.
The Redhawks INT!
Miami called a perfect play for their TD, a fade to Wilkins. Yet it seemed that Brett didn't get enough of the throw over Wilkins' outside shoulder. But the trusty receiver made the correction and grabbed the toss.
Le TD de l'upset ! Brett Gabbert ➡️ Joe Wilkins Jr. pic.twitter.com/KdresBMG8L

— The Trick Play – NCAA/CFB (@TheTrickPlayFR) September 17, 2023
Jones was tough all game, but on the final play of the game, his pass went to where NO BEARCAT was. Only McKee. Clearly a miscommunication.
"We moved the ball. We got a lot of yards, but ya got to get a lot of points," Coach Satterfield said after the loss in his press conference. He mentioned the penalties by his players and a strange lineman downfield call by the referees when they were at Miami's two yard line! But he credited both his coaches and Miami's for all the adjustments each team made.
Miami's coaches really wanted this game. Something positive for your players, fans, and alumni. Namely, Miami's best football is ahead of them. Here's more from Coach Martin.
"It's been a long time. A lot had to go our way. We kept fighting, fighting, fighting. We said all week it means everything to Miami. The last 10 years we haven't been competitive."
Next Game
UC opens their conference schedule next Saturday with a big game against Oklahoma!
Miami hosts Delaware State.
Circle October 28th on your schedule! Ohio hosts Miami and both could be undefeated in the MAC at that time! It is possible that the game will be moved to Friday night to accommodate a national audience.
The teams have split the last four games with OU winning booth games after their 2020 match was canceled due to the pandemic.

NEO Sports Insiders Newsletter
Sign up to receive our NEOSI newsletter, and keep up to date with all the latest Cleveland sports news.