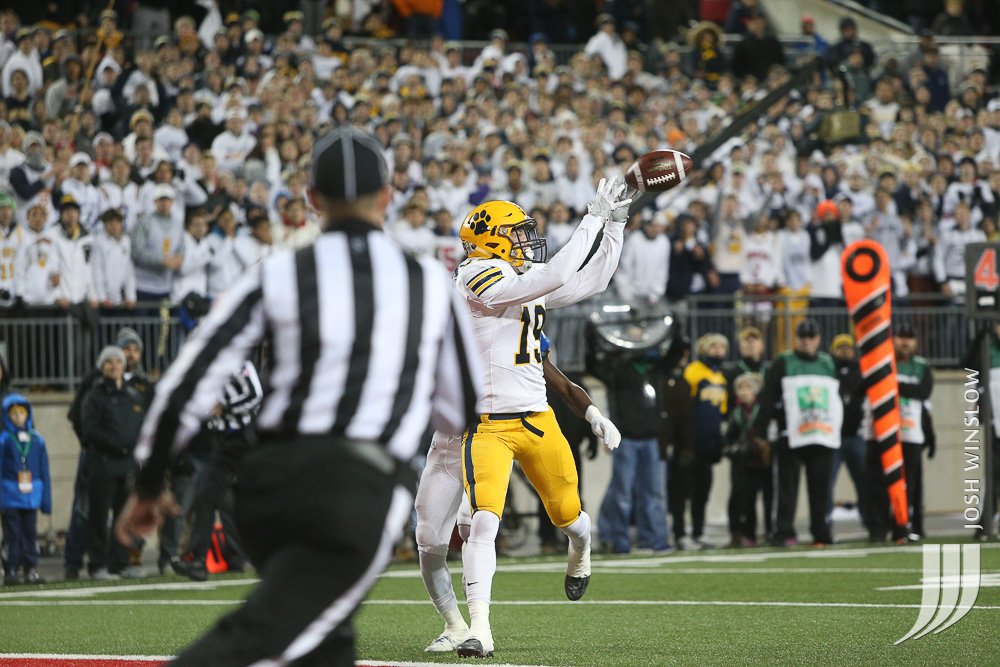 COLUMBUS, OHIO – It is all over from Columbus Ohio tonight as Chuck Kyle and the St. Ignatius Wildcats came up just shy of winning their 12th Division One state championship with a 27-20 defeat against the St. Xavier Bombers.  The Bombers rallied from a 10-0 halftime hole to win it in thrilling fashion in double overtime.
Patrick Ryan did not have his best game, as he turned the ball over twice and stumbled on the 3 yard line with a chance to score late in overtime. It was part of a long night for Ryan who finished just 7 of 24 passing, for 64 yards, a touchdown, an interception and a fumble.
It was a combination of penalties and turnovers that caused the Ignatius downfall tonight.  This was something that they never did during the regular season, tonight they did, and it cost them dearly.  They had 7 penalties for 70 yards and 3 huge turnovers that led to points for the Bombers each time.
Mark Bobinski did his best to make up for the slow passing attack tonight. Bobinski who has been the starting tailback since regular starter James Andrews was injured the last time these two teams met, went for 144 yards on 34 carries.
The Bombers did their best to hang with the Wildcats all night until eventually overcoming a 10 point halftime deficit to win. Starting quarterback Sean Clifford threw for 142 yards on 10 of 25 passing with 2 touchdowns coming in the third quarter and overtime to win it.  As he did all season however, he was also a threat on the ground and ran for 56 yards.
Despite the loss, this is now the 12th State Championship game in the school's history, the last one coming in 2011.  Chuck Kyle has been at the helm for all of them and had this to say about the team's success this year, "We made it here because of a lot of hard work the kids put in.  In big ballgames they have proven they are resilient. We had our peaks and valleys but we kept fighting back and by the end of the game, that is all you can ask for in the playoffs"
The scoring started off in favor of St. Ignatius when after forcing a 3 and out on the games opening possession, they blocked the Xavier punt for a touchdown to take a 7-0 lead less than a minute into the game.  The Ignatius defense continued to stand tall, getting the ball back for the offense on a short field which led to a Matthew Trickett FG to give them a 10-0 lead midway through the first half.
The game would remain 10-0 St. Ignatius at the half as both teams failed to move the ball.  With blustery cold weather and stout defense, both teams struggled to pass and had to rely solely on the ground game when they could.
St. Xavier quarterback Sean Clifford was held to 1-11 passing in the first half for 16 yards.  He was held in check on the ground as well, rushing it 10 times for 2 yards.  Meanwhile, St. Ignatius Mark Bobinski faired much better, piling up 72 yards on 16 carries.
The second half started off with a St. Ignatius mishap as Patrick Ryan fumbled it away on the opening possession. Ryan had been looking shaky all game and it finally came back to bite him.  St. Xavier capitalized on the short field and converted a 31 yard field goal to get on the board.
The Bombers would remain red hot in the second half as they continued to roll the next time they touched the ball.  It was a 22 yard touchdown pass from Sean Clifford to Andrew Whittrock to tie the game at 10 apiece.
The game would remain tied until the 6:55 mark of the fourth quarter when St. Ignatius running back Aidan Gill fumbled it from his own 6 yard line, and the Bombers picked it up for a touchdown.  This gave the Bombers the 17-10 lead.
In dramatic fashion on a 4th and 17, the Wildcats refused to quit, and with only 1:11 left on the clock, it was Patrick Ryan hitting Michael Drobnick from 22 yards out to tie the game at 17 and send it into the dramatic overtime.  It was an incredible clutch throw from Ryan who was having a bad night filled with turnovers and sacks prior to that.
After exchanging field goals in the first overtime, the Bombers put it away with a 7 yard Clifford to Whittrock strike to win it.
Box Score
St. Ignatius 10-0-0-7-3-0-20
St. Xavier 0-0-10-7-3—7-27
Scoring Summary
Blocked punt TD Michael Chime @11:03 1Q XP Good 7-0
45 yd FG Matthew Trickett @6:33 1Q 10-0
42 yd FG Rockwood @9:21 . 10-3
22 yd TD pass Clifford to Whittrock @5:13 3Q 10-10
6 yard Fumble return for TD @6:33 4Q 17-10
22 yard TD pass from Ryan to Drobnick. @1:11 4Q 17-17
Overtime
20 yd FG Matthew Trickett puts Ignatius ahead 20-17
28 yd FG Rockwood  20-20
Double Overtime
7 yd TD pass Clifford to Whittrock  27-20 St. Xavier

NEO Sports Insiders Newsletter
Sign up to receive our NEOSI newsletter, and keep up to date with all the latest Cleveland sports news.