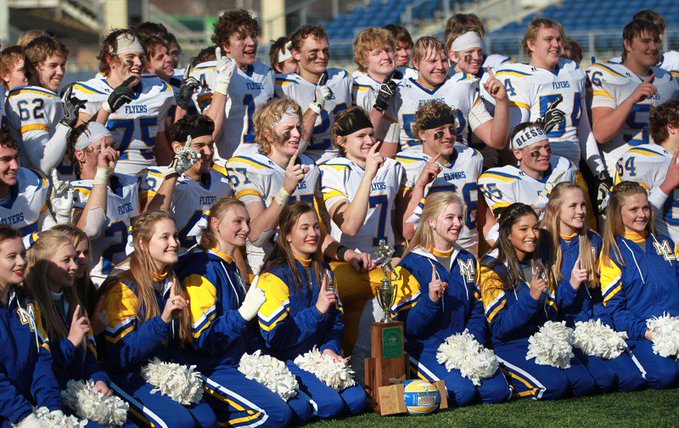 Marion Local 7 7 7 7 = 28
(Mercer County)
Lucas 0 0 6 0 = 6
(Richland County)
By Don DiFrancesco
CANTON, OHIO – Marion Local continues to be one of the preeminent high school programs in Ohio. The Flyers won their eleventh state championship on Saturday, beating first-time finalist Lucas 28-6. Marion Local has now tied Cleveland St. Ignatius for the most football championships in Ohio history.
Lucas forced the Flyers to punt on the first drive of the game, but a roughing-the-kicker penalty on the Cubs kept the Marion Local offense on the field. The Flyers took advantage, scoring on a 1-yard run by Dylan Heitkamp.
Lucas used most of the remaining first quarter minutes to demonstrate their "wing-T" offense. A 17-play drive failed to generate a score though, and a 17-yard loss on a fourth down sack gave the ball back to Marion Local on their own 49. The Flyers needed only three plays to score again, the touchdown coming on an 8-yard run by Brandon Fleck with 11:21 to play in the first half.
Lucas avoided falling back by three scores when Logan Niswander intercepted a pass at his own 1-yard line and returned it to the 22.
Another long possession—13 plays—ensued, but the Cubs were again thwarted by Marion Local, turning over the ball on downs with 0:57 to play. The Flyers ran out the clock and took a 14-0 lead to the intermission.
Coach Tim Goodwin was happy with the way his Flyers responded to the unique Lucas offense. "We hadn't seen anything close to that before," he said after the game.
Marion Local looked to score early in the second half. Lucas went three-and-out and launched a 45-yard punt that was returned those same 45 yards by the Flyers' Peyton Otte. But a long pass on their second play from scrimmage was intercepted by the Cubs' Carson Hauger at his own 4.
Lucas was hampered by an intentional grounding penalty on the subsequent drive and had to punt from their own endzone. It took Marion Local only five plays to raise their lead to 21-0 as Fleck scored again, this time from 6 yards out.
What seemed to be a comfortable lead turned around quickly. Hauger returned the Flyer kickoff 96 yards for a score. The extra point kick was no good, but the Cubs were back in the game.
And that was further emphasized when Lucas successfully executed an onside kick, recovering the ball at the Marion Local 45. According to Cubs' coach Scott Spitler, that was the first time that Lucas had attempted an onside kick all season.
"We had our 'hands' team in there, but it didn't quite work out for us," said Flyers' Coach Goodwin who expected the onside attempt.
But the Flyers didn't panic, stuffing the Cubs' running play on fourth down, and reclaiming possession with 2:48 remaining in the third quarter.
The 96-yard return for touchdown by Hauger set a state record for longest kickoff return in an Ohio championship game. "He's now returned five of those for us," said Spitler following the contest.
In the fourth quarter, Marion Local put the game away when Fleck notched his third touchdown of the game, a 3-yard run with 2:36 to play.
Coach Goodwin was very pleased to see his Flyers achieving top-ranked champion status. "I know the history of St. Ignatius football. It's cool to be right up there with them."
In addition to the title victory being Marion Local's eleventh all-time, it was their third in the last four seasons (2016, 2017, and 2019).
First Quarter
ML Dylan Heitkamp, 1 run (Alex Klosterman kick) [7:45]

Second Quarter
ML Brandon Fleck, 8 run (Klosterman kick) [11:21]
Third Quarter
ML Fleck, 6 run (Klosterman kick) [5:02]
L Carson Hauger, 96 kickoff return (kick failed) [4:50]
Fourth Quarter
ML Fleck, 3 run (Klosterman kick) [2:36]

NEO Sports Insiders Newsletter
Sign up to receive our NEOSI newsletter, and keep up to date with all the latest Cleveland sports news.