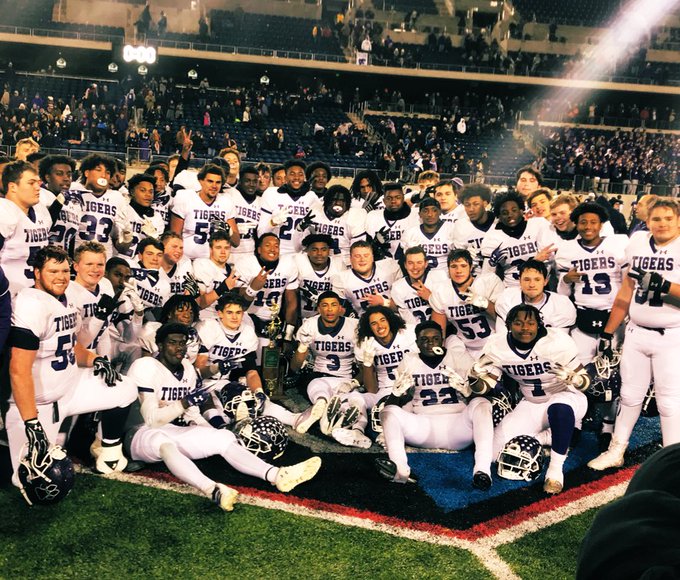 CANTON, OHIO – Pickerington Central quarterback Demeatric Crenshaw is no stranger to big moments.
In 2017, Crenshaw scored a title game record six touchdowns in a win over Mentor.
Fast forward to 2019, and the hero of this Tigers team delivered the game winning touchdown that propelled Pickerington Central to a 21-14 championship win over Cincinnati Elder.
Elder jumped out in front first on a 33-yard touchdown carry by dual threat quarterback Matthew Luebbe. Pickerington would get that score back early in the second quarter when Akron offeree Nick Mosley stiff armed his way to the end zone to make the score 7-7 heading into halftime.
After a Joseph Catania 2-yard touchdown, Elder appeared to be in the driver's seat, leading 14-7 in the fourth quarter.
For Demeatric Crenshaw, this was the moment he has been craving since his sophomore year.
His first of two fourth quarter touchdown passes came with 10:16 left. A perfect strike to his receiver Tyler Gillison on a cold blooded fourth and goal conversion.
After Pickerington's "twelfth man" rallied the defense to a pair of stops, Crenshaw would add one final defining moment to his legacy.
The speedy Notre Dame commit Lorenzo Styles Jr. would split the zone coverage over the middle, catching a bullet from Crenshaw for the 33-yard touchdown with 3:41 to play.
"Me and him just have a connection," Crenshaw said about the future Fighting Irish wideout, "Reading the defense, I knew I was going to him on that play. Anthony (Lampron Jr.) noticed they were doing something and brought it up in the huddle."
On the final drive, Elder was able to get into Pickerington territory, but on fourth down, Drew Ramsey couldn't stay in bounds on what would've been his second impressive catch of the day.
After a pair of kneel downs by Crenshaw, the emotions came spilling out of the Pickerington Central sideline. For the second time in three years, the Tigers were state champions.
The most critical part to the Tigers' fourth quarter rally was their success on fourth down. Crenshaw, who finished with 259 total yards and 2 touchdowns, went five-for-five on fourth down conversions in the final quarter.
Elder (12-3), who had looked very strong on both sides of the ball for most of the game, couldn't sustain their success in the fourth quarter.
Panther quarterback Luebbe finished with 118 yards on the ground and 111 through the air, but that wasn't enough to win the title against this uber-talented Tiger squad.
For Pickerington Central, they win their second title in school history, the first of which came in 2017. The Tigers have cemented themselves as the team to beat in Division I, and are champions once again.
Pickerington Central (14-1) 0 7 0 14 21
Cincinnati Elder (12-3) 7 0 7 0 14
Top Performers
Passing
Demeatric Crenshaw (PC): 14-16, 197 Yards, 2 TD
Matthew Luebbe (Elder): 10-17, 111 Yards
Rushing
Demeatric Crenshaw (PC): 19 Carries, 62 Yards
Matthew Luebbe (Elder): 20 Carries, 118 Yards, 1 TD
Receiving
Lorenzo Styles Jr. (PC): 4 Receptions, 85 Yards, 1 TD
Drew Ramsey (Elder): 6 Receptions, 65 Yards
Defense
William Dukes (PC): 8 Tackles, 0.5 Sacks
Bartley Thomas (Elder): 7 Tackles, 0.5 Sacks

NEO Sports Insiders Newsletter
Sign up to receive our NEOSI newsletter, and keep up to date with all the latest Cleveland sports news.