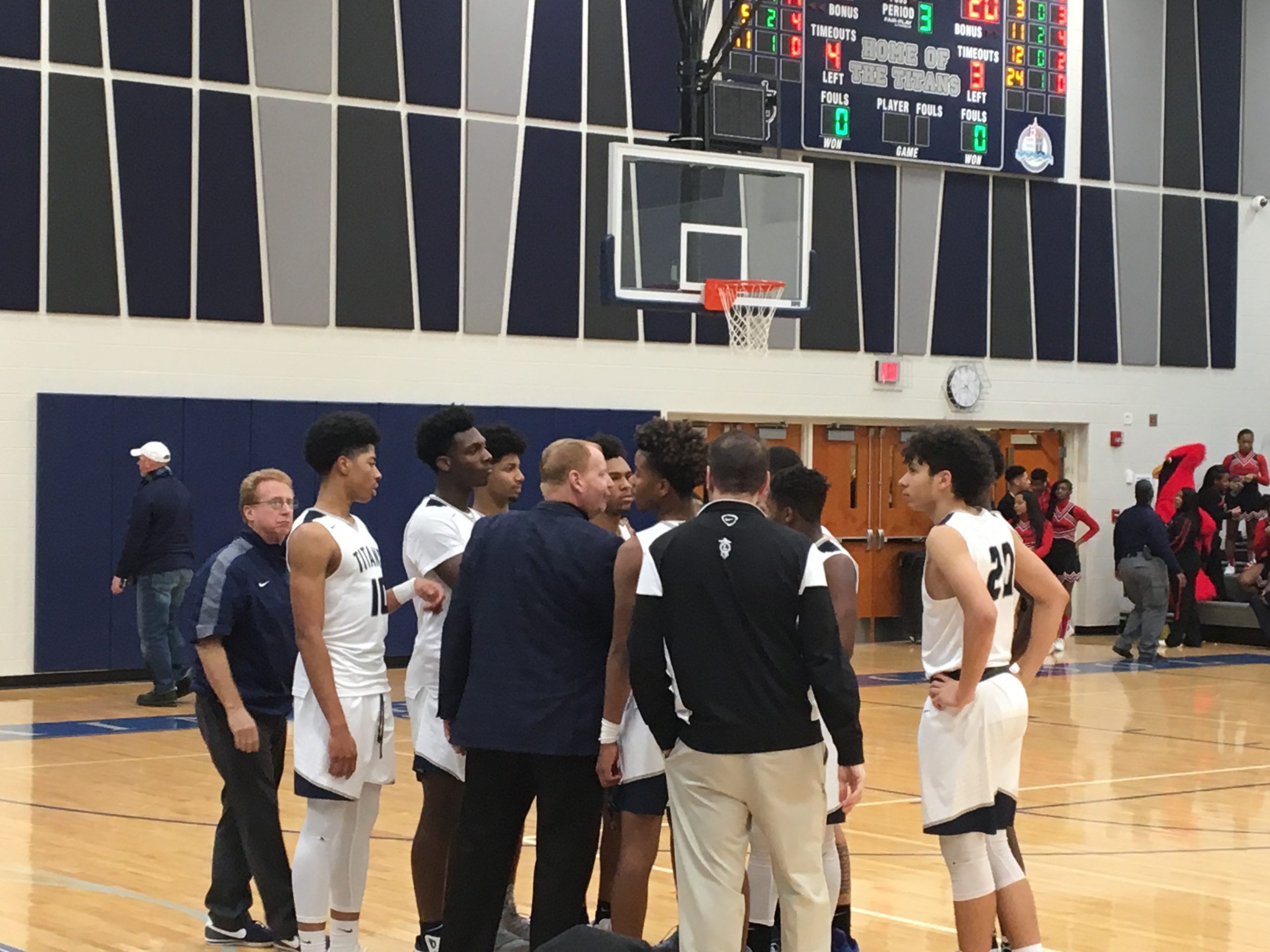 AKRON, OHIO— Both Lorain guard Devon Grant and head coach John Rositano were speechless when the clock hit triple zeroes on the scoreboard to end the game in their overtime victory on Wednesday against the No. 5 ranked St. Edward Eagles.
Rositano drew up the last play of for his guard. As the clock was ticking down, Grant pulled up and connected on a 3 to tie the game at 60 with 12 seconds to go in regulation, effectively sending the game to overtime.
BANG! Grant with a three to tie it up at 60 with 8 seconds to go. Timeout Ed's. pic.twitter.com/UKYlWOV3Zb

— Mike C (@mikecoutee94) March 15, 2018
The confidence continued for Grant. He scored every basket for the Titans in overtime, finishing with 34 points to lead his Titans team to a 72-69 win over the Eagles.
"I look back at it to where I used to play in my old town back in the days," Grant said. "That time I used to always shoot jumpers from far away and anywhere. I thought about it and I said to myself it's my time and I knew I could make it."
"Big players make big plays in big games," Rositano said. "Grant made some big-time plays and shots down the stretch.
Fast and Furious: Both teams got off to a hot start in this one. Lorain's Taevon Pierre-Louis started the game with a fast-break layup. Ten seconds later, the Eagles responded with a 3-pointer from PJ Flannery. The shooting clinic continued for the Eagles in the first quarter as they led 15-4 at the 3:36 mark.
The Titans got the lead back in the second quarter on David Weatherington's steal and transition layup to make it 21-20. But then the Eagles went on an 11-4 run to lead, 31-25. Everything was going right when they build a 10-point lead as Montorie Foster cut through traffic and finished with a floater.
The Turning Point: Starting the fourth quarter, St. Ed's jumped out to a 7-0 run. Lorain struggled with their outside shot, but moments later, the Titans started a run of their own. First,  Weatherington hitting a 3-pointer from the corner. Then, Pierre-Louis attacked the basket and drew the foul. He made both of his free-throws to cut the Eagles lead to 58-57. On the next Eagles possession, Flannery scored on a layup and drew a foul.
From there, everything went as a planned for Lorain. As Rositano told his team to give the ball to Grant, the stage lit up for the Titans.
"We kept our composure and kept our heads up," Pierre-Louis said. "Even when we were down, we got together, start talking to one another and kept pushing. We lost five starters last year and no one expected us to make it this far because we're young."
The 6-foot-6 forward finished with 15 points.
Up Next: Lorain moves on to play in the Regional Finals against either Toledo Whitmer or Toledo St. John. That game will take place at the University of Toledo on Saturday.
Let the celebration begin! @NEOSportsInside pic.twitter.com/t4xejItVk4

— Mike C (@mikecoutee94) March 15, 2018
Final Thoughts: The St. Ed's Eagles end their season with a 22-4 record. But, one takeaway for  head coach Eric Flannery from tonight's game is that his team fought.
"It's one of the games that hurt but I'm very proud of my guys tonight," Flannery said. "Give credit to Lorain, they made their shots and they had a player that went off all night. We couldn't extend our lead in the fourth quarter and they took advantage because we couldn't make our shots. No need for our guys to hang their heads. Just a great season."

NEO Sports Insiders Newsletter
Sign up to receive our NEOSI newsletter, and keep up to date with all the latest Cleveland sports news.