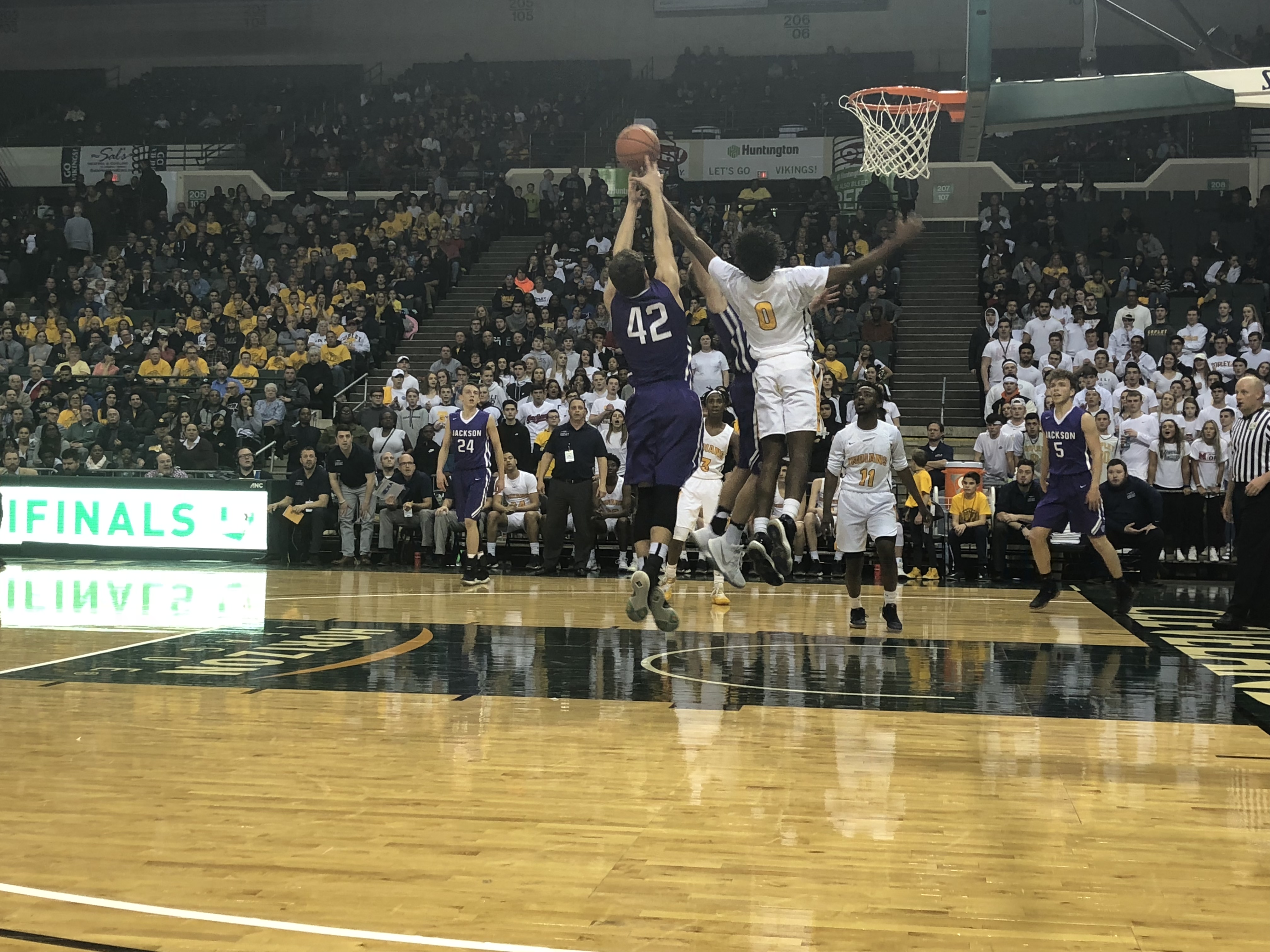 by Don DiFrancesco
@MayorNEOPrep
CLEVELAND– Copley continued its late-season surge with an impressive 75-58 victory over Massillon Jackson, last year's OHSAA Division I state champions. The Indians have won 13 of their last 14 games and will put that streak on the line Saturday night in the Cleveland State University regional final vs. Solon.
On Wednesday evening at CSU, Copley came out blazing, shooting 11-for-14 and pulling out to a 29-19 opening-quarter lead. Jackson senior captain Jaret Pallotta admitted after the game that, "It was discouraging—we thought we were playing good defense, yet Copley kept making shot after shot."
The Indians cooled a bit in the second quarter, shooting "only" 7-for-14. Jackson also shot pretty well, going 12-for-24 in the first half. The Polar Bears were paced by senior guard Ethan Stanislawski. He had 10 points by halftime, and finished as Jackson's leading scorer with 20 for the game.
But Copley senior guard Brian Roberts put an exclamation point on the Indians' first half with a 3-pointer that swished in at the buzzer. That shot gave Copley a 45-30 lead and capped a near-perfect first half for the Indians: 64 percent shooting, a 13-11 rebounding edge, and only one turnover committed.
Jackson came back with a strong third quarter. They sank four 3-pointers, two each from Stanislawski and junior guard Anthony Mazzeo, and closed the gap to 56-46 going to the final period.
Copley regained their shooting touch in the fourth quarter with junior forward Sam Emich putting in two big baskets, the second one giving the Indians a 65-49 lead with 3:26 remaining in the game. From that point on, Jackson was forced to foul, putting Copley players at the charity stripe for eight consecutive possessions. The Indians were up to the task, sinking 10 free throws in the game's final three minutes on the way to a 75-58 victory.
Copley coach Mark Dente was pleased with his team's performance, noting that "All five starters can score and can handle the ball."
In Wednesday's game, all five starters scored in double figures, led by Roberts with 24 points. Senior forward Isaiah Rogers scored 15 points and pulled down a team-high 10 rebounds.
Jackson coach Tim Debevec was disappointed, of course, "But you have to tip your hat to Copley after an outstanding performance like that."
Senior captains Pallotta and Stanislawski were "Hoping to get back to Columbus," but are very proud of the Polar Bears' performance—including that 2017 state championship—that they were a part of.
| | | | | | |
| --- | --- | --- | --- | --- | --- |
| | 1Q | 2Q | 3Q | 4Q | FINAL |
| JACKSON | 19 | 11 | 16 | 12 | 58 |
| COPLEY | 29 | 16 | 11 | 19 | 75 |
Massillon Jackson
Stanislawski       7-2-20
Mazzeo                 5-0-15
Pallotta                  5-1-13
Hyde                        3-1-7
Reed                        1-0-3
Copley
Roberts                5-11-24
Rogers                    7-0-15
Solomon                5-4-15
Dente                      4-0-11
Emich                      4-1-10