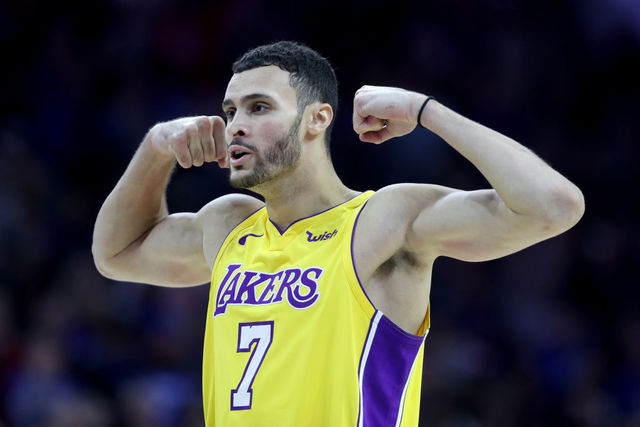 ATLANTA– Larry Nance Jr. has been a Cavaliers fan for most of his life, and why wouldn't he be?
His dad, Larry Nance Sr., has his No. 22 hanging in the rafters at Quicken Loans Arena. The elder Nance was with the Cavaliers from 1987-94 and was a two-time All-Star and three-time All-NBA defensive team member. Growing up, Nance Jr. attended Revere High School said he was a die-hard Cavs fan, going to "as many games as I could."
"We love the Cavs," he said. "You should see our house. Why wouldn't we? It's my dad. My family loves Cleveland."
It's no surprise then, that Nance was thrilled when he was traded from the L.A. Lakers to the Cavaliers on Thursday prior to the trade deadline, along with Jordan Clarkson. In return, the Lakers acquired both Isaiah Thomas and Channing Frye as well as the Cavs' 2018 protected first-round pick.
"I always wanted to play in the NBA. And then once that dream came true, obviously I loved my time with the Lakers. I can't thank them enough. But, you know, this is home," Nance said after Saturday's practice in Atlanta. "There's something about it that just feels right. I really can't wait. I just can't wait to get to play in my first game alongside these guys and play for the team I've been rooting for my whole life."
Along with the Lakers trade, the Cavs also acquired George Hill and Rodney Hood in a three-team trade with Sacramento and Utah. Head coach Tyronn Lue said on Saturday that Hill would be the only new Cavalier to join the starting lineup as the Cavs take on the Celtics on Sunday afternoon, and that Nance would be Tristan Thompson's backup for now.
On Thursday night, Cavs general manager Koby Altman said in a conference call with reporters that Nance was in "borderline tears" when Altman talked about the deal with him over the phone. With a laugh, Nance refuted that.
"I gave him a hard time for that because that's not true," Nance said. "I was excited, I was super excited. We had a good conversation. He could tell I was excited, he was excited about bringing me here. Like I said, this is home. There was a little bit of extra emotion, but not teary. I'm more of a man than that."
Nance said he heard rumors that he could potentially be traded by the Lakers, and while he wasn't thinking about it, he wasn't surprised when it happened. He said he was at home getting ready to go to the Lakers' shootaround ahead of their game with the Oklahoma City Thunder when he got the news.
"When I went to go wash my face or whatever, my fiancee kind of calls in and goes, 'There's an update. The Cavs and Lakers are in serious trade talks,' " Nance said. "I was like, 'Oh, man, I wonder who that could be?' Not 30 seconds later, 45 seconds later I got a call from [Rob] Pelinka, our GM. Magic [Johnson] and Luke [Walton] were there as well and they told me."
From there, the former Revere and Wyoming standout said he called his parents to tell them the good news.
"The first person I called was my Mom and Dad and let them know I was coming home," Nance Jr. said. "They didn't believe me at first, thought I was kind of messing with them. I said, 'No. Here in about 45 seconds you'll get the update on your phone.' Pretty cool experience."
Nance said his parents would not be in attendance tonight in TD Garden as he makes his Wine and Gold debut. His younger brother, Pete, is a Revere senior and has a game of his own.
"Priorities guys, priorities," Nance joked.
Nance was too young to remember his dad's playing career, but was present when the team retired his dad's jersey. He will wear No. 24, and didn't even think about asking his dad for No. 22.
"No. No," Nance said. "Obviously, people texted me, 'What are you going to wear?' I wanted 7 (Bingo Smith), couldn't have that. (Larry Sr.) earned that. That's his accomplishment. I believe he deserves to keep that and it needs to stay up there."

NEO Sports Insiders Newsletter
Sign up to receive our NEOSI newsletter, and keep up to date with all the latest Cleveland sports news.