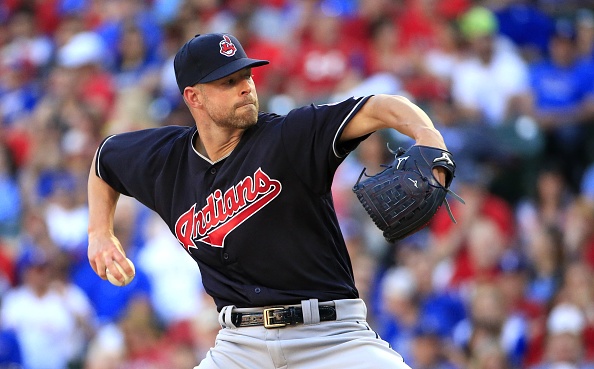 Corey Kluber got his first start of the spring on Monday afternoon in Goodyear as the Indians and Reds played to a 5-5 tie.
The Tribe ralllied from down 5-1 to score four runs and end the game in a tie.
Indians catcher Eric Haase (1-for-1, 2RBI, R) tied the game at five apiece with a two-run home run in the 8th inning – his first homer of the spring.
It's the second time this spring that the Tribe and Reds have played to a tie.
Kluber allowed three runs on six hits, allowing a homer in 3.2 innings of work.
Mike Clevinger went 2.2 innings, allowing two runs on two hits also allowing a homer with two walks and two strikeouts.
Alex Wilson, Adam Cimber and Brad Hand also threw for the Indians in the game, with all of them throwing scoreless ball.
Ryan Flaherty got the Tribe on the board with a solo shot to lead off the 3rd inning, his second home run in as many games (1st HR of spring came on 3/10).
Jose Ramirez went 2-for-3 with two doubles, coming around to score on a Brandon Barnes (1-for-2, RBI, R) single in the sixth inning.
Hanley Ramirez (1-for-2) doubled for the second consecutive day and Oscar Mercado (1-for-2) recorded another hit and is batting .448 (13-for-29) in 15 games.
The Indians have a scheduled off day on Tuesday and return to action on Wednesday with a split squad against Milwaukee and at Kansas City.
Both games on Wednesday will have a 4:10pm first pitch.
Trevor Bauer (0-1, 2.45) will face Chase Anderson (0-1, 7.50) of the Brewers, and Cody Anderson (0-0, 0.00) will make his first spring start (third appearance) at the Royals.
The contest against Milwaukee will be broadcast on MLB.com and the game at Kansas City can be seen on SportsTime Ohio.