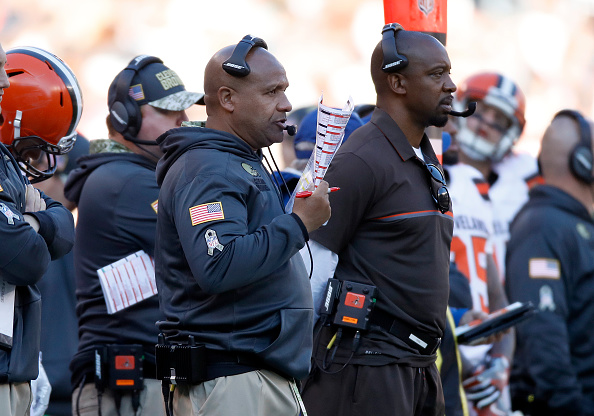 The Browns are back to the drawing board after the bye week as well as last week's perceived failures as the team lost out on quarterabck Jimmy Garoppolo who went to the 49'ers, and then a botched deal for Bengals backup thrower A.J. McCarron.
Coach Hue Jackson wasn't in the mood Monday to chat about the deal that didn't work out for whatever reason for McCarron, but Friday did talk about how the team will now move forward with current QB DeShone Kizer.
Kizer has had a rough first season in the NFL, throwing for just three scores and 11 picks, and a QB rating of 51.1. He said this week that the teams' failure to get McCarron won't change him, but it's not exactly the biggest vote of confidence when a team tries to get another player at your position.
Friday Jackson was asked the question if the perception that the attempted deal for McCarron says the organization doesn't believe in Kizer long-term, and if that is fair.
Jackson said it's not fair, but that getting more talent on the team was the priority when the team tried to make the trade with the Bengals.
"I don't care what position it is, especially being in that position," Jackson said.
"You are talking about a young player in the National Football League who has had [seven] starts, compared to other players who have either played for me or players that I have seen that have done it week in and week out. I don't think that is a knock on DeShone. My job is to help build this football team and build the future of this team.
"I still believe he is going to be in the future of this team, but in the meantime, if there is a way for us to get better – I know everybody keeps talking about winning, which is very important to me, very important in that locker room and very important to our fans – then I think it is only fair to be always looking to become better.
"I have heard all of the things said about taking this guy in and out. I have never ever seen more stories about that than ever in my life. That is part of growth of a quarterback. If a guy is not getting the job done, I don't care what position it is; you have to put somebody else in, and hopefully, they will learn and grow from that and get better. I think he has done that. I think he gets it."
Kizer will have a chance with maybe now a chip on his shoulder to get back on track this week as the Browns take on the Lions in Detroit Sunday at Ford Field.

NEO Sports Insiders Newsletter
Sign up to receive our NEOSI newsletter, and keep up to date with all the latest Cleveland sports news.