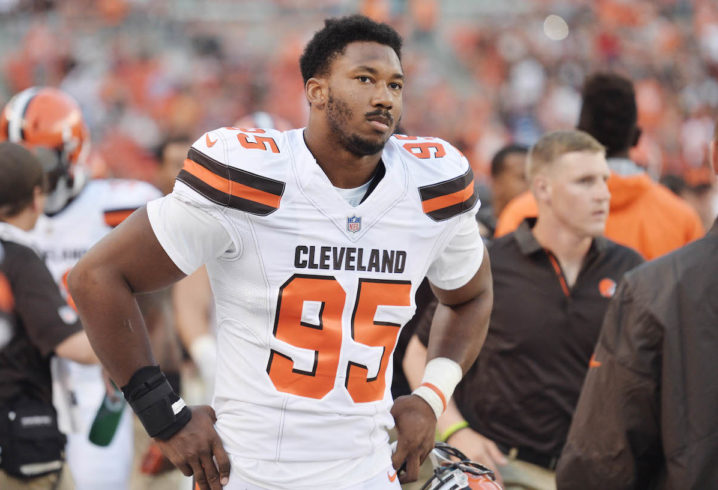 On the Tuesday before the Cleveland Browns took on the Minnesota Vikings in England, in-house radio co-host and former NFL linebacker Matt Wilhelm challenged Garrett's decision to tell medical personnel about concussion symptoms. The team has released a statement saying that Wilhelm's comments were "ill-advised and inappropriate."
"I find myself questioning it," Wilhelm said. "I'm an old school guy and I know there are former professional athletes that played in an era of football that I could've never imagined playing in with the head trauma and the issues that we see individuals dealing with."
Wilhelm continued on with his criticism that if he came in on the off day "and if I have a little headache or if I'm a little queasy or I've got a little sensitivity to light, I don't find myself saying anything to anybody other than someone close to me who might not be a Browns employee or a Browns teammate. Maybe my brother, or a friend of mine in the city, maybe my mom and dad who understand who I am and that I'm like kind of tough and I don't just kind of like back out with small dinky little injuries."
Garrett, who returns to action this week against the Detroit Lions, said that he was told about Wilhelm's remarks by family and that they didn't really bother him.
"I'll put my body on the line, but I'm not willing to put my brain on the line for this game. I love it, and I'll do anything for it, but I want to have a productive future and a healthy family and be able to love and care for them the way I should."
The Browns applauded Garrett's reporting of his symptoms, and disapproved of Wilhelm's remarks.
"Our athletic training staff and medical team have worked extremely hard to establish a culture where our players understand the importance of self-reporting," team spokesman Peter John-Baptiste said. "Our coaching staff, athletic trainers and doctors strongly encourage our players to disclose any irregularities concerning their bodies, particularly those related to the head and neck area.
Wilhelm had more to say about the overall toughness about the number one overall pick but started to backtrack when the host of Cleveland Browns Daily Nathan Zegura defended Garrett for reporting symptoms of what proved to be his third concussion. The first in high school and the second in college.
"I guess he did self-report with something so severe that he really needed to for the benefit of his health. … I'm just saying self-reporting, I guess when you and I were kids and probably a lot of our listeners and a lot of the fans that spend their hard-earned money to go watch a football game at FirstEnergy Stadium were brought up in the mentality of 'rub some dirt on it and go play, get back in the game,' right?"
Coach Hue Jackson's opinion was straightforward. "We have to handle it correctly. … We'll do whatever we think is best for the player."

NEO Sports Insiders Newsletter
Sign up to receive our NEOSI newsletter, and keep up to date with all the latest Cleveland sports news.