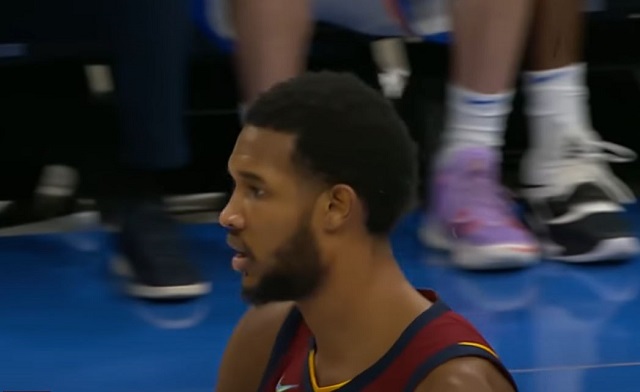 The Cleveland Cavaliers ended their six-game road trip with a comeback victory over the Oklahoma City Thunder. The Cavs overcame an 18-point deficit to win 107-102, giving them a 5-1 record on their nine-day west coast road trip.
Darius Garland led the Cavs with 27 points and a whopping 18 assists as he was firing passes to his bigs for easy dunks and layups all night. This performance followed his 32-point outburst from the night before against the Spurs, and his assist number tied Chris Paul for the most assists in an NBA game this season. Evan Mobley chipped in 20 points and 5 rebounds.
The Cavaliers looked sluggish early in the game, which was understandable given that they were playing their sixth game on the road in nine days. The Thunder led 56-46 at halftime and built an 18-point lead in the third quarter, but the Cavs fought back, taking their first lead early in the fourth quarter. This has been a hallmark of this team all season. The Cavs play hard and they never give up. The team is relentless as J.B. Bickerstaff demands consistent effort.
Bickerstaff used his bench effectively again in this win. Dylan Windler gave the Cavs 17 solid minutes and deliver two corner threes down the stretch. Rajon Rondo missed his second consecutive game but Brandon Goodwin contributed crucial minutes in the fourth quarter.
Bickerstaff noted Windler's contribution. "He was flying around. That's what it felt like we needed to turn that up. We needed some energy. We needed a spark. The way Dylan plays the game, he's all over the floor. He's covering ground. He's cutting. He's going to the offensive board. So we needed a boost. We needed a spark, and I thought he did a phenomenal job." This bodes well for more playing time for Winder, if of course he can find a way to stay healthy. Winder's outside shooting ability can be a huge asset for this team, and Bickerstaff appreciates other ways Windler impacts the game.
Mobley continued his impressive play, delivering eye-popping dunks off of Garland passes along with smooth jumpers in the paint to deliver critical buckets down the stretch.
Lauri Markkanen made a huge 3-pointer with 11.4 seconds remaining to seal the win. Shots like this one could help his confidence as Markkanen tries to overcome a recent slump.
Bickerstaff raved about Garland in his remarks after the game. "He took command of the game in all aspects. Reading what the defense was doing, how to make them pay for when they were making those mistakes or whatever the reason may have been. But you saw a will in him to not allow us to lose this game. When you watch young guys develop, there's a moment that you see where the belief is there. Darius now believes that he's amongst the elite in his position as a player in this league."
Garland has established himself as a dangerous scorer at the point guard position along with being a natural distributor of the basketball. This game provided a highlight real of his impressive talents as Garland makes his case to be included on the East All-Star roster for the game that will be played this year in Cleveland.

NEO Sports Insiders Newsletter
Sign up to receive our NEOSI newsletter, and keep up to date with all the latest Cleveland sports news.