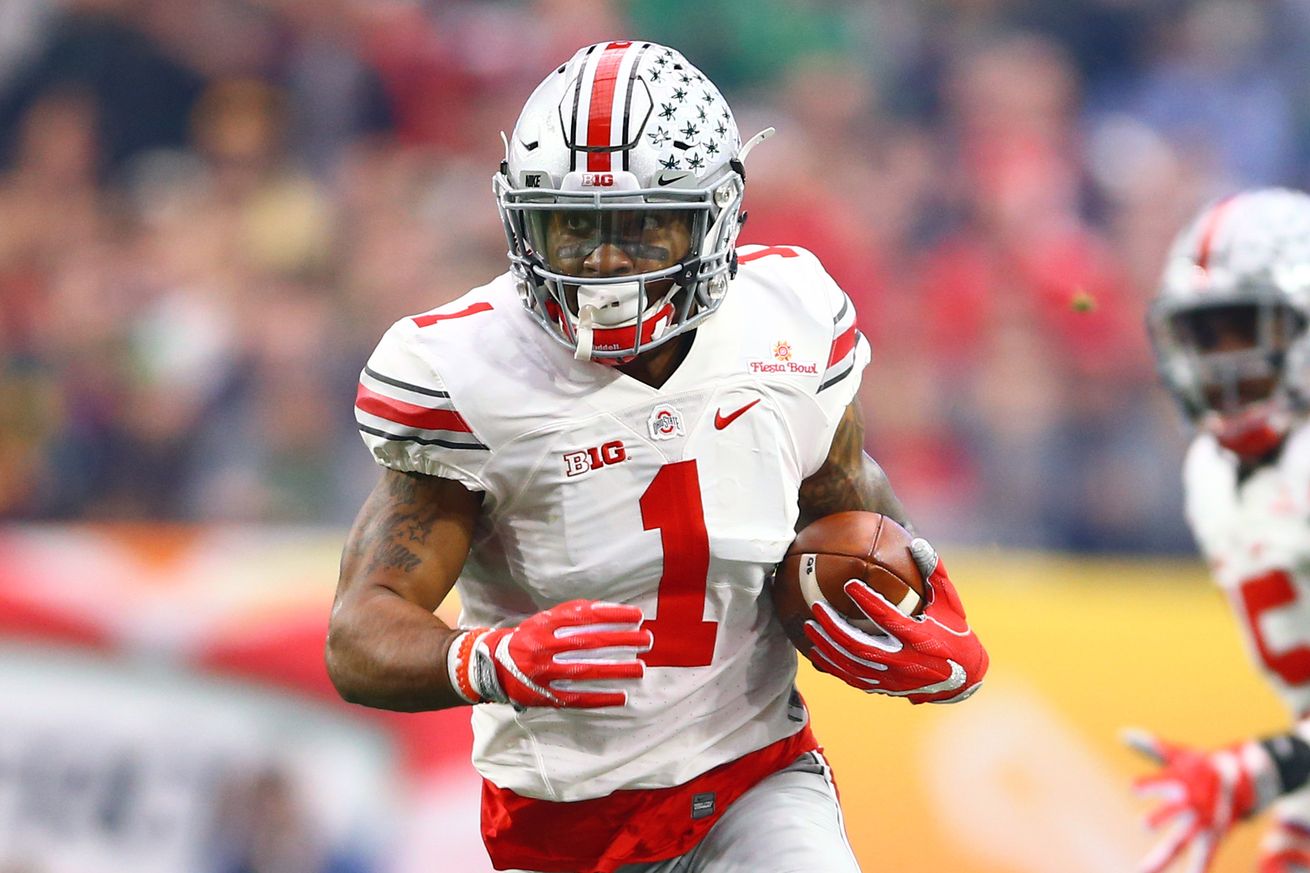 COLUMBUS, Ohio – After another stellar season for the Buckeyes that saw them only lose one game and win the Fiesta Bowl over Notre Dame 44-28 in convincing fashion, it is no surprise several Buckeyes will be taken high in the upcoming NFL draft!
While it is always mystery on how their NFL careers will go, here is a look at why they will be drafted so high and what skill sets they will be bringing to their new teams!
DE – Joey Bosa will go anywhere from first overall to the Titans to fourth and land in Dallas with the Cowboys. Some Columbus insiders will swear that Bosa may be the best all around defensive player not only in the draft, but in Ohio State football history. He would look perfect in a Browns uniform tracking down running backs and terrorizing quarterbacks. Now that Robert Griffin is wearing the Orange and Brown and the pick no longer being a sure thing to be a quarterback, the Bosa to the Browns talk is hotter than ever.
ESPN draft guru Todd McShay has been quoted on Bosa as saying, "I don't see a weakness". Bosas drop-off in production because of the constant double teams did lead to unfair scrutiny as well. His overwhelming power is almost too much to overlook no matter how many double teams may be coming his way. Bosa started 37 games for the Buckeyes where he collected 26 sacks and 177 tackles for a loss to go with five forced fumbles.
OT – Taylor Decker is not to be ignored. While all eyes on the offensive line will be focused on Ronnie Stanley and Laremy Tunsil, one must not forget that Decker is quite the prospect himself. The smart money has him going 12th to the New Orleans Saints where they will be desperate to keep their aging quarterback upright with solid protection as Bree's battled injuries all last season.
RB – Ezekiel Elliot would have been a top five pick only a few years ago, however after Trent Richardson bombed so badly as the number three overall pick in 2012, many teams are very gun shy of picking a RB in the top ten ever since. Elliot is lighting quick and nearly impossible to take down in the open field once he gets a head of steam going. Whoever picks up Elliot will have a sure fire All Pro if they can figure out how to best use him.
Ohio State fans can only wonder what if, when it comes to usage of Elliot in their lone loss this past season against Michigan State. While any team in the first round could use the skills of Elliot, I wouldn't be shocked to see him go 7th to the 49ers who had to settle for former Cleveland Browns reject Shaun Draughns last year out of the backfield. With new coach Chip Kelley looking to run his patent fast paced offense, "Zeke" may be the perfect fit to get the job done!
Elliott ran for 3,699 yards over the past two seasons which was the most in the country. He is a three down back with the ability to take the hits and keep the chains moving. One of his few drawbacks he will have to work on in his lateral movement.
FS – Von Bell would be the missing piece in the Cleveland Browns secondary that they are in sorely in need of after the departure of T. Gibson in the offseason. The chance of Bell going with the second pick overall are very slim, however with the Browns one never knows and it wouldn't be a shocked if they traded back far enough to grab him in the mid first round.
CB – Eli Apple lined up near Von Bell in that stout Buckeye secondary and was a big reason why they shut down several passing attacks. Bell is quick and crafty and worthy of being the fifth highest rated defensive back in the draft by several national publications. The Pittsburgh Steelers had an awful secondary last season, and with their tendency to pick Buckeyes, don't be shocked if they once again select a Buckeye in the first round with the 25th overall pick.
LB – Darron Lee was the biggest benefactor of the havoc being caused by Bosa last season and teams would focus on doubling Bosa, allowing Lee to do massive damage running free. He has great speed on the edge and excellent mobility in space to cover a lot of room. He would be a great fit with the Arizona Cardinals at 29 who tend to pick LB's with his agility and ability to cover like a DB at times as well.
QB- Cardale Jones can only wonder what would have happened if he didn't go back to school after his magical 2014-2105 post season run that saw him win 3 of the biggest games in OSU history. He would have been a sure fire first round pick, more than likely in the top 3, but alas, the worst happened. He returned to OSU and had a mediocre season despite never losing a start.
His final stats at OSU were nothing to sneeze at, finishing 11-0 with 15 touchdowns and 8 interceptions. Most of the 15 TD's came in postseason games however, as the 2015 campaign simply didn't pan out. While I believe he be picked in front of Christian Hackenberg, Vernon Adams Jr and Dak Prescott, it is no longer a sure thing that he will be picked in front of Connor Cook and Kevin Hogan. The chances of teams picking him over Carson Wentz, Jared Goff and Paxton Lynch have completely disappeared.
He will intrigue teams with his cannon arm and ability to stand in the pocket. He will scare away potential teams with his lack of accuracy on the deep ball and poor foot mechanics. Jones has a lot to prove and also improve on or else the decision to return to OSU may haunt him forever.
WR – Braxton Miller may be the most intriguing player in this years draft. After missing an entire season due to injury, Miller returned this season in a brand new position at wide receiver. His size at 6″1 and 204 pounds is ideal for a slot receiver, but questions remain if he can take a hit. He was still very raw as a route runner and seemed to disappear in big moments. The major thing he does have going for him is his speed, if he can find a way to showcase it for teams scouting his workouts, then Miller could sneak into the late first round.
WR – Michael Thomas is big, strong and quick with a great ability to get off press coverage. While the sentimental pick may be Braxton Miller, don't be shocked if Thomas is actually the first Buckeye receiver picked in this year's draft. 18 touchdowns with 1,580 yards in only two years as a starter makes Thomas a real threat to make it big in the pro's. Look for the Texans to scoop him up in the second round and line him up across from Hopkins and Shorts when the Texans decide to go three wide and open up the field for new quarterback Brock Osweiler.
Other Buckeyes likely to go in the early rounds are TE Nick Vannett and DT Adolphus Washington.
Have comments or concerns? You can contact Vince McKee on twitter at VinceTheAuthor

NEO Sports Insiders Newsletter
Sign up to receive our NEOSI newsletter, and keep up to date with all the latest Cleveland sports news.