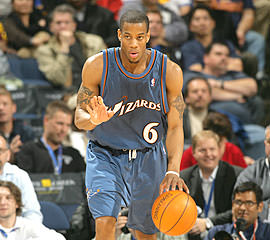 Former Washington Wizard, Antonio Daniels, who played in D.C. from 2005-2009, gave his thoughts about LeBron James' recent behavior, which has caused some to speculate on whether or not he will remain in Cleveland this Summer.
Daniels was on SiriusXM NBA radio and had this to say:
"I would hate to be in a locker room with a guy who has one foot out the door already, but is constantly talking about leadership and is constantly talking about the process of becoming a championship-caliber team," said Daniels. "A guy who's constantly talking about, 'You know, we have to understand the magnitude of the situation that's here now with the team that we have put together, we have the opportunity to do something special'. 'Cause in the back of my mind I'm thinking… What a hypocrite! You're speaking about one thing, but your actions say something completely different."
Here's audio of the interview:
Maybe this is a case of a guy who didn't like LeBron to begin with. The Wizards and Cavs had a great rivalry early in LeBron's career, as the two teams squared off in three straight postseasons, from 2006-2008. The Cavs won 4-2, 4-0, and 4-2 in those series matchups, but Washington always made it interesting and played with a chip on their shoulder, making it a physical series every time.
Daniels had a respectable NBA career, playing 13 seasons in the league, winning a championship with the Spurs.
His comments could just be seen as another among a long list of episodes in which former NBA players have been bashing current players over the course of this season.
From Oscar Robertson to Charles Barkley to Stephen Jackson, there's a little bit of a feeling of the old school not having much respect for the new. Even though LeBron is only ten years younger than Daniels, this could be another example of that same storyline.