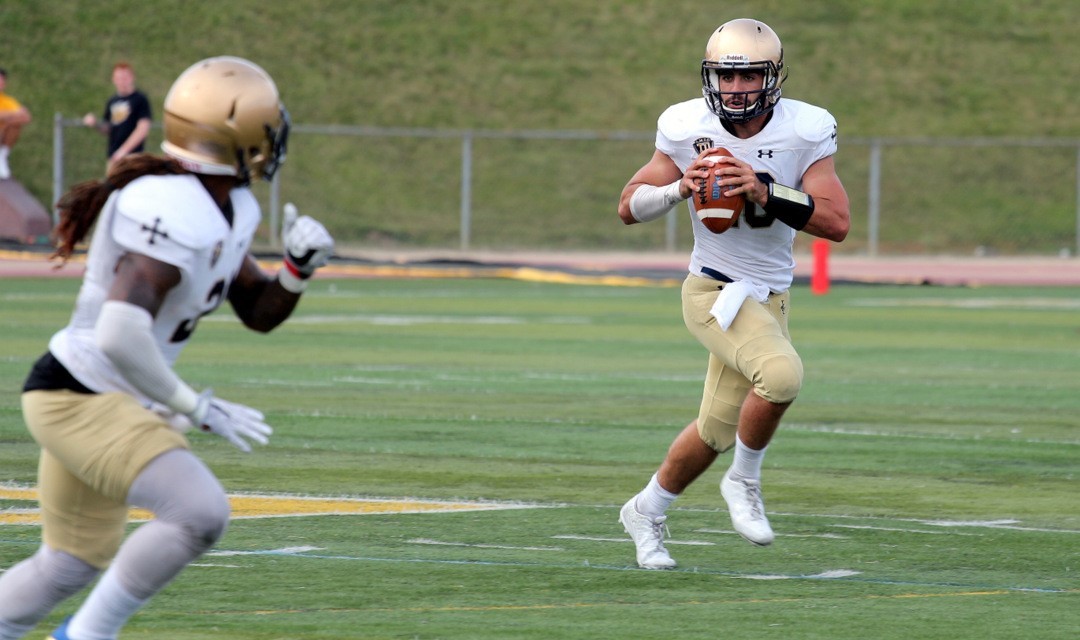 UNIVERSITY HEIGHTS – Defense proved to be deadly on Saturday afternoon at Don Shula Stadium.
The John Carroll University football team earned its best record of the season with a 24-0 victory over Muskingum University – the first shutout in program history since Oct. 22, 2016.
Ro Golphin and Arin Pruitt accounted for the bulk of the production with three rushing touchdowns, while Mason McKenrick, Chris Hadley and Tyler Moran helped the offense to favorable field position with an interception apiece.
Rainy, brisk conditions favored each of the defensive units, with only 472 yards of total offense scattered throughout the homecoming festivities.
Timely interceptions pave way to scoring opportunities
Freshman quarterback Brody Hahn never found his groove against a secondary chock full of ballhawks, including Moran, who returned an errant pass over the middle for 70 yards.
Golphin capped off the shift in momentum with a six-yard touchdown run to pull JCU ahead in the first quarter, 10-0.
Shortly thereafter, McKenrick – the reigning OAC Linebacker of the Year – picked off Hahn to set up another Golphin score from one yard out, his eighth TD of the campaign.
Even late in the contest, the Blue and Gold maintained its intensity on both sides of the ball, as Hadley notched an interception in the third and Pruitt found the end zone for his first touchdown dating back to Week 3 vs. Heidelberg.
Defense dominates
Aside from the secondary, the front seven stayed sturdy with four sacks for 38 lost yards. McKenrick, Jimmy Thomas, Michael Connick and Teddy Wayo all recorded a mark in the pass-rushing department.
Todd Green and Chad Stalnaker combined for 15 tackles to lead the roster.
Weather and attendance
John Carroll (5-3, 5-2 OAC) and Muskingum (1-7, 0-7 OAC) drew 1,885 fans under cloudy skies and 40-degree temperatures.
OAC update
Mount Union (8-0, 7-0 OAC) topped Otterbein (5-3, 4-3 OAC), Heidelberg (6-2, 5-2 OAC) beat Wilmington (2-6, 1-6 OAC), Marietta (5-3, 4-3 OAC) edged past Ohio Northern (5-3, 4-3 OAC) and Baldwin Wallace (5-3, 4-3 OAC) outscored Capital (1-7, 1-6 OAC).
Up next
The Blue Streaks travel to Westerville, Ohio and take on the Otterbein Cardinals next Saturday at 1:30 p.m. from Memorial Stadium.
Photo credit: John Carroll University Sports Information Department
John Alfes has covered John Carroll University athletics since September of 2014. Follow him on Twitter @JohnAlfes for breaking news and in-depth coverage all season long.

NEO Sports Insiders Newsletter
Sign up to receive our NEOSI newsletter, and keep up to date with all the latest Cleveland sports news.