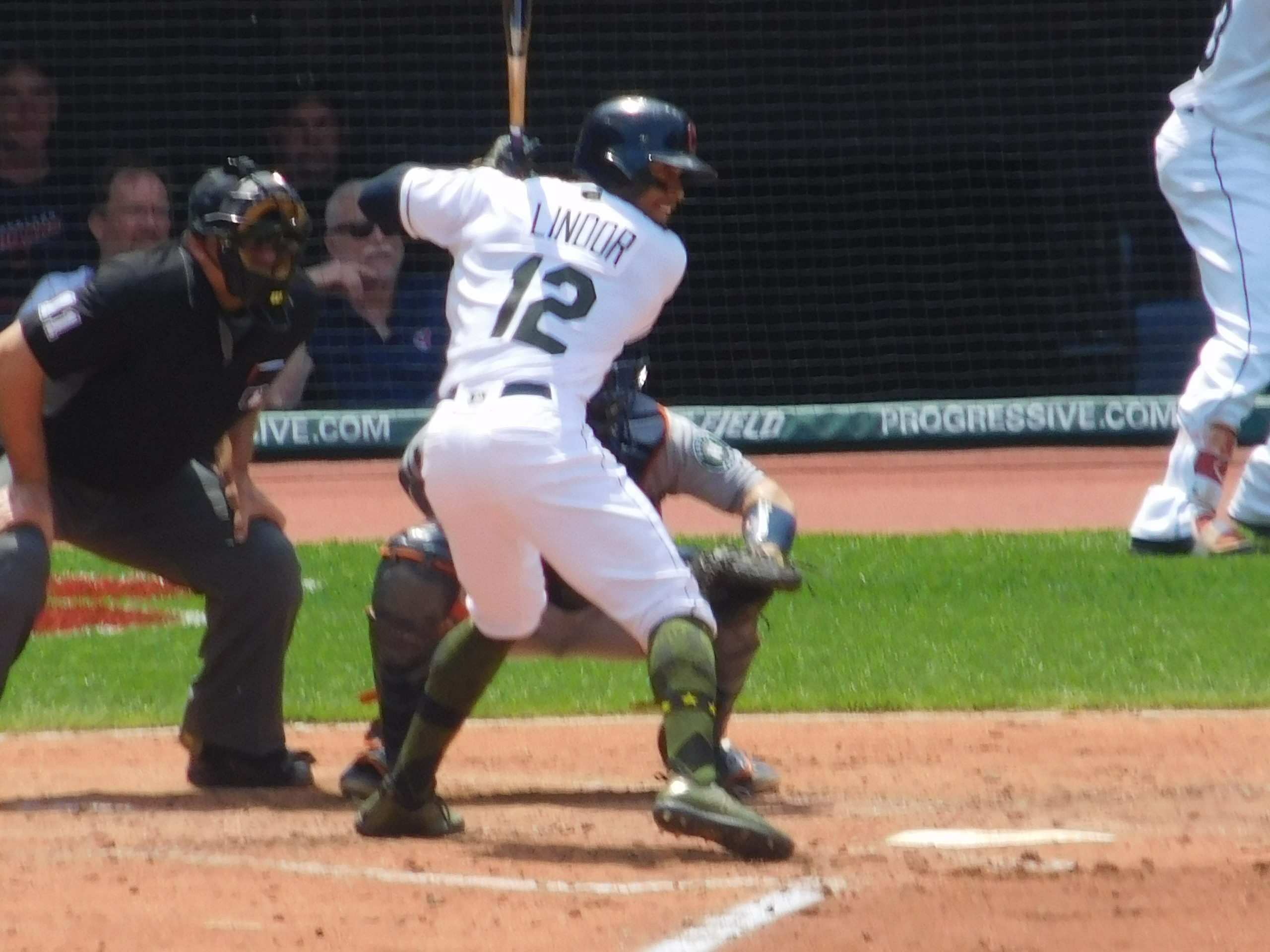 We have maintained for awhile now that the Cleveland Indians should most definitely get a long term contract done with Francisco Lindor, and the money shouldn't be an object.
We understand it will take a major financial commitment to keep the All Star shortstop, with the Tribe having to pay him over $30 million per year.
One of the arguments we hear against this is teams can't devote a large percentage of their payroll to one player and remain competitive, particularly if they are not a large market franchise.
We feel there are exceptions to every "rule", and Lindor should be that exception.
Besides, it can done if your front office is smart, and you continue to develop your farm system.
Two contracts are always brought up in this regard.
The first is Joey Votto's 10-year, $225 million deal with the Reds, signed in 2013. Votto was entering his 29-year-old season that year, and has given Cincinnati five very good to excellent years to this point, although at 35, he is showing signs of age this year.
Cincinnati hasn't been over .500 since '13, but that is hardly Votto's fault.
You could make a very good and valid point, that the problem was the organization having a $50 million commitment to 32-year-old Brandon Phillips, and giving $56 million to Homer Bailey, who was injured and terrible over the next five seasons.
Those are mistakes you cannot mistake if you want to win.
Their farm system has ranked between 11th and 14th (MinorLeagueBall.com ranking) since the contract was signed, and the only young position player making an impact was catcher Devon Mesoraco. All the other regulars were 26-32.
Their top prospect was Billy Hamilton, who flamed out, but by 2016, they added Eugenio Suarez (from the Tigers in a trade) and Tucker Barnhart. And they didn't add a solid pitching prospect until they added Luis Castillo in a deal with the Marlins in 2017.
Another example pointed out is look at the Angels with Mike Trout, who has unfortunately made the post-season once in his eight years with Los Angeles.
Of course, the Angels have the Albert Pujols albatross contract, but they've made some questionable big money signings too.
They paid Ricky Nolasco $12 million for the two seasons, and in 2018, gave Zack Cozart, who had one good season in his career, a three year, $38 million deal.
If you are going to pay a superstar big money, you can't pay mediocre players substantial bucks, or it does hamstring your franchise.
The Angels' farm system is on the rise, thanks to Jo Adell, but they ranked between 28th and 30th from 2015 to 2017, before moving up to 20th last season.
As for the Indians, the farm system has ranked 21st in 2015, then 13th in '16, 10th in '17, and 15th last season. By most accounts, following the deadline deal which brought Logan Allen, along with the development of players in the low minors, Cleveland has a top ten system.
This is important because it keeps bringing low cost talent on to the big league roster. And if those players can make a solid contribution, like Aaron Civale and Oscar Mercado, it allows you to keep a high priced player like Lindor.
As for not getting involved with bad contracts, Jason Kipnis' deal is over after this season (Cleveland will not pick up the option), and Corey Kluber's and Carlos Santana's end after 2021.
The only "star" player who will be eligible for arbitration by then is Mike Clevinger.
This gives the Indians plenty of payroll flexibility providing they don't go out and overspend on a young player or potential free agent. History says they will not do that, they have proven to be very smart is this regard.
But you can't ignore player development and this includes trading solid prospects for borderline players in a pennant race.
The blueprint is there to keep Lindor and still be a competitive franchise while paying him big money. It's not impossible, you just have to be very prudent.

NEO Sports Insiders Newsletter
Sign up to receive our NEOSI newsletter, and keep up to date with all the latest Cleveland sports news.