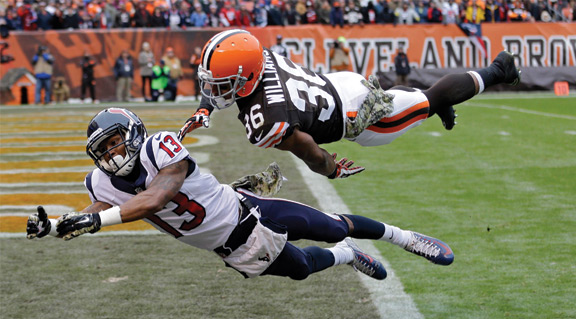 You had a feeling with all the drama surrounding cornerback K'Waun Williams there was no way he was going to see the roster come opening day.
That feeling came true Monday, when the team announced late in the afternoon that he was part of the group of players waived.
"I really don't want to get into that," Browns coach Hue Jackson said of the move as to why Williams was waived.
"Obviously, we have released several guys today and we are just moving forward. We had to get down to 75 (players). That is the league rule. That is what we have done, and he was part of that group."
Williams was a day away from rejoining the team after a two-week suspension for refusing to play in Green Bay back on August the 12th.
Williams' agent Evan Krakower said his client told the Browns his ankle was bothering him and that he couldn't take on a full load in the preseason opener that night.

The Browns, according to a league source, say Williams never told them his ankle was bothering him until the next day — after he had told them he was retiring.

Krakower said Williams believed he had only two options play or retire. He said he opted to retire that night because he felt he couldn't play on the injured ankle, which first surfaced during organized team activities in the spring.
This seemed like a no-brainer after what happened in Green Bay, and it will be interesting to see if Williams can find work elsewhere.