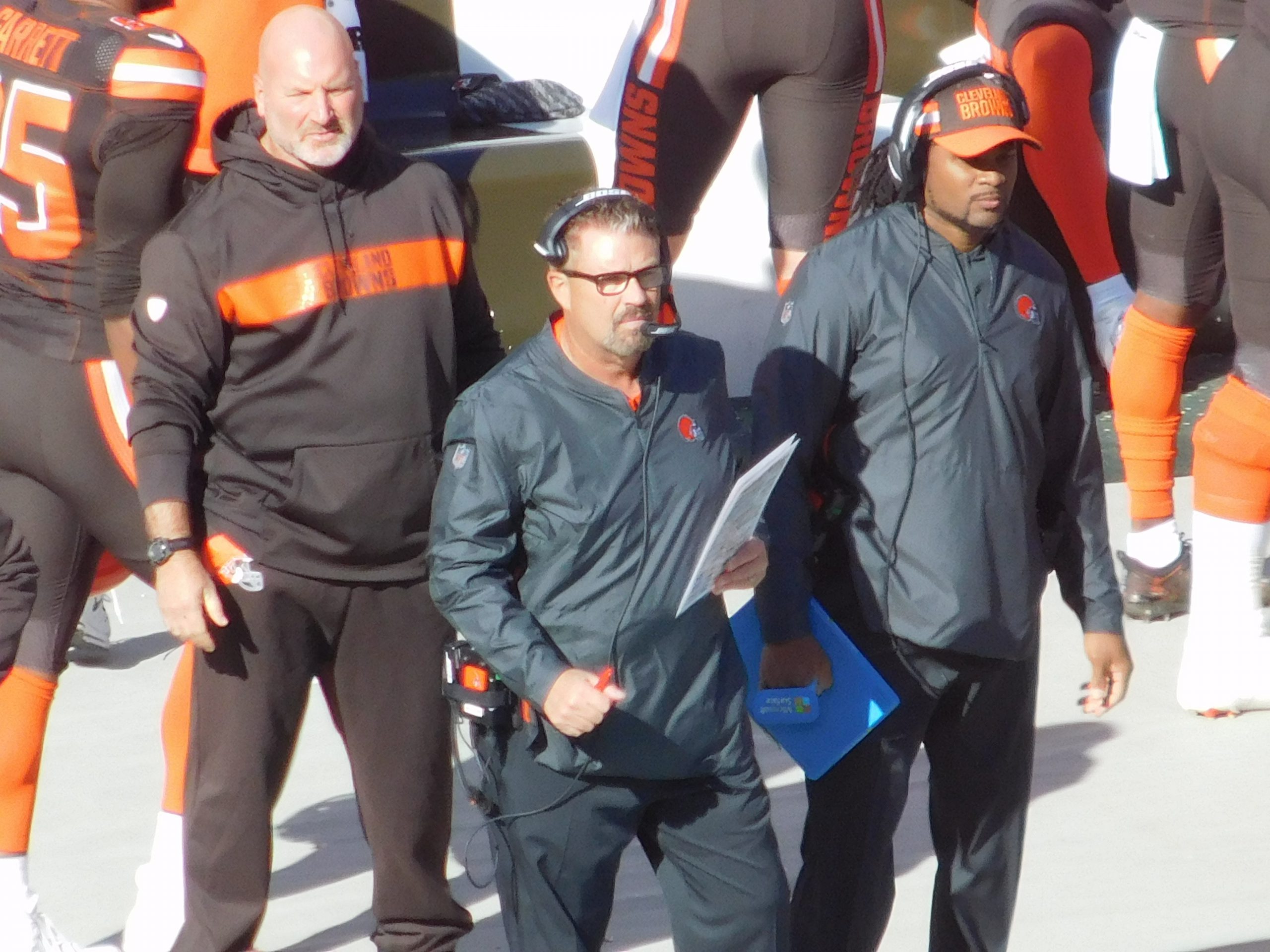 CLEVELAND – In the aftermath of an eventful week that saw the Browns fire head coach Hue Jackson and offensive coordinator Todd Haley, players did their best to block out the distraction and take down the AFC's top team Kansas City.
Under interim head coach Greg Williams, Cleveland put up a valiant effort. Baker Mayfield threw for nearly 300 yards. The Browns only trailed by six at the half. It was hardly enough, however, against MVP candidate Patrick Mahomes and the juggernaut Chiefs. Down 21-15 at halftime, the Browns offense went on to sputter the rest of the way, scoring a meager six second-half points and allowing Kansas City to pull away for a 37-21 win.
The loss was Cleveland's fourth straight, dropping them to 2-6-1 for the season. Williams, in his interim role, became the eighth straight Browns head coach to lose their first game in charge.
Here are five takeaways from Sunday:
1) First Quarter Scoring Drought
Aggressiveness is a trademark of Greg Williams coached defenses and team. Almost immediately, Williams' trademark made an appearance in this one when the Browns new head man went for it on fourth-and-one from the Chiefs 49 and it worked, to keep the drive alive. And while they wound up punting three plays later it was a refreshing sight to say the least.
Still, while Williams deserves some praise for being aggressive, it didn't mean much in the box score. That's because for the ninth time this season the Browns failed to score a touchdown in the first quarter. Their lone points in the first quarter of play came on a 51-yard field goal from Greg Joseph on the second possession of the game.
Cleveland entered Sunday with a league-worst 1.8 average for points scored in the first quarter. They didn't do much to bring that average up against the Chiefs. Slow starts on offense have plagued the Browns all year and were a factor in the team's decision to move on from offensive-minded coaches like Jackson and Haley. Removing Jackson may be good for the Browns in a number of areas, particularly when it comes to situational football. But new leadership did very little to fix one of their biggest shortcomings.
2) Duke Johnson Breakout Game
Speaking of things that changed under new leadership, the Browns finally figured out how to use Duke Johnson and the results were glorious. Johnson scored two of Cleveland's three touchdowns on the day as a receiver mind you. He caught a team-high nine passes for 78 yards on the day and only carried the ball once for eight yards. That's okay though because the whole point of retaining Johnson on the three-year $15.6 million contract was to use him as a threat in the passing game. The previous regime couldn't figure that our for whatever reason, even trading away Carlos Hyde to get Chubb and Johnson more touches.
Prior to Sunday, Johnson's season high for receptions was four. His season high for yards was 73, but he had only eclipsed 40 yards receiving twice in eight games. Johnson also hadn't scored a single touchdown yet either. Major props to Freddie Kitchens for finding ways to get one of the team's best rosters more involved, as he should be.
3) Homecoming Kings
There was a lot of talk leading up to this matchup with Kansas City about it being a homecoming of sorts for several Chiefs players. Running back Kareem Hunt is a Cleveland native who went to Willoughby South High School and bought a handful of tickets for his friends and family to come to the game. Right tackle Mitchell Schwartz was drafted by the Browns and spent the first four years of his career in Cleveland. And then there is tight end Travis Kelce who grew up in Westlake and went to college at the University of Cincinnati. Safe to say it was a memorable homecoming for the trio.
As has been the case for most of the season, the Browns had no answer for Hunt and a Chiefs rushing attack that combined for 139 yards. Individually, Hunt racked up 91 yards on 17 carries and found the end zone not once but twice on the ground. Just for good measure, he caught a 50-yard touchdown pass as well. Cleveland has held just one opponent under 100 yards rushing this season (the Saints in Week Two).
You won't necessarily see Schwartz's impact in the box score but on a day where the run game was working and Patrick Mahomes was able to rack up 375 yards threw the air, he and the offensive line had themselves a good day.
As for Kelce, he had the best day of the entire trio, hauling in team-best seven passes for 99 yards and matching Hunt with two scores. Happy homecoming indeed.
4) Myles Sack Counter
Another week another Sack for Myles Garrett. Sure it came in garbage-time with the game well in hand already but it counts nonetheless. Garrett is up to nine sacks on the season (which for those keeping score at home is good for one sack per game). Earlier in the week Mayfield made some headlines when he said Mahomes should have been the No. 1 overall pick in 2017 and the way he's playing he may have a point. Good as Mahomes is, Garrett is proving Cleveland right for taking him and the franchise is probably pretty happy to have him. Barring injury, Garrett will easily finish with over 15 sacks and 20 isn't unfathomable if he can put together a few multi-sack games.
5) Injury Bug
Injuries have simply ravaged the Browns roster this season, particularly on defense and in the secondary. Cleveland already began the game without safety Damarious Randall and linebacker Joe Schobert. One-by-one they watched rookie phenom cornerback Denzel Ward go down with a hip injury in the first quarter, E.J. Gaines – fresh off of  a concussion – exited early on as well and linebacker Christian Kirksey left the game with a hamstring injury late.
As you'd expect, Williams preached the "next man up" mentality afterward and yes, he's right: the Browns have to find ways to win despite injuries to key players. But man is it hard to win when you're missing so many important pieces on one side of the ball. There is no denying that the Browns finally have talent on their roster. In a year with this many injuries though, depth is becoming an issue.
Follow: @Spencito_

NEO Sports Insiders Newsletter
Sign up to receive our NEOSI newsletter, and keep up to date with all the latest Cleveland sports news.