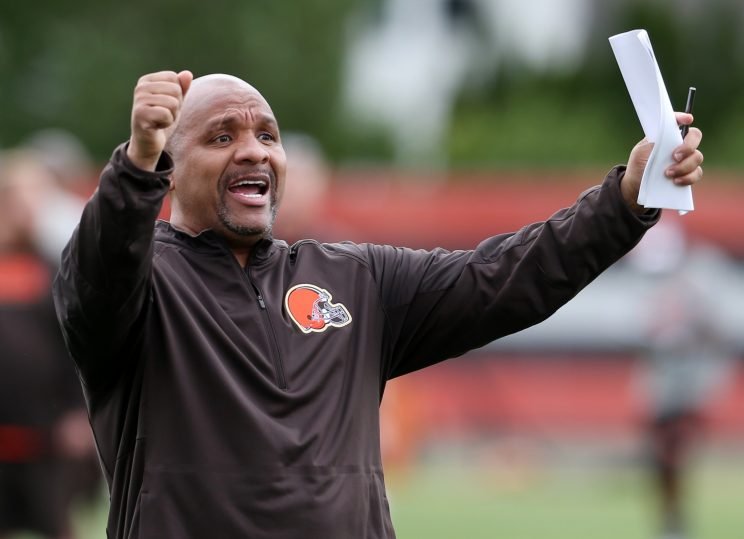 The firing of former Browns coach Hue Jackson was simply something that after going 3-36-1 had to be done, more so after the issues that he and offensive coordinator Todd Haley had in the days leading up to both their firings.
Today Sports Illustrated came out with some more news about the dismissal for Jackson, which included the fact that Jackson was a 'self promoter' of himself, and that he was very paranoid about the way things were being done by Haley, and that he would watch the OC's press conferences live in his office by himself.
Here's some of the tidbits from the article today – which you can read HERE
On Jackson taking himself away from the offensive plans this offseason and then putting himself back in:
Jackson, who had a leaguewide reputation as a relentless self-promoter when he took the Browns' head coaching job in 2016, removed himself entirely from offensive install sessions last spring and summer. Then, in the weeks leading up to his firing, he inserted himself back into offensive meetings. The disconnect created by Jackson's inferior knowledge of Haley's offense, and the players' unfamiliarity with Jackson's scheme, frustrated players and coaches alike, according to five sources within the organization.
On Jackson Paying a Lot more Attention to Haley's Pressers as Time Went on:
Jackson, wary of his own slipping stature, paid close attention to Haley's press conferences in the final weeks of his two-and-a-half year run, sequestering himself in his office to watch the Q&As live, then verbally needling the coach if the message was not in lockstep with his own. Haley believed Jackson was in search of a greater degree of credit for his contributions to the team's (relative) success throughout a 2-4-1 start to this season, according to four team sources.
'
On Jackson being a 'Performer' During the Offseason Taping's of HBO's 'Hard Knocks':
Jackson's performance on the HBO/NFL Films documentary series Hard Knocks was seen by some in the building as just that—performance—with Jackson's internal critics among coaches and players noting his abrasive, hard-charging behavior in press conferences and team settings when cameras were present, in contrast with his delicate handling of players in private. "Sometimes it was like Jekyll and Hyde," says one player.
n Jackson Having His Fans Among the Current and Former Browns Players:
A number of players this week expressed appreciation for his run in Cleveland and admiration for his coaching and leadership. "We knew with the way everything was going, something crazy was going to happen," says fifth-year linebacker Christian Kirksey. "It's tricky because I have a deep respect and a good relationship with Hue, but I can't think about that right now. We've got to keep it moving."

One former player, who was with the team in 2016 and '17, echoed the sentiments of several current players who believe Jackson was a good coach who didn't do enough to change the culture in Cleveland. "I liked Hue as a guy," the player says. "He came into a sh—y situation from the jump, and he didn't rattle things enough to switch the program around."

NEO Sports Insiders Newsletter
Sign up to receive our NEOSI newsletter, and keep up to date with all the latest Cleveland sports news.