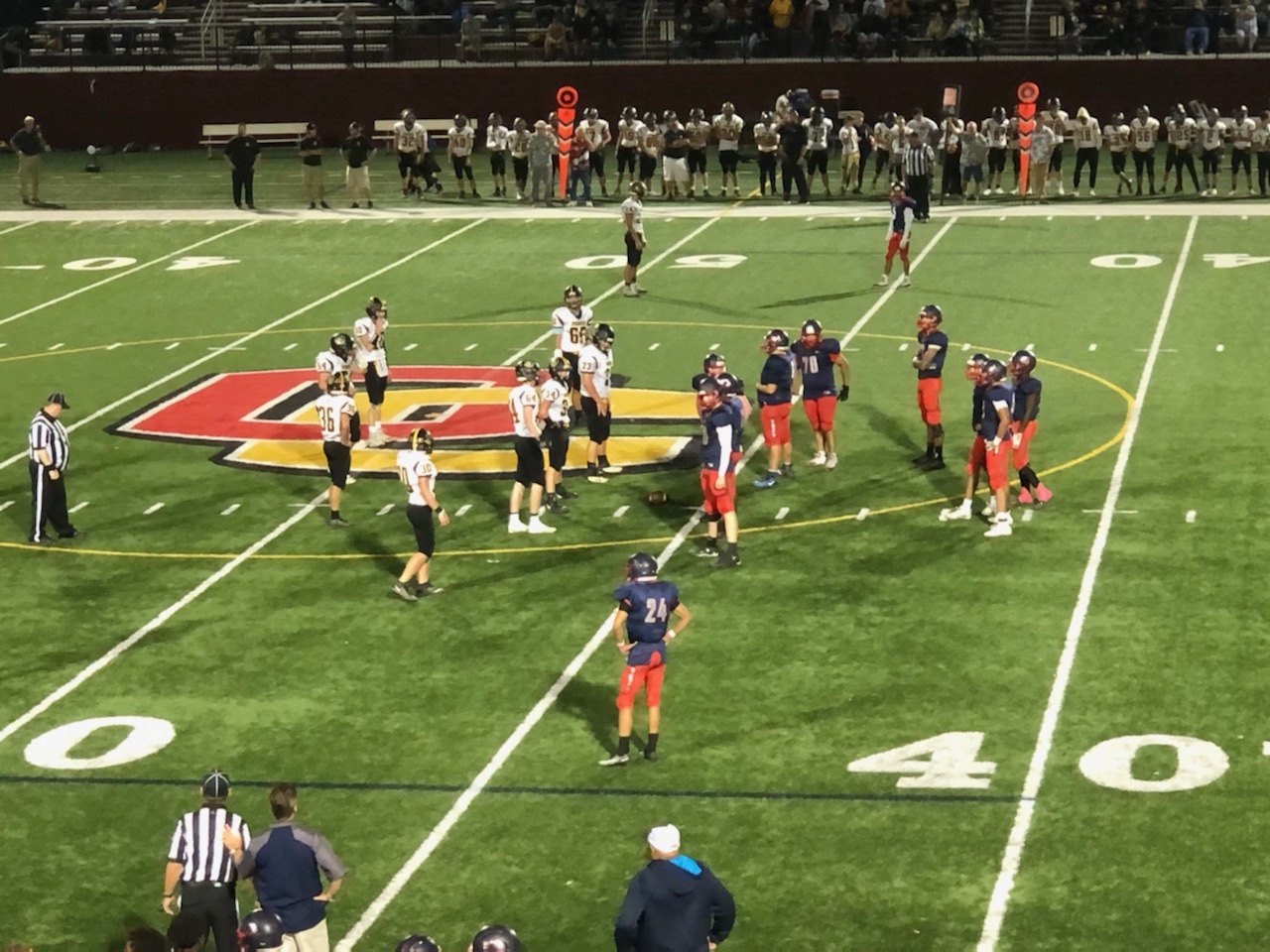 By Asa Haslage
OBERLIN, OHIO – On a later than usual game time here at Oberlin College, the Oberlin Phoenix took on the visiting Black River Pirates.
Due to the Oberlin College football team having practice, kickoff tonight was at 7:30 pm, instead of the traditional 7:00 pm high school starts.
Both teams came out striking early with the ground game, with Black River's Joseph McKean scoring a 40-yard rushing TD to take the 6-0 lead.
Not far behind after that, another long run, this one also close to the 40-yard mark but this time from Oberlin's Jaydon Harris set Oberlin up with great field position early.
Aaron Hopkins then scored on a QB sneak for Oberlin to tie the game at six. But as the 1st quarter wound down, both teams' defenses took over, slowing each other's offenses down significantly.
Not only the defense slowing down the offense, Black River wasn't helping themselves with false start penalties. But eventually, with 36 seconds left in the half, Ryan Schultz scored on a rushing score to give the Pirates some momentum into the half, and making the score 14-6 Black River.
As we started the second half, it was still a strong defensive battle, with Black River only getting able to get into the red zone off of a forced fumble, and the Pirates indeed executed, with another Schultz TD, making the score 20-6 Black River.
Going up 14 points, without any scoring activity from Oberlin, we got the sense that Black River was starting to take this game over for good. And as we got the feeling, Dylan Kmitt made sure we were right, scoring a 20-yard rushing touchdown to extend the lead further for his Pirates, making the score 27-6
Oberlin wasn't going out without a fight though, as Hopkins scored on a 7-play, 75-yard drive, cutting into the Pirate lead, making the score 27-12.
With 1:47 left in the game, and Black River punting, Black River over shot the snap, giving Oberlin first and goal, and scoring right away and converted on a 2-point conversion , cutting the lead to 27-20 with 1:30 left in the 4th.
But after an onside attempt, Black River recovered the onside, which would be the end of the game, seeing Oberlin had no timeouts left, Black River took the game 27-20.

NEO Sports Insiders Newsletter
Sign up to receive our NEOSI newsletter, and keep up to date with all the latest Cleveland sports news.