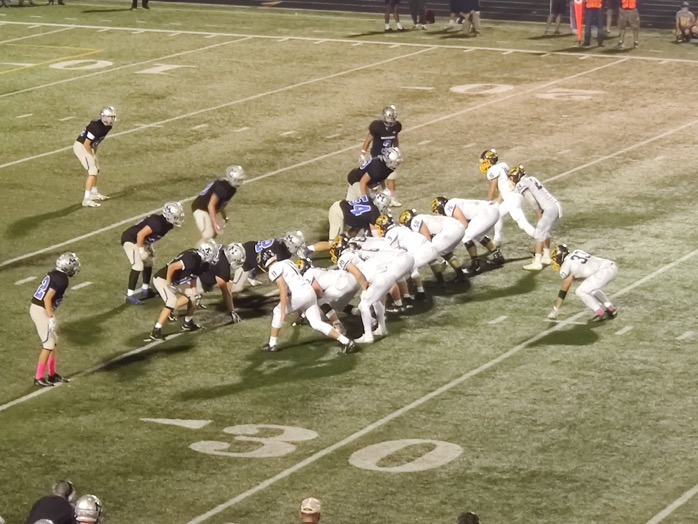 By Mark Perez
GRAFTON, OHIO – With 28 second remaining in regulation, Midview Middies' quarterback Ethan Surdock crossed the goal line for the game-winning touchdown to complete a 15-point comeback against the undefeated Olmsted Falls Bulldogs in a 28-21 upset to cap off Homecoming Night.
"(At halftime,) we felt that we should have been tied or up," Middies' head coach D.J. Shaw said as he described the team's mindset while trailing 21-6 at halftime.
"We left some plays up there. Credit to (Olmsted Falls) too. They played a great first half, but our kids kept fighting and I said: 'We are in this game and if we compete in this second half like we did this first half, we're gonna have a chance to win this game."
On both ends of the field, Midview (4-3, 3-3) turned belief into action, as the defense halted a 15-play, 50-yard Bulldog drive with an incomplete pass by (6-1, 5-1) Olmsted Fall's Sophomore quarterback Charlie Ciolek on a fourth and 12 on Midview's 30-yard line to start the second half.
The stop, gave Midview the football that began to shift the momentum towards Midview and Surdock seized the moment.
The ensuing drive resulted with Surdock's six-yard touchdown pass to Nathan Bashak on fourth and goal. This made the score 21-13.
Surdock found success in both the air and ground game.
He passed for 156 yards, one touchdown and one interception. But the ground was where he was the most successful. Surdock rushed 14 times for 189 yards and three touchdowns to lead the comeback.
My (offensive) line was giving me all the time in the world," Surdock said.
"My receivers were blocking for me and my coaches were giving me the right plays and everything."
The game-tying score also came from Surdock from a quarterback keeper that involved a highlight juke move that made the defender responsible to contain him fall on his hands and knees. The defender assisted Surdock on the run as his body on the ground tripped his pursuing teammates as he ran 58 yards into the endzone.
Surdock also converted the 2-point conversion.
"We haven't shown that explosiveness all year," Shaw said.
"This is the first time and we knew that we had the ability to make some big plays and tonight."
Surdock also had a 76-yard touchdown run before the end of the second quarter. The extra point was blocked. They trailed 14-6.
Throughout the game, the Bulldogs were able to run the ball effectively.
They used fullbacks Devontae Boyd and Andrew Parkowski power running style to get tough yards up the middle. On the edge, Olmsted Falls used fellow fullback Alec Wall and Slot receiver Stephen Ellis' speed on the outside with jet sweeps.
They were successful throughout the game as Parkowski rushed for 92 yards, Boyd for 133 yards and a 38-yard touchdown, Ellis for 38 rushing yards and two touchdowns.
One of his touchdowns was on the ground from two yards out and in the air from 32 yards.
Wall rushed for 147 yards.
Midview's defense found a way to stop their running attack when it counted and forced them to throw on obvious passing downs.
The defense got aggressive and sacked Ciolek multiple times in the fourth quarter.
"We brought a little pressure on those passing downs and it worked for us for the most part [and] the run, we have to make key stops against them and we got to get off the field on third and fourth downs and our guys made plays on third and fourth downs and that was the difference," Shaw said.
After the Bulldogs blew their lead, they still had a chance to score with 28 seconds remaining.
They went 40 yards on 27 seconds and was left with a Hail Mary pass with 1.2 remaining to the left side of the endzone, but was intercepted by Domenic Roman to seal the win.
"I was nervous," Surdock described as he watched the final drive. "I was shaking a little bit, but I have faith in my defense to make the plays and finish the game out."
The Middies lost three of their last four games and that win was against a winless Lakewood team. Shaw would use this to motivate his team before the game.
"I told our guys before the game that we haven't beat anybody yet," he said.
"This is your chance, a 6-0 team coming to our house, on Homecoming Night to prove some people wrong. I think they took that to heart… Our guys played with a chip on their shoulder and I am really proud of the way they competed."

NEO Sports Insiders Newsletter
Sign up to receive our NEOSI newsletter, and keep up to date with all the latest Cleveland sports news.