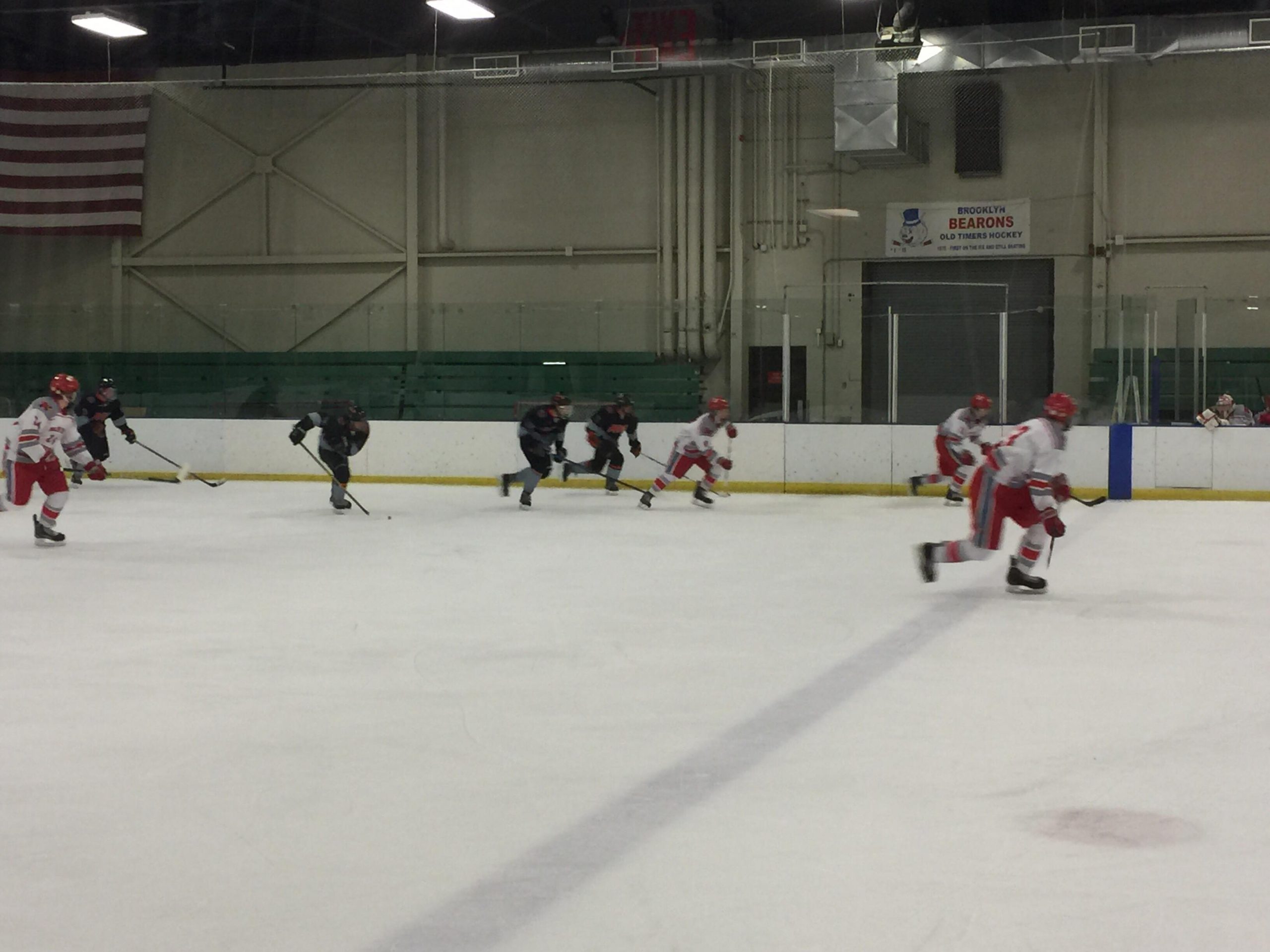 Game Two of Day Three of Baron Cup action featured the Mentor Cardinals against the North Olmsted Eagles. Mentor Cardinals came in seeded one for the Baron Cup I bracket, and North Olmsted was seeded eighth. The Cardinals came in with a record of 25-4-2 and the Eagles came in with a record of 7-12-2. Mentor has outscored their opponents this season 167-58, a goal differential of 109.
Mentor and North Olmsted both got off to an early start in the first period with the Cardinals scoring first when Evan McBride scored with 13:15 remaining, and was assisted by Andrew McBride and Kyle Backston.
The Eagles answered back less than a minute later when Shawn Donovan scored and was assisted by Riley Vertosnik. Things were quiet for a bit but at the 5:58 mark the Eagles scored an unassisted goal by Vertosnik.
The Cardinals answered back almost a minute later of playing time with 4:44 on the clock when Backston scored and was assisted by Cameron Mocny and Evan McBride. The Eagles did not let the tie continue on long when Vertosnik scored and was assisted by Jake Mlady with 3:44 left.
Mentor fought until the end of the opening period so they did not go into the first intermission trailing, which was accomplished with 47 seconds left when Evan McBride scored goal number two, which was assisted by Backston and Andrew McBride.
A crazy opening period was upon us with a score of 3-3 to close, with neither team able to get an edge.
Mentor answers back with 47 seconds remaining. Goal by Evan McBride. (his second) Don't look at the seeding folks when you watch this game because both teams are showing it doesn't even matter. @BaronCup_GCHSHL @mentorhockey @NOEagles

— Payton Vince (@PaytonVince) February 7, 2019
Mentor jumped ahead in the second period with 13:19 in the period when Jack Heller found the net for the Cardinals, that goal was assisted by Mitchell Elliott and Henry Cseh. Mentor gets an insurance goal with 7:31 in the second period, the goal was scored by Jack O'Donnell, and was assisted by Mason Klammer which gave the Cardinals a 5-3 lead.
In the third period, the Cardinals added on two more goals by Elliott and Heller. The Eagles didn't go down easily though scoring a goal from Vertosnik with 6:43 in the final period, which was his third.
Evan McBride commented on the adjustment the Cardinals made between the first and second period:
"We took some criticism in between the intermission and decided to backtrack for once. We also put up pucks in the net and played better than we did before."
With the victory by Mentor, they will face the winner of the Baron Cup I matchup Wednesday night between Cleveland Heights and Hudson. That semi-final game will take place at 5:30 pm on Saturday.

NEO Sports Insiders Newsletter
Sign up to receive our NEOSI newsletter, and keep up to date with all the latest Cleveland sports news.