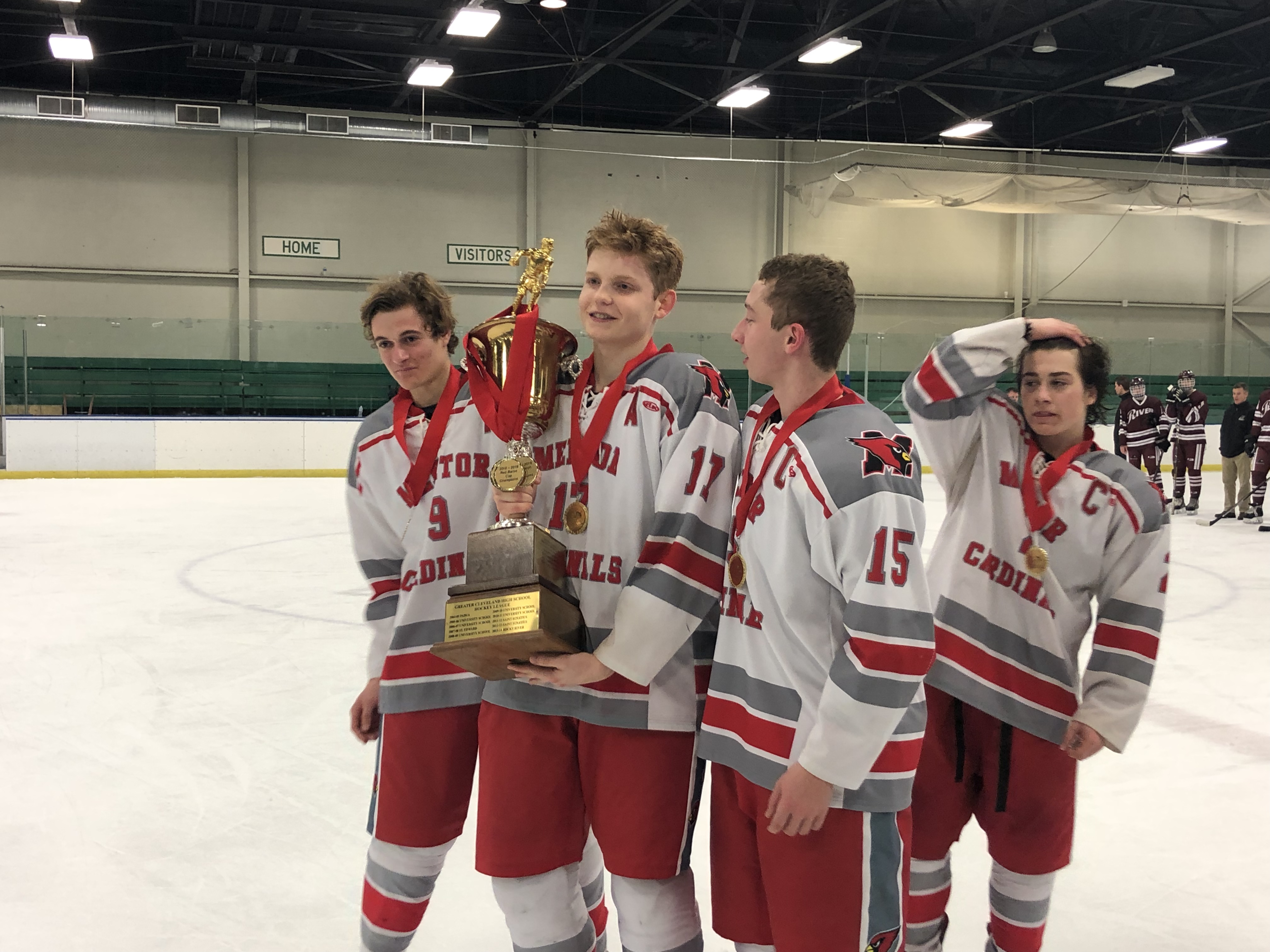 BROOKLYN, OHIO – The Mentor Cardinals wrapped up a memorable 2019 Baron Cup Sunday skating to a solid 7-2 win over the Rocky River Pirates, taking home the trophy as the Baron Cup I Champions.
Mentor didn't make it easy on themselves getting to the title game, as they overcame a game North Olmsted team in their first game winning 7-4.
Then on Saturday evening they played what might have been the most memorable Baron Cup game in a number of years, as they won a 2-1 decision in a game against the Hudson Explorers that went five overtimes.
Sunday was a little different, as they got off to a quick start against the number two seeded Pirates, and led it 2-1 after one, and then 5-2 after the second period.
Mentor came out strong and firing from the get go, and took a 1-0 lead with 10:30 left in the first period as Evan McBride found the back of the net with Andrew McBride getting credit on the assist.
The Cardinals continued to control play midway through the period, and scored again with 8:12 to play in the first, this time Andrew McBride got the tip in unassisted making it a 2-0 affair.
Things calmed down for Rocky River and the Pirates got back into the game with a goal to cut it to 2-1 with Hayden Weaver getting the goal and Zach Pejeau grabbing the assist with 5:51 remaining in the period.
The first period ended with the Rocky River leading in shots on goal 10-8.
The Cardinals pushed the lead to 3-1 in the second as Jack Heller lit the lamp, getting an assist from Mason Klammer 2:17 into the period.
They made it 4-1 at the 7:50 mark, as Luke Jeffery, the hero from the five overtime game Saturday who scored the game-winner, got credit for the goal with Heller on the assist.
River was able to draw a penalty, with just under five minutes left in the period, and took advantage of it as Danny Asmar buried the puck for the goal, Luke Witzigreuter and Tommy Kelly each getting assists making it 4-2.
Mentor pushed it back to a three-goal led at 5-2 with 1:12 left in the second, as Jack O'Donnell scored with assists from Chad Burkett and Marco Toth.
Jeffery and the Cardinals continued rolling in the third period, as he put in a goal with 10:53 to play, making it a 6-3 game. Henry Cseh was on the assist for the Cardinals.
The final goal to make it 7-2 went to Evan McBride, as he sneaked one in with just 90 seconds to play, Andrew McBride and Toth on the assist.
Check out the photos below of the Baron Cup I title game between Mentor and Rocky River!