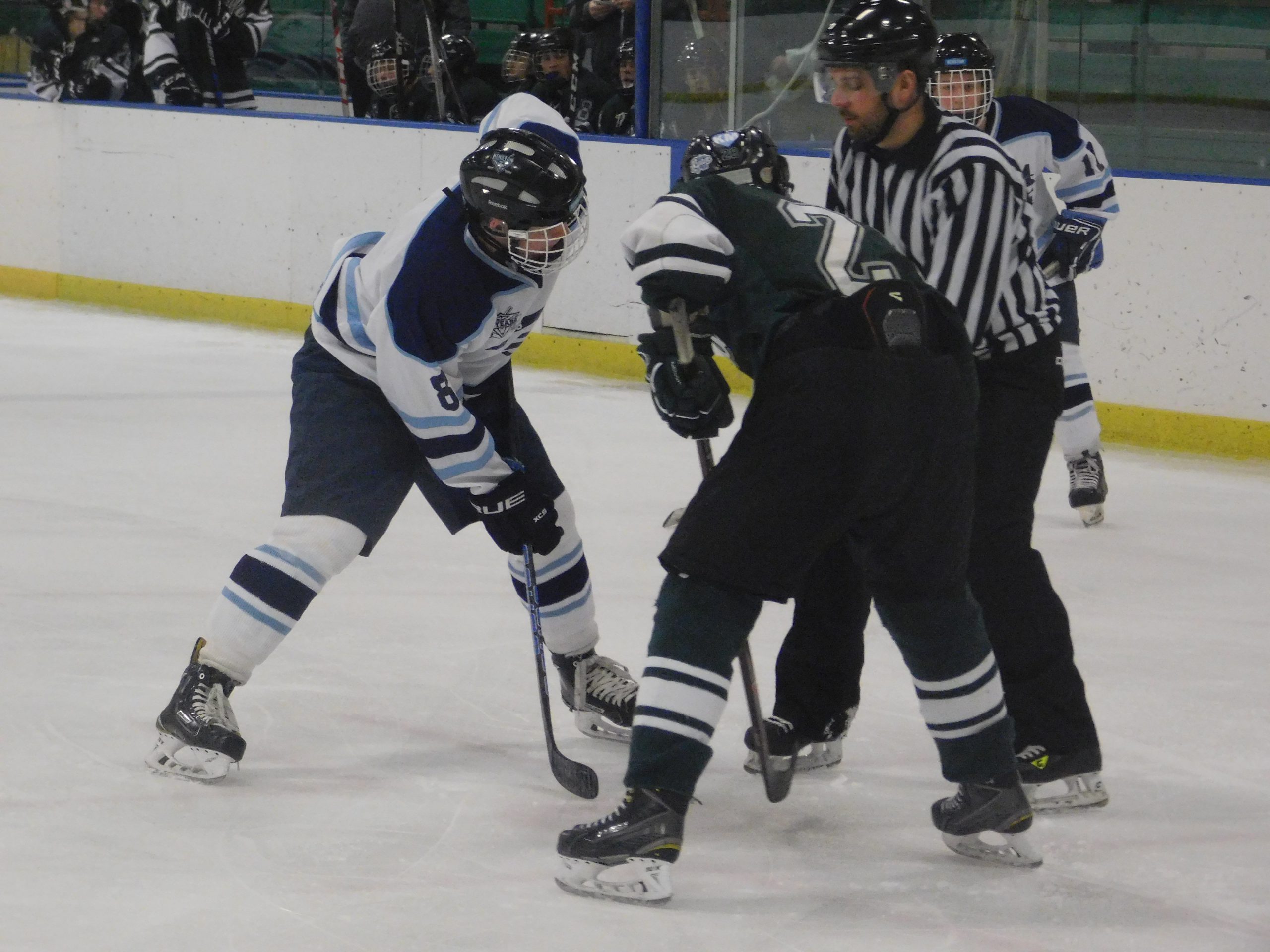 BROOKLYN, OHIO – The Kenston Bombers and Strongsville Mustangs played a tight game on Thursday night in the finale of day four of the 2019 Baron Cup, with the Bombers putting on a late scoring flurry to take home a 4-1 win.
The victory for the Bombers will put them in a semi-final game with the Rocky River Pirates on Saturday in Brooklyn. The Pirates skated past Benedictine 7-1 earlier in the day on Thursday.
The game was knotted up at one apiece midway through the third period, when the Bombers were able to score three goals in the final 6:18 to seal the win.
The first goal with 6:18 to play which was the game winner was scored by Val Carriero, with the pretty assist going to Bennett Wenger.
Kenston built up to a two-goal led with 4:37 left, as Carriero scored again, this time with Kyle Silk grabbing the assist to make it 3-1.
With the Mustangs pulling their goalie, Wenger scored an empty net goal with :46 seconds left to close out the scoring at 4-1.
The Mustangs put up eight shots in the critical final third period for 28 for the game, while Kenston had 12 shots in the third period for 31 for the game.
The first period was played close to the vest by both teams, with the Mustangs getting the only goal of the period to take a 1-0 advantage.
Nate Rajecki scored the goal with 9:02 to play in the first, an unassisted goal to give the Mustangs the lead.
The Mustangs put up nine shots on goal in the first, to just six for Kenston.
The Bombers were able to pull even early in the second period, as they took advantage of a Mustangs minor penalty for tripping.
The goal was scored just 56 seconds into the second period, as Silk got one past Mustang goalie Nick Harris, with the assist going to Jay Ohlsen and Carriero.
It was a stalemate the rest of the second period, with the Mustangs putting 11 shots on goal in the period, to 13 for the Bombers.
The game remained tied until the final 6:18, when Kenston put the game away by scoring two goals to go up 3-1, and then they clinched the win with the empty net goal with :46 seconds left.
Kenston goalie Jason Hildebran and Mustangs goalie Harris both played well their respective teams, coming up with big saves and keeping their teams in the game.
Check out the pictures below as the Bombers and Mustangs do battle in Baron Cup I action in Brooklyn!

NEO Sports Insiders Newsletter
Sign up to receive our NEOSI newsletter, and keep up to date with all the latest Cleveland sports news.