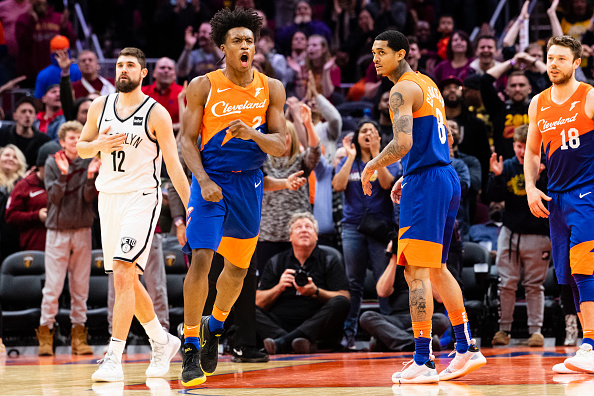 Antawn Jamison, Christian Eyenga, JJ Hickson, Mo Williams, Anthony Parker, Ramon Sessions, Jamario Moon, Ryan Hollins.
That right there is a look at the "key players" on the Cleveland Cavaliers' roster heading into the 2010 All-Star break. It was the first season after LeBron James' departure to Miami. I'd tell you times were bleak, but the above names explain that better than I can.
I bring this up to provide some perspective for the current iteration of the Cavs, who are once again trying to navigate life after LeBron. However, while the win-loss record hasn't changed much this time around, we're certainly seeing more encouraging signs than we did back then.
It's enough to make you think there's a little more hope for this rebuild than the one which came before it.
To clarify, I'm not here to pretend this year's Cavaliers team is a soon-to-be contender. The 12-46 record speaks for itself, and there's still a long way to go before we can take Cleveland seriously.
However, it's worth noting the roster isn't nearly as bleak as it was the first time this team tried to rebuild in the wake of James' departure.
Back then, the veterans on-hand were hardly anyone's idea of key pieces to build around. Most of them entered the 2010 season looking for the first exit ramp they could find.
Meanwhile, the younger players had, for the most part, inspired very little confidence. While Sessions, Eyenga and Hickson showed flashes at times, no one realistically saw them as vital for the years ahead.
To put it bluntly, there was nothing on the 2010 roster which you could define as crucial for the rebuild.
Despite their record, the same can't be said about this year's Cavs. While this is still a team missing a franchise-changing player or two, it does boast a roster with promising youth to potentially build around.
Larry Nance Jr. provides Cleveland an athletic boost on both sides of the court. Jordan Clarkson is averaging the highest PPG of his career, and is coming off a 42-point effort in a triple overtime loss to the Brooklyn Nets.
Cedi Osman had been on a scoring spree before being temporarily sidelined by an ankle injury. Collin Sexton, admittedly enduring an up-and-down rookie season, is averaging 21.2 PPG over the past six games and finally appears to be making strides in the pros.
One of the most important things each of these guys has in common is the fact they're all 26 or younger. The Cavs are getting key contributions from several players young enough to invest in for the future.
As far as veterans go, there isn't nearly as much dead weight on the roster this time around. Outside of J.R. Smith (still sitting at home), Cleveland's veteran presence is essentially Tristan Thompson and Kevin Love. The former was in the middle of the best season of his career before running into an injury, and the latter represents something the 2010 Cavs never had – a five-time All-Star.
As I've noted, this rebuild is still a long way away from being defined as a success. The Cavs still need to make the right moves with all the draft picks they've collected through the past couple months.
At the same time, the future doesn't seem as dreary as it did after James' first departure.
I'm not here to tell you this is a great roster, in need of just a couple more tweaks before we can start realistically thinking playoffs. Everyone called out above will, for the most part, serve as key role players to build around moving forward.
With that said, this isn't the mess we saw nine years ago.
Back then, the Cavs were building from scratch. The 2010 season was a wash across the board, with the focus solely on collecting draft picks and leaning on players who served little to no purpose in the long run.
This year, not only is Cleveland still amassing draft capital, it also boasts a roster with some promise.
It's a start, and in a season like this, that's something to embrace.

NEO Sports Insiders Newsletter
Sign up to receive our NEOSI newsletter, and keep up to date with all the latest Cleveland sports news.