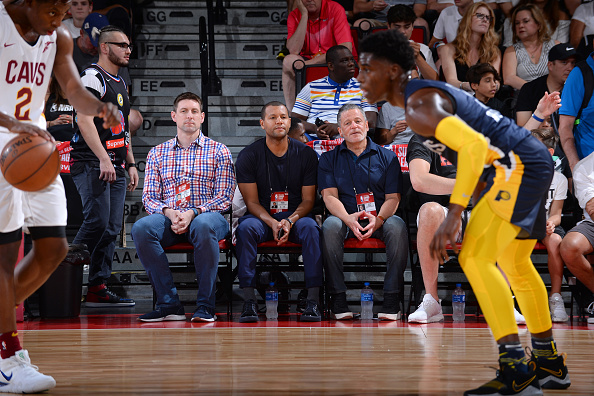 Yesterday, I praised the Cleveland Cavaliers for keeping their eyes towards the future and spending the days leading up to the trade deadline collecting as many draft picks as possible. Today, I need to add an obvious caveat to said praise.
While collecting assets for the rebuild is all well and good, said plan will easily fall apart if Cleveland makes the same mistakes it did last time it tried to build the team in a post-LeBron world.
I'm not here to rain on anyone's parade. I'm glad the Cavs have spent the season stockpiling draft picks instead of trying to find quick fixes. They took a similar approach during the 2010-11 season, doing whatever they could to add assets and rebuild after LeBron James left for Miami.
However, what happened after that should caution anyone from eagerly assuming this team is only a couple years away from making progress.
Sure, Cleveland kicked things off the right way, using the first-round pick it netted from the Los Angeles Clippers on Kyrie Irving. Selecting Tristan Thompson three picks later may have been confusing to some, but it eventually panned out in the long run.
From there, though, the Cavs taught a master class in how not to rebuild a team.
The following year, they selected Dion Waiters fourth overall despite his not starting in two years at Syracuse and refusing to work out for any NBA teams ahead of the draft. Waiters showed flashes, but was a constant locker room distraction and seemed to always be fighting with Irving.
Apparently daring themselves to one-up this bad selection, the Cavs won the first overall pick in the 2013 draft and used it on Anthony Bennett. While there appeared to be no consensus top pick in this rookie class, Bennett wasn't exactly on anyone's radar.
We soon found out why. It feels as though you can count on one hand how many standout games Bennett had in Cleveland, as he spent most of his rookie year underwhelming the team which felt he was worthy of being taken first overall. He was eventually dealt to the Minnesota Timberwolves as part of the Kevin Love trade the following season, and is no longer in the NBA.
As we know, blowing draft picks wasn't the only mistake Cleveland did to hinder its rebuild.
Several ill-fitting free agents were acquired in attempt to build a core around Irving. Most (Jarrett Jack, Earl Clark) were essentially forgettable. Others (Andrew Bynum) were outright disasters who did nothing but wreck everything in sight before being mercifully dropped.
Outside of the numerous roster blunders, the Cavs also set their rebuild back by making terrible coaching decisions.
Needing to find the right replacement for Byron Scott, Cleveland decided against following the normal policy of interviewing multiple candidates. Instead, owner Dan Gilbert rushed to patch things up with Mike Brown, hiring him back a good three years after he fired him. Naturally, the decision flopped. Brown was dumped at the end of the following season, carrying the honor of being fired by the same team twice in the span of four years.
As you can see, setting the foundation for a rebuild is meaningless if the house you build on top of said foundation is made of popsicle sticks and Elmer's glue.
The Cavs are wisely piling up as many assets as they can and setting themselves up for a long-term rebuild. However, if they can't avoid the mistakes made in their previous attempt, they're going to find themselves in a similar situation, watching losses pile up and holding out hope James is conveniently interested in another homecoming.

NEO Sports Insiders Newsletter
Sign up to receive our NEOSI newsletter, and keep up to date with all the latest Cleveland sports news.