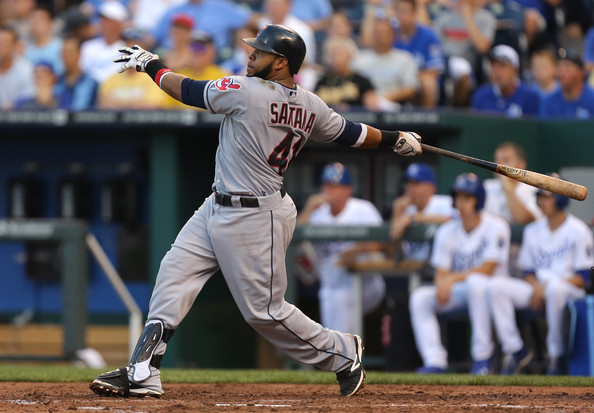 By Mark Warmuth
Just when you thought the Cleveland Indians were making defense in the outfield more of a priority, you see a story saying the Tribe is considering playing Carlos Santana out there this season.
Now, we understand there isn't a lot of write about during the early days of spring training, so it could be Terry Francona just saying there might be a time for Santana to play out there, but here's hoping the organization doesn't have thoughts of making this more than a rare occurrence.
Our thought is the Indians believe that because their pitching staff strikes out a lot of hitters, thus keeping the ball out of play, they can survive with less than adequate defense beyond the infield.
To some degree, they are correct. It certainly is less of an issue than it would be if they had a lot of high contact flyball prone hurlers.
However, in close games, which the Tribe may be playing plenty this year because of the unproven bats in the lineup, defense is at a premium.
Last season, Francona put an outfield alignment which had Michael Brantley in left field and Melky Cabrera in right field, and asked the centerfielder to run for miles in between the two range challenged veterans.
We have heard various fans talk about playing Jake Bauers in the outfield, but Rays' broadcaster (and former Tribe pitcher) Brian Anderson said although he can play out there, he's really a first baseman.
Certainly, Santana can play there, heck, he started a World Series game in left field, but how much would the defense be compromised with him starting, let's say 25 games out there?
It's just not worth it in the long run.
This is an organizational issue too.
Remember, Cleveland has played each of the last two post-seasons with Jason Kipnis, a second baseman ordinarily, in center.
While we can't think of any egregious misplays in those playoff games, there were probably balls that an experienced outfielder would have made.
Getting Leonys Martin helped the defense before he got sick. You could see the difference in the few games he played after coming over from Detroit. He played a more shallow center, and got very good jumps on flyballs.
It seemed like management was trying to reverse this trend this winter. Letting go of Brantley's bat doesn't help the offense, but it should help the defense. And Cabrera was best suited for LF too, but because of Brantley, Francona used him in right.
The replacements, at least for now, would be a great improvement.
Jordan Luplow has good defensive metrics in LF and RF, and Tyler Naquin is solid in the corners. Oscar Mercado has played a lot of center in the minors, so he should be good as well.
Again, this could all be Francona just trying to make his team more versatile, and he wants options defensively against certain pitchers.
Let's hope that is the case. It would be nice to see the Indians' pitching staff backed by an outfield that can run down flyballs.
And if the team isn't going to get a great deal of offense out of those spots, then they better be above average on defense.

NEO Sports Insiders Newsletter
Sign up to receive our NEOSI newsletter, and keep up to date with all the latest Cleveland sports news.