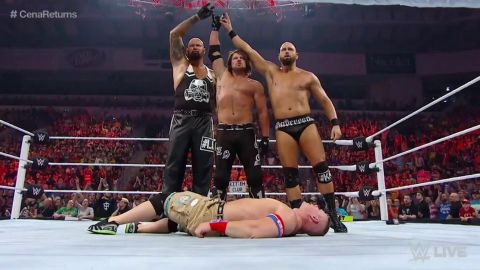 So, like every Raw, there's things that you take away from the show. Like maybe a bad segment or match. Maybe a shocking turn of events. Or even a match-of-the-year candidate. Every RAW has ups and downs, but they all change the landscape of the WWE for better or worse. So, without further ado, here are the top five takeaways from this week's RAW.
1. The Club Versus John Cena– Most of the people that I have talked to are not excited due to the sole reason of Cena not losing to the younger talent. This is not the case, as Styles is just as experienced as Cena. Styles and Cena will put on instant classics which might build up the New Era.
2. MITB Drama– Who should win the Money in the Bank? Well, the options are very interesting if you look at it. Del Rio with the experience from cashing in successfully, where Jericho has experience because he made the match. Owens and Zayn both looking for the opportunity to catapult into the title scene. Cesaro and Dean feel like they have been forgotten too many times. So, does Zayn or Owens find a way to out-do the other? Does Ambrose or Cesaro push their way to the top? Or does a veteran like Jericho or Del Rio get their final moment of glory? We shall find out that in the next few weeks.

3. Charlotte…What Is Going On?– A very big question that I have is what direction is Charlotte going in? Not sure what the plan is for her and Dana Brooke, but I don't think it is going to end well for Charlotte and I can't honestly say that Dana Brooke can be a great Women's Champion.
4. New Day Rocks? The Club Says No- There is nothing you can say about The New Day. They make the tag team so much better for everyone involved. Enter The Club. Is this a bad thing? No. But it does probably mean the end is in sight for The New Day's reign and time for The Club's domination of WWE.
5. Bada Boom, Realest Guys In The Room!- Don't know how you can hate these guys? Enzo on the mic is golden and Big Cass brings the brute force. Easy to see that this is a formidable team. Barring any breakup, this team could go far and be a staple of the tag team division for a long time.
What was your biggest takeaway from RAW? Tell us below in the "Comments" section and tweet us at @NEOSportsInside!

NEO Sports Insiders Newsletter
Sign up to receive our NEOSI newsletter, and keep up to date with all the latest Cleveland sports news.