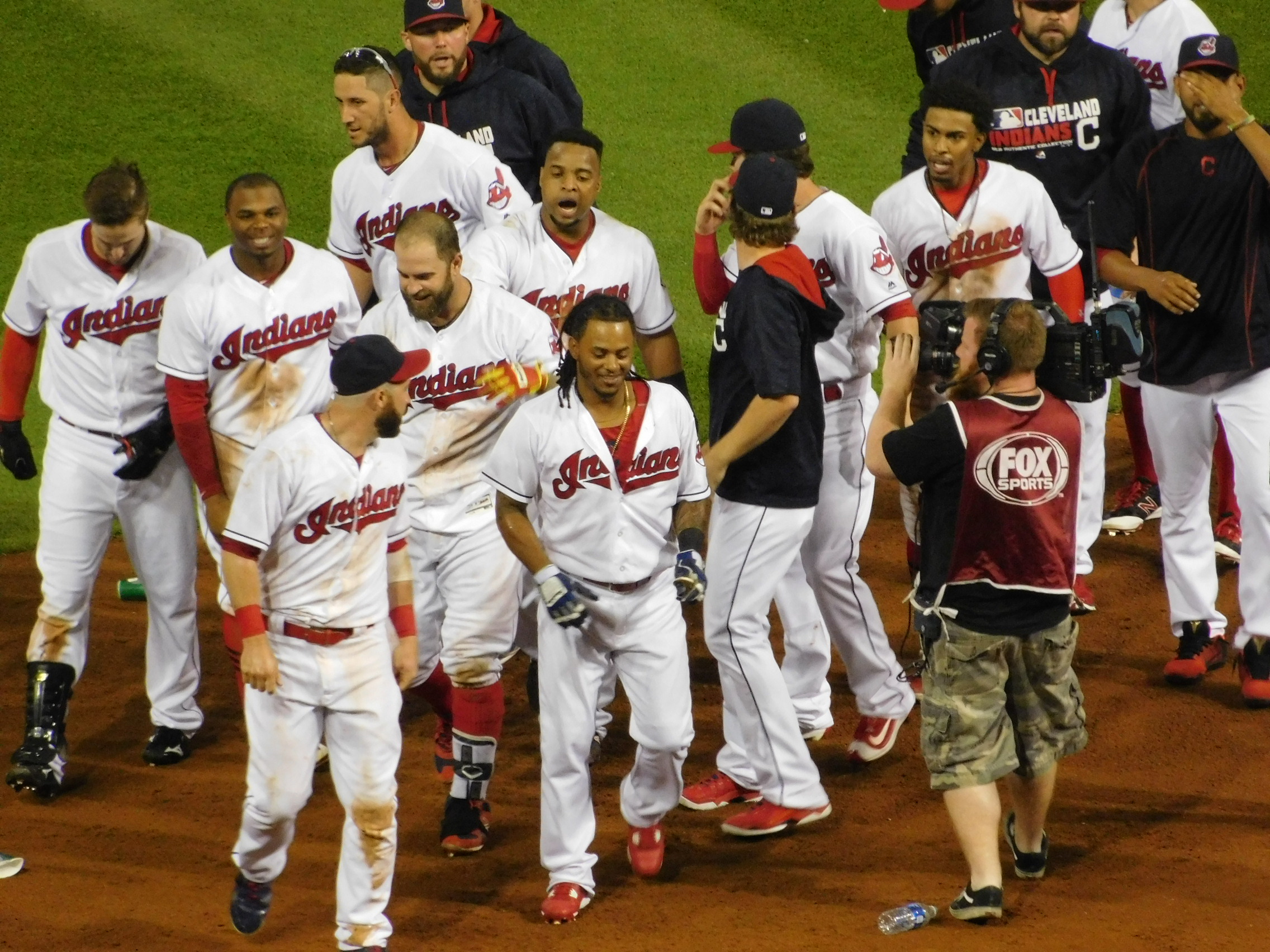 The Cleveland Indians are riding a six-game win-streak and sit atop the American League Central Division with a 2.5 game advantage over the Kansas City Royals heading into Tuesday night's action.
Some are skeptical that the Tribe can keep this streak rolling, but there are a number of factors why this recent success is not just a flash-in-the-pan, and the Cleveland Indians are no fluke.
Here are ten reasons why the Indians are legitimate contenders.
1.) American League is Ripe for the Taking
If you had the choice to play in the AL or NL, most people would probably go with the AL. While the NL does have some very bad teams, the top of the NL is scary. The Chicago Cubs, San Francisco Giants, and Washington Nationals are probably the three best teams in baseball and all come from the NL. That list also doesn't include the New York Mets and their outstanding rotation, the Pittsburgh Pirates and St. Louis Cardinals who have also been consistently towards the top of the NL for the past few years. The AL side is a lot more balanced at the top. The East features two potent lineups with Toronto and Boston, but the surprising Orioles currently lead the division. Out West the Rangers are a good team but not as highly regarded as some of the NL ones and in the Central the Royals have made back to back World Series. If it came down to the playoffs, the Indians stand a far better chance making it out of the AL.
2.) The rotation is among the best in MLB
According to ESPN's Cy Young predictor, the Indians currently have two of the top five candidates for AL Cy Young with Josh Tomlin and Danny Salazar. Tomlin doesn't have the big numbers, only 41 strikeouts in 61 innings, but he does have the record at 8-1 in 10 starts this season. He has been especially good after a loss and has kept the Tribe from continuing into a slump with his pitching. Salazar has been much flashier and should hopefully be in San Diego come July. He has an AL leading 2.24 ERA and a 6-3 record. He's also been a strikeout machine with 81 in 68.1 innings pitched. He will miss his next start with shoulder soreness but these two have been instrumental for the rotation. Outside of them, the staff still has former Cy Young winner Corey Kluber and Carlos Carrasco returning from injury. Like Cookie, Trevor Bauer has sealed the fifth starting spot for now after being moved to the bullpen. All five starters host an ERA under 4.00 and Carrasco and Salazar are both at 3.00 and under.
3.) Lindor is for real
Although he might only be 22 years old, Francisco Lindor has proved why he was one of the top prospects in all of baseball. After being called up last season, he hit an impressive 0.313 with 12 HR 55 RBI and 12 SB in 99 games. While those numbers are hard to live up to, he hasn't lost a step this season. In his first 55 games, he's hitting 0.308 with 6 HR 29 RBI and 10 SB. He's also cut down on his K/BB ratio. This isn't even beginning to mention his defensive ability. There are not many players in baseball that you can say you want to watch play defense. Lindor is one of them. It seems like every night he pulls out some kind of web gem. The future is through the roof for him and like Salazar, he should represent Cleveland in San Diego.
4.) Young guys are stepping up
For the longest time, the Indians have struggled with all one through nine guys being able to hit and make plays. This year the team is finally getting more balance outside of just three guys doing all the work. Maybe the biggest surprise has been Jose Ramirez. Taking over for Mike Aviles in being the utility guy, it seemed like he was destined to be a AAA player after hitting 0.219 last season. This year he has hit 0.315 in 50 games and is being forced into a more prominent role because of the way he is playing. With the multiple suspensions and Brantley injury, Ramirez has been a knight in shining armor for the OF. Another pleasant OF surprise is Tyler Naquin. Naquin, the former first round pick, finally broke the opening day roster with Almonte's suspension. Although he was sent down to AAA temporarily, he has hit 0.338 in 32 games for the Indians. He has also hit a couple of home runs recently and is starting to see the ball well. Lonnie Chisenhall has hit 0.278 and Michael Martinez 0.269. The Indians are finally getting contributions from these younger guys in the lineup.
5.) Tribe is dominating Central Division opponents
The Indians are 18-7 against the AL Central this season. Going into the year, I thought the AL Central could be one of the best divisions in baseball. While the Twins have struggled this season, except against Cleveland, they did have success in the first half of last season and are a young team poised to make a run with a great farm system in the next couple of years. The Chicago White Sox have some really good starting pitchers with Jose Quintana and current Cy Young favorite Chris Sale that led them to an impressive early season start. The Tigers have always had a potent lineup and spent a ton in the offseason bringing in Justin Upton, Jordan Zimmerman, Mark Lowe, Cameron Maybin, and Francisco Rodriguez to name a few. Then there is also the defending Champions and back to back World Series appearance Kansas City Royals. This year the Indians are 2-4 against Minnesota, 4-2 against Chicago, 6-1 against Kansas City, and 6-0 against Detroit. That's getting the job done.
6.) They've done it without Brantley
The Indians success this year has come without arguably their best player Michael Brantley. Brantley had offseason shoulder surgery that looked like he was going to miss the beginning of the season. He might have come back too soon as he has been shut down with shoulder inflammation indefinitely with no timetable for a return. He appeared in just 11 games this season, hitting 0.231 with two extra base hits. He's had an OBP of at least 0.332 each of the last four seasons and a WAR of 2.7 or higher including one of 7.0 in 2014. Having a healthy Brantley back would be another boost for the offense with another guy that can hit around 0.300 and put the ball in play.
7.) They are traditionally a second-half team
The Indians are typically a second half team under Tito for whatever reason. In 2015, the Indians were 7-14 in April, but went 16-12, 14-13, and 3-1 in August, September, and October respectfully. In 2014, they had a 10-17 April with an 18-9 August and 14-13 September. During their improbable 2013 run, they were 11-13 in April and 21-6 in September. The Indians have had a winning record in September each of the last three seasons and their struggles have come in April. This April they were once again under 0.500, but with a 6-0 June have got themselves back into first place. If they can keep it up, they can maybe gain home field advantage with a strong August and September again.
8.) New role players fitting in nicely
The Indians in the past have generally added free agents with some kind of problem to a one year deal and then traded them away at the deadline. This year the Indians made several one year deals, but two of them have really performed well in what they were expected to do. Rajai Davis is tied for fourth in MLB in stolen bases this season with 13. He's also hitting 0.261 with six home runs in a depleted outfield. Mike Napoli was brought on to be the power bat the Indians lacked. While his 80 strikeouts and 0.231 batting average aren't great, he is tied for 10th in MLB with 14 HR and 7th in RBI with 42. That's four more home runs and 13 more RBI's than second on the team.
9.) Trade Deadline buyers
For the first time in a while it looks like the Indians will be trade deadline buyers. Last year the team moved Brandon Moss, David Murphy, and Mark Rzepczynski at the deadline. Other recent trades were Asdrubal Cabrera, Chris Perez, and Vinnie Pestano. It's been a while since the Indians have been buyers so the farm is a little riper than in years past. The four positions the Indians would look for would be bullpen, catcher, third base, and outfield. The Tribe can follow their own recipe and not go after a big name player but do a smaller rental name that might cost them a low level prospect. A left handed reliever should be number one on the list and they will be a plenty from teams out of the playoff hunt. Relievers should also cost a lot less than other positions. Another name to keep an eye on would be Jay Bruce from the Reds. The Indians could look for another power bat in the OF with the Byrd suspension and Bruce will be a free agent after the year. He'd be a perfect rental candidate with the Reds likely to continue to sell.
10.) Chemistry consistent
One of the wonderful things about this team is it has largely remained the same and has been locked up long term. Corey Kluber, Jason Kipnis, Michael Brantley, and Carlos Santana have all been up here for a while. Jose Ramirez, Lonnie Chisenhall, Tyler Naquin, Francisco Lindor, Danny Salazar, and some of the relievers have all gone through the minors together. The Indians 25 man roster features only eight new faces, three of which are in the bullpen. Of the others, Gimenez is only here because of the injury to Perez and Michael Martinez was called up due to injury. Napoli, Davis, and Uribe were the three key additions after the Byrd suspension that are new to the team and they have fit in wonderfully except Uribe. Keeping the team intact continues the chemistry and it's showing how well the team gets along and what they expect from each other. Looking around to the top teams in other sports where there is a salary cap so you can't outbid everyone, the great teams don't replace every one. They keep the structure intact and that's what this team has done especially when they had the opportunity to trade one of their young aces in the winter but chose not to.