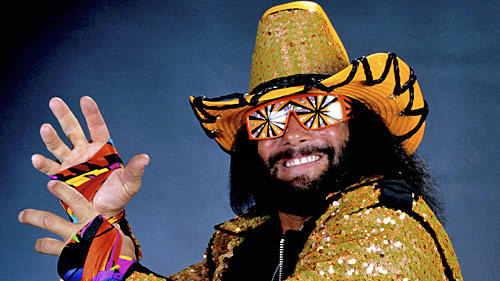 Many wrestling fans will tell you that the first two wrestlers who come to mind when the word WrestleMania is mentioned are Shawn Michaels and The Undertaker. For good reason too, The Undertaker won 21 matches in a row at the show of shows, and Shawn Michaels is rightfully known as being Mr. WrestleMania for his cavalcade of excellent matches.
However, at the root of it all was a performer who truly was the very first Mr. WrestleMania based on his ability to have a great match with anyone on the card as well as his excellent win loss record while doing it. That man's name, The Macho Man Randy Savage. While revisionist WWE history buried his legacy for so long because of bad blood between him and McMahon, there is absolutely no denying his epic performances at the show of shows.
While not competing in the first WrestleMania, Savage held the IC title coming into WrestleMania 2 against George The Animal Steele. While not exactly a mat classic, which wasn't helped by the awful commentary from Vince McMahon and Susan Saint James.   The Macho Man still managed to pull a decent match, and a victory out of the Hairy One with the Green tongue.
On a side note, I use the term "commentary" loosely when it comes to St.James who's match analysis was pretty much relegated to"C'mon George, C'mon George" every 30 seconds or so. Which ironically enough, she got to use again the following match as Jake The Snake Roberts defeated George Wells.
His match with Rickey The Dragon Steamboat remains one of the greatest matches in Wrestling History. Two mat technicians at their very best, in their prime in front of 93,000 screaming fans in Detroit. With 26 total pin attempts and incredible drama as this was the conclusion of a blood feud that saw Savage brutally injure the Laranyx of Steambboat. In the end, it was Steamboat ending the year long run of Savage with the belt. Adding to the drama was the fact that in The Dragons corner was George The Animal Steele.
WrestleMania IV could easily be renamed as "MachoMania" as it was the all out coming out party for Savage. He dominated a tournament to crown a new WWF World Champion by running through his opponents like a hot knife through butter.  He once again showcased his ability to have a great match with anyone as he took down Butch Reed in the opening round, Greg The Hammer Valentine in the quarterfinals.  He made it past One Man Gang in the Semi's and had solid main event title winning match against the evil Million Dollar Man in the Finals.  The memory of him hoisting up Ms. Elizabeth on his shoulder in celebration will live forever.
At WrestleMania V, he took part in one of the most memorable main events of all time as he battled Hulk Hogan in defense of his World Title when The Mega Powers exploded!  This is a match that truly lived up to the hype.  It had all the action and drama of a Hollywood blockbuster as Savage carried Hogan to a Five Star Classic!
While his match at WrestleMania VI isn't all that memorable, it goes to note that when he and Sherri Martel took on Dusty Rhodes & Saphire, it was the first time ever a Mixed Tag Match was featured at WrestleMania.  Ironically enough, the next one was 8 years later when Rhodes son Goldust tagged up with Luna Vachon to take on Marc Mero and Sable.
We covered his retirement loss match with The Ultimate Warrior from WrestleMania VII in yesterdays article, but it is worth repeating.  Following the same game plan of intense pre-match storyline drama, Savage once again pulled out a classic from a wrestler who couldn't even lace his boots in The Warrior.
All eyes may have been on Hulk Hogan's "last match" at WrestleMania VIII, but there was no doubt that Macho Man Randy Savage's title victory over Ric Flair absolutely stole the show.  Once again as always seemed to be the case with Savage, this match was steeped in drama before it could even begin.  The storyline was that Flair had an affair with Liz and even went as far as to doctor up photos of the two of them together.  WWF Magazine ran with it as well.  The storyline was bunk, but the match was not.  It went back and forth for 20 plus minutes until Savage rolled up a bloody Flair to capture the gold.
His last appearance with the WWE as an active Wrestler came at WrestleMania X.  It was in typical Savage fashion, "a grudge match" against former friend and now enemy Crush.  It was also the first ever Falls Count Anywhere match at a WrestleMania.  Savage won, capping off his WrestleMania record at 7-4 with Two World Title Wins and a successful defense of his IC title.  He also took part in Two First Ever matches as well.
RIP Macho Man Randy Savage, our only regret is that you never got the proper Hall of Fame Induction while you were still alive…….

NEO Sports Insiders Newsletter
Sign up to receive our NEOSI newsletter, and keep up to date with all the latest Cleveland sports news.