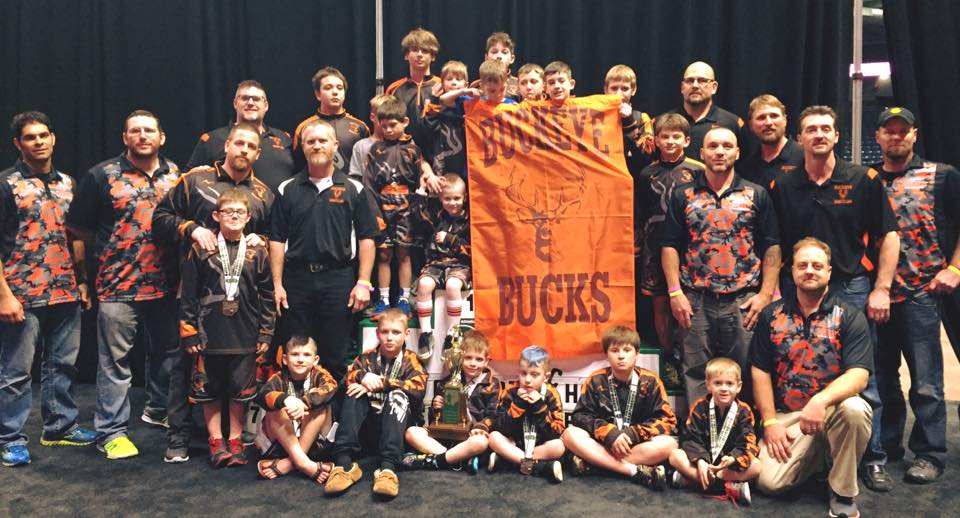 MEDINA, Ohio – It was quite the weekend and season for the kids of the Buckeye Wrestling Youth program ran by Steven Bartos of Medina.  The exact name of the program is Buckeye Youth Wrestling, they run a program for K-6th grade, however a few 4 and 5 year old's sneak in.  They have trouble saying no to the little guys.
The Buckeye Youth wrestlers won their Third Straight Division II State Team Championship over the weekend.  Scoring a whopping 162.5 pts, the Bucks far surpassed the second place D2 school and outpaced all but one other community program.
They defeated such schools as Milan Edison, Highland and Wadsworth along the path to gold!  Buckeye had a record 8 State Placers, easily surpassing last year's 6.
They brought 22 to State, 17 made the second day.  3 kids won at least a match, 7 wrestlers won at least 2 matches.  6 kids notched three victories and five wrestlers won 4 or more.
Those are extremely good and very impressive numbers. An incredible 11 wrestlers were still alive when they reached the blood round (the final round before placement).  The Buckeye youth are competing very successfully with every other kids/program in Ohio.
Head coach of the program, and Buckeye wrestling legend himself, Steve Bartos has this to say about the parents and their incredible support all season long, "Our fan base is awesome.  The parents, family members and support structure are second to none.  The loudest most supportive fans in the arena, decorated and enthusiastic, they played a huge part in the momentum witnessed throughout the weekend.  To the moms that decorated the lockers and doors like Linda Brunst, Shannon Bodach, Theresa Wilhelm, Jen Knapp and I'm sure we will miss a few, thanks you for your continued effort. 
To those that stayed late to watch the placement rounds and still others that drove to Youngstown to support their teammates.  It's those efforts that build a program.  We would also like to thank the corporate sponsors that purchased the new warm-ups, we looked good while spanking the competition. Everyone knows Buckeye."
Steve Bartos also had this to share about one of the strongest youth coaching staffs in the state, "A big thank you goes out to the coaching staff.  Steve Rupanovic, Bill Zoul, Dylan Neitenbach, Chet Cochrane, Mike Brunst, Tony Bartinelli, Luke Bender, Brian Bartos, John Dalgleish, Jim Hewitt, Fred Kissiday, Brian Wither, Kirk Cekeda, Mike Cain, Joe Quallich and countless others that donate huge amounts of time and resources to this team.  Your fingerprints are all over this program, you should be proud."
Steve had this to say in regards to the success his team had this year, "First, I couldn't be more proud of them.  They put in a ton of hard work and remained committed not only during the season but all summer long.  They did exactly what we asked them to do, set your goals and work accordingly to achieve them.  Second, this was a season full of different emotions.  Managing the program was especially trying this season.  There also was a bunch of high quality kids that struggled this year, which was difficult to watch and makes you question your methods.  The team's performance this weekend erased a lot of the seasons woes."
As mentioned, Bartos is a Buckeye product himself.  He was a HS State qualifier at 105lbs in 1986.  His senior year in 1987, he placed 4th in the State at 119lbs.  He was a freestyle state runner-up that year as well
While coach Bartos and the rest of the staff will always stress how important each and every kid is to the program and the future of wrestling, it would be impossible not to single out the following kids who went above and beyond this past weekend.  They are as follows.
The following wrestlers each won 2 matches:  Tanner Cochrane, Logan Pozderac, Dominic DiFilippo, Blake Bartos, Jayson Knapp, Jake Marquetant and Liam Neitenbach.  These wrestlers should be very proud of their performance, they were knocking on the door of a state placement.
Brody Zoul – a 85 pound 8 year old who is almost impossible to stop.  He took 4th place and it was his first All-Ohio placement.
Mason Bodach earned a 7th place finish in the 40lb weight class.  In a thrilling run, especially in the 7th place match, Mason battled his way match after match finding a way to win.  Mason is Buckeye's first ever 5 year old state placer.
Nolan Haggerty–  Nolan has worked as hard as any kid over the last 12 months and notched a very impressive 4th place finish over the weekend.  This was Nolan's second trip to State and caps off a quest he embarked on last season of standing on the box at the big show.  He had a very impressive year with a REMARKABLE 76-7 record.
Bryce Bender–  He notched 6 wins and Bryce earned a hard battled 4th place finish, only losing to one kid, twice earning his first All-State honor.
Logan Pozderac–  The missing piece to the puzzle recently joined the others straight out of the Beginners group in February.  He practiced 4-5 days a week, worked really hard and embraced the challenge.  Logan went all the way to the State semi- final before anyone beat him and grabbed an All-Ohio placement with a 6th place finish.
Jake Marquetant–  In probably the biggest surprise of the weekend, Jake wrestled his way to an 8th place finish.  Maybe not such a surprise is Jake was a district champ that showed a ton of improvement over the last month.  Jake has been to State before and worked really hard to prepare himself for the challenge.  Terribly undersized for the weight class, Jake is not afraid to go after someone.  He's explosive, aggressive and hates to lose and this was evident with this weekends performance.
Dillon Badiu– Dillon had an unbelievable weekend with a fantastic 3rd place finish.  Going straight to the state semi-finals and only losing to the eventual and multi-time state champ, he blasted to a five-win State tourney.
Eddie Neitenbach–  There are good wrestlers, there are great wrestlers and then there are the Elite wrestlers.  Eddie is an Elite wrestler.  He has placed every year in youth wrestling, 6 times in 6 years.  More impressive is he's been a State finalist the past four years.  He moved up an age division, for those close to the sport know how difficult that can be.  He went up two weight classes, again not easy.  The kid he defeated in the quarters was a multi-time state placer and the kid he tech-falled in the semi's was a state runner-up last year.  Eddie lost a beauty of a match in the state finals to a 4x state champion form the Cincinnati area.
Wrestling is one of the toughest sports your child can compete at, it's not easy and often time grueling, if not all times!  Coach Bartos explained to me what he tells parent's interested in getting their kids involved in the sport.  "I tell them the truth.  It's the toughest sport in the world, it will test and push them far past any expectation they might have.  Be prepared to watch your child struggle, cry, want to quit etc. Wrestling will bring you the lowest of lows but also give you highs that are unforgettable.  The sport tears out weakness and invites confidence and integrity."
Coach Bartos goes on to explain what he feels makes a great wrestling coach at any level, "That's a tough one because you need to wear a few hats.  First, you have to have a commitment to the kid, even the ones that have little talent.  Have the ability to know when to be soft and approachable and other times when to be stern and tell the truth, even if it hurts. 
Remember to never use humiliation as a motivator, it doesn't work.  We do this in a community program specifically because it's on a volunteer basis. 
If you charge money to run your team, it destroys the purity as to why you do it.  If you do something for the love of it all, the reward is much greater (no conflict of interest).  The best coaches also coach the parent, most are new to the sport.  Once they believe your best interest is their kid and they understand why you push them so hard, the parents will do whatever you ask. 
We constantly pound the Integrity thing into the kids.  Be accountable, blame yourself for failures, not someone else.  Take responsibility for your actions on and off the mat.  Much bigger life lessons than the sport of wrestling."
So how did Steve Bartos get involved in coaching, in the purest of ways, he wanted to give back to the sport and also be around family, "I've been coaching at Buckeye youth for about 10 years.  I started when my brother Brian took over the program from 2007-2010.  I became the head coach in the 2011-12 year.  I started because I love the sport and credit it with most of the success I have achieved in my life professionally.  Also, my nephew Eric was involved in the program at the time so I wanted to spend time with him."

NEO Sports Insiders Newsletter
Sign up to receive our NEOSI newsletter, and keep up to date with all the latest Cleveland sports news.