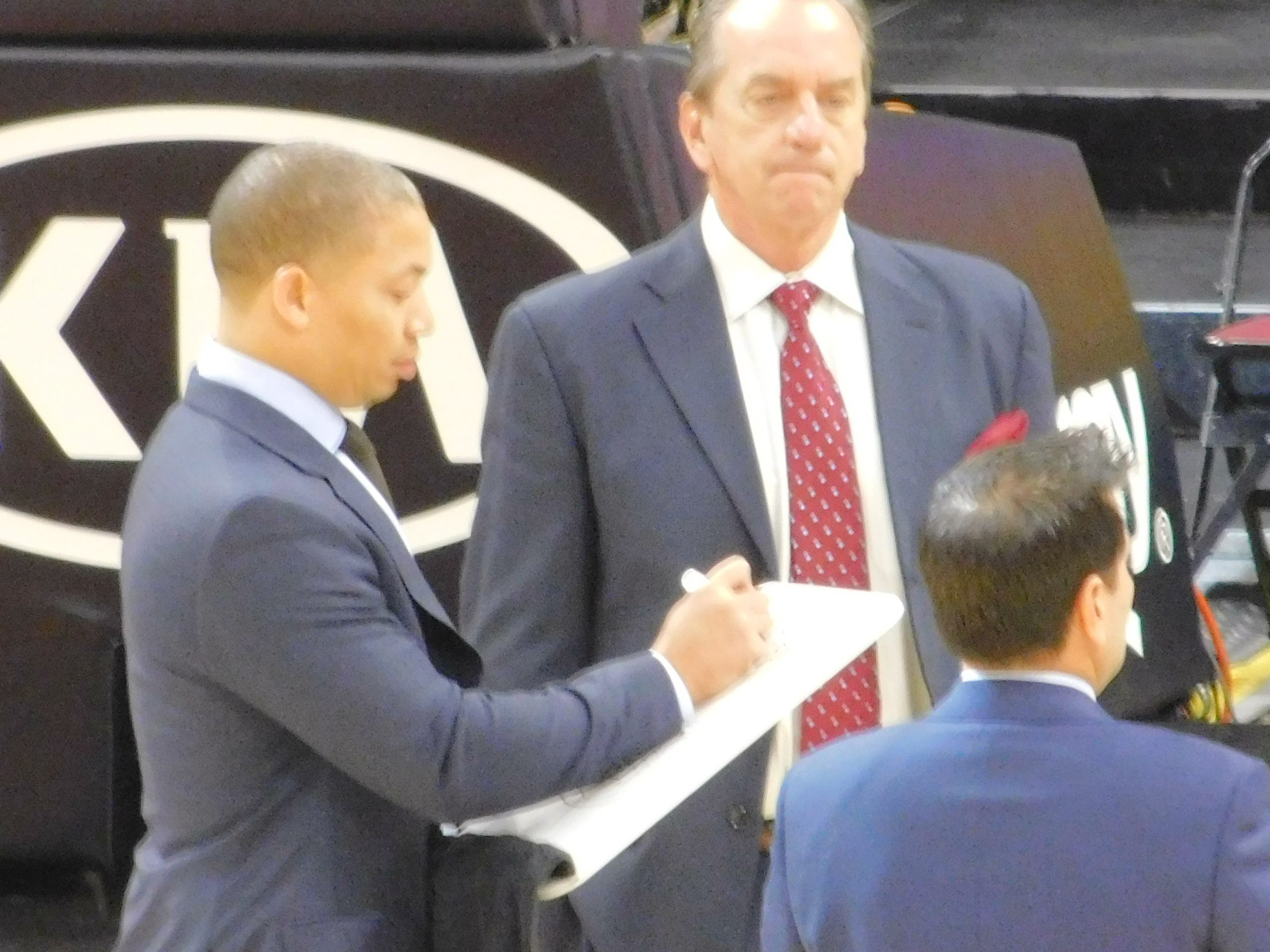 CLEVELAND– Cavaliers head coach Tyronn Lue is stepping away from coaching "for the time being," according to a press release from the organization. Top assistant Larry Drew will take over beginning tonight against Milwaukee.
Lue said in a statement that he has been dealing with chest pains "and other troubling symptoms, compounded by a lack of sleep."
"After many conversations with our doctors and (general manager) Koby (Altman) and much thought given to what is best for the team and my health, I need to step back from coaching for the time being and focus on trying to establish a stronger and healthier foundation from which to coach for the rest of the season," Lue said in the release.
Lue has undergone a battery of tests, and there have been no conclusions as to what exactly is causing his symptoms. This season, he has missed part or all of three games, including the second half of Saturday night's 114-109 win over Chicago. The first game he missed was Dec. 21 against the Bulls (Cavs won, 115-112). The second instance came on Feb. 6 when he didn't return for the second half against the Orlando Magic (Cavs lost, 116-98).
"While I have tried to work through it, the last thing I want is for it to affect the team," Lue said. "I am going to use this time to focus on a prescribed routine and medication, which has previously been difficult to start in the midst of a season. My goal is to come out of it a stronger and healthier version of myself so I can continue to lead this team to the Championship we are all working towards."
Altman expressed support for Lue in the same statement, saying: "We know how difficult these circumstances are for Coach Lue and we support him totally in this focused approach to addressing his health issues."
According to a report from David Aldridge, Lue will be on a one-week plan to address his health issues, and the plan is for him to return to the sidelines next week.
"I think it's probably well overdue, understanding what he's been going through throughout the season," LeBron James said at Monday morning shootaround. "Obviously health is the most important with everything in life. So I'm not surprised by it at all."
This is just the latest incident for the Cavs in a year that has been filled with drama. It began with them trading Kyrie Irving this summer, and then trading six players at the trade deadline last month. The team has gone through 24 different players this season, and are just 12 games away from the postseason. Complicating matters is the fact that the players currently on the roster have not all played together due to injuries.
For tonight's game against the Bucks, six players are listed as out or questionable. Kevin Love and Kyle Korver may suit up, but the team will definitely be without Rodney Hood, Larry Nance Jr., Cedi Osman and Tristan Thompson. Now, even as those players begin to return to the lineup, the Cavs will have to adjust even further without their coach.
"Obviously it's tough, it's like losing one of your best players," James said. "A guy that's pretty much the captain of our ship and has run the thing for the last three years. Everyone has to step up and we have coaches in place that are ready for that challenge and we have to do our job as players as well. But like I said, his health is most important and we look forward to when he comes back."

NEO Sports Insiders Newsletter
Sign up to receive our NEOSI newsletter, and keep up to date with all the latest Cleveland sports news.