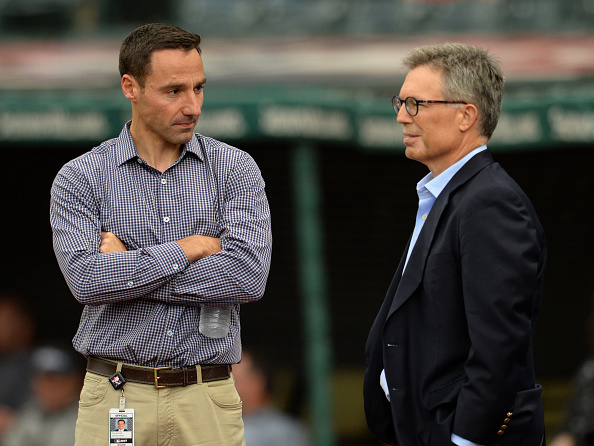 Barring an absolute collapse from the Minnesota Twins, the AL Central has essentially been decided this year. As a result, the Cleveland Indians are going to have to focus on the wild card if they want to get back to the playoffs.
Sitting just 1.5 games back from the final berth as of Tuesday, this certainly seems like an achievable goal. It's obviously not ideal considering Cleveland is coming off three straight division titles. Still, there's no reason not to invest in a shot at the postseason, no matter how you come across it.
At least, that's how I feel about it. Based on the rumors we've been hearing about the Indians, they may not be that interested in pursuing the playoffs if it's by way of a wild card berth.
How else are we supposed to react to reports saying Cleveland may end up selling at the trade deadline no matter how the standings look? Or that the Indians will only be buyers if they have a chance to win the division (friendly reminder, they're ten games back)?
Honestly, when you hear these rumors, and couple them with the fact the team has sat on its hands despite dealing with numerous difficult situations over the past few months, it forces you to wonder if Cleveland even wants to contend this year.
Remember, heading into the 2019 season, ownership and the front office practically scoffed at the idea of the Indians not being a postseason team. This occurred despite the fact a sizable amount of production was shed over the winter, with little effort made to replace it.
Flash forward to now, with Cleveland right in the thick of the wild card hunt, and the message fans are hearing is…well, that's nothing to get excited about. There's no sense in making a key pick-up or two if it means improving your chances to get to a play-in game. Why bother calling up a prospect who could help you now when you can continue watching offensive inconsistency?
What continues to be puzzling about all of this is the fact Cleveland has been looking much better on the field as of late. Yet, instead of hearing the Indians linked to someone who could help them via trade, we're instead being told they're more likely to move key players like Brad Hand or Trevor Bauer.
Sure, I've noted the Tribe may just be shifting the focus to 2020. However, there's a difference between getting ahead of next season and deciding to completely scrap the one you're in. Especially when a spot in the playoffs is still achievable.
Despite the fact this rotation lost two starters for the majority of the season, or that Cleveland's offense has been historically bad at times, the team is still within arm's reach of a playoff spot. Yet, if it doesn't come by way of division title, it's suddenly not worth investing in?
To be clear, nobody is suggesting the Tribe needs to sell the farm and go for broke. In fact, doing so would still be a bad idea.
Still, the messaging we're getting from the Indians makes it seem like they feel as though the wild card is below them, that it's division or bust.
If that's truly the case, I'd have just one question.
How exactly are fans supposed to react to these rumors?
The narrative from the front office has always about low ticket sales and needing people in the stands. However, a season which opened with ownership all but confirming Francisco Lindor won't be getting an extension now features reports of the front office wanting to sell despite a wild card berth being within reach.
Again, nobody is demanding Cleveland part with numerous top prospects to gun it for a play-in game. At the same time, to outright refuse to make any sort of trades to improve your chances because you don't like the route you'd be taking into the playoffs is just bad management. It also sends quite a confusing message to the fans you continue to blame for not buying enough tickets.
Considering the adversity they've had to deal with this year, it's truly impressive the Indians are still competing for a playoff spot. From the front office's perspective, it's apparently not impressive enough.
If the higher-ups aren't going to invest in the team to improve its playoff chances, it sure makes you wonder if they even planned on getting that far in the first place.